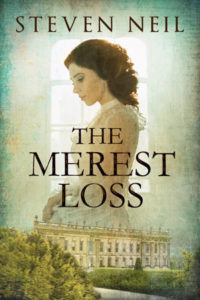 ShortBookandScribes #BlogTour #GuestPost by Steven Neil, Author of The Merest Loss @stevenneil12 @rararesources #historicalfiction
Welcome to my stop on the blog tour for The Merest Loss by Steven Neil. I have a great guest post by Steven to share with you today, all about his journey as a writer. My thanks to Rachel Gilbey from Rachel's Random Resources for the place on the tour.
A story of love and political intrigue, set against the backdrop of the English
hunting shires and the streets of Victorian London and post-revolutionary Paris.

When Harriet Howard becomes Louis Napoleon's mistress and financial backer and appears at his side in Paris in 1848, it is as if she has emerged from nowhere. How did the English daughter of a Norfolk boot-maker meet the future Emperor? Who is the mysterious Nicholas Sly and what is his hold over Harriet?

Can Harriet meet her obligations and return to her former life and the man she left behind? What is her involvement with British Government secret services? Can Harriet's friend, jockey Tom Olliver, help her son Martin solve his own mystery: the identity of his father?

The central character is Harriet Howard and the action takes place between 1836 and 1873. The plot centres on Harriet's relationships with Louis Napoleon and famous Grand National winning jockey, Jem Mason. The backdrop to the action includes significant characters from the age, including Lord Palmerston, Queen Victoria and the Duke of Grafton, as well as Emperor Napoleon III. The worlds of horse racing, hunting and government provide the scope for rural settings to contrast with the city scenes of London and Paris and for racing skulduggery to vie with political chicanery.

The Merest Loss is historical fiction with a twist. It's pacy and exciting with captivating characters and a distinctive narrative voice.
Purchase Links
---
A writer's journey by Steven Neil
I wrote two short stories when I was at school studying English Literature A level, aged seventeen, and I didn't write anything again for thirty-five years; an inauspicious start to my writing career.
Like all prospective university students I had to decide which A level to study at degree level. For a long time I thought it would be English Literature, but when I finally sat down to fill in my 'UCCA' university application forms, the word Economics somehow found its way into the 'subject' box. Off I went to the London School of Economics and although I was a very bad Economics student and spent most of my three year in London reading novels and frequenting the London based horse racing tracks, the urge to write faded into the background. Somehow I managed to graduate with a BSc in Economics.
Fast forward thirty-five years and I found myself semi-retired, after a reasonably successful business career (more luck than judgment I think) and, at least to my wife's point of view, hanging around the house to no great purpose. She decided that I needed a hobby. By a strange quirk of fate my wife was going through some old boxes in the loft of our house and found one of the forgotten short stories I had written as a teenager. She liked the story but thought it could be improved! Here was the required hobby. I enrolled in a short course at the Open University called 'Introduction to Writing'.
To cut a long story short, five years later I completed my Open University BA in English Literature and Creative Writing. In another year, I completed a Masters in Creative Writing at Oxford Brookes University. What started out as a hobby was becoming something more and I decided I really ought to set out to write something I could publish.
Despite the courses, I found myself locked in to the belief that I could only write short stories and the prevalent view of virtually all my Creative Writing tutors was that short story collections were not easy to sell and doubly difficult to sell as a debut author. I rather grudgingly accepted the challenge to write a full length novel. After all, it was explained to me, all you have to do is write thirty to forty 2-3000 word short stories on a linked theme and you can call it a novel. Of course, as I discovered, it is rather more difficult than that, but as a way of planning my novel it did provide a structure and a direction.
I cast around for a subject for my novel and I originally thought it would be a Dick Francis style thriller with horse racing at the centre (a subject about which I knew a little). While I was researching the jockey Jem Mason (first Grand National winner in 1839), I found he was linked to a lady called Harriet Howard, who ran away to live with Jem in London, to become an actress, when she was only fifteen years old. Later she became Louis Napoleon's mistress and was reputed to have provided financial backing to his cause on his way to becoming Napoleon III of France. I decided she was to be the heroine of my novel. I would write a fictional account of her life and attempt to solve the mystery of how someone with no wealth or connections rose to be called 'The English Empress' by the newspapers in England and France.
The Merest Loss was three years in the writing, mainly because of the research element of writing accurate historical fiction. It was published by Matador in eBook and paperback in December 2017.
© Steven Neil
Thank you, Steven. It was lovely to read about your journey towards being a writer and it sounds as though you hit the jackpot when you came across the name, Harriet Howard.
---

---

Steven Neil has a BSc in Economics from the London School of Economics, a BA in English Literature and Creative Writing from the Open University and an MA in Creative Writing from Oxford Brookes University. In his working life he has been a bookmaker's clerk, management tutor, management consultant, bloodstock agent and racehorse breeder. He is married and lives in rural Northamptonshire.