ShortBookandScribes Seven Day Spotlight – w/e 29/09/19
It's that time of the week again. I can hardly believe another week has gone by. It will soon be Christmas 😉
Yesterday my OH and I went to see Reasons to Stay Alive at the Studio Theatre. This is the play based on the book by Matt Haig about his experiences of depression and it is an absolutely wonderful production. It's so moving and emotional – the tears started almost at the beginning for me and carried on throughout the whole play. I highly recommend it if you get a chance to go.
Here's what I posted on my blog this week:
On Monday I shared an extract from Bridge to Eternity by Romola Farr and an extract from Fuck Yeah, Video Games by Daniel Hardcastle.
On Tuesday I shared a guest post about Downton Abbey by Carol Rivers, author of Christmas Child and my review of Don't Think A Single Thought by Diana Cambridge.
Thursday's post was my review of The Slaughter Man by Cassandra Parkin.
On Friday I shared my review of The Day We Meet Again by Miranda Dickinson along with an extract from Magnificent Women and Their Revolutionary Machines by Henrietta Heald.
Saturday's post was a guest post about Cornwall by Vivienne Brereton, author of A Phoenix Rising. There's a chance to win a copy of the book on that post.
---
I've had some wonderful book post this week:
The Recovery of Rose Gold by Stephanie Wrobel
A chilling exploration into obsession, reconciliation and revenge in 2020's must-read novel.

Rose Gold Watts believed she was sick for eighteen years.

She thought she needed the feeding tube, the surgeries, the wheelchair . . .

Turns out her mum, Patty, is a really good liar.

After five years in prison Patty Watts is finally free. All she wants is to put old grievances behind her, reconcile with her daughter – and care for her new infant grandson. When Rose Gold agrees to have Patty move in, it seems their relationship is truly on the mend.

But Rose Gold knows her mother. Patty won't rest until she has her daughter back under her thumb. Which is inconvenient because Rose Gold wants to be free of Patty. Forever.

Only one Watts will get what she wants.

Will it be Patty or Rose Gold?

Mother, or daughter?
Mother and Child by Annie Murray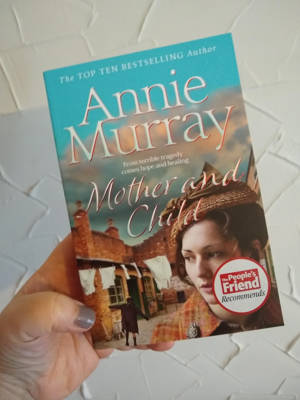 Mother and Child by Sunday Times bestseller Annie Murray is a moving story of loss, friendship and hope over two generations . . .

Jo and Ian's marriage is hanging by a thread. One night almost two years ago, their only child, Paul, died in an accident that should never have happened. They have recently moved to a new area of Birmingham, to be near Ian's mother Dorrie who is increasingly frail. As Jo spends more time with her mother-in-law, she suspects Dorrie wants to unburden herself of a secret that has cast a long shadow over her family.

Haunted by the death of her son, Jo catches a glimpse of a young boy in a magazine who resembles Paul. Reading the article, she learns of a tragedy in India . . . But it moves her so deeply, she is inspired to embark on a trip where she will learn about unimaginable pain and suffering.

As Jo learns more, she is determined to do her own small bit to help. With the help of new friends, Jo learns that from loss and grief, there is hope and healing in her future.
Coming Home to Winter Island by Jo Thomas
Do you need to find out where you've come from before you can know what the future holds?

Ruby's singing career is on the verge of hitting the big time, when her voice breaks. Fearing her career is over, she signs up for a retreat in Tenerife to recover.

But an unexpected call from a stranger on a remote Scottish island takes her on a short trip to sort out some family business. It's time to go and see the grandfather she's never met.

City girl Ruby knows she will be happy to leave the windswept beaches behind as quickly as she can, especially as a years-old family rift means she knows she won't be welcome at Teach Mhor.

But as she arrives at the big house overlooking the bay, she finds things are not as straightforward as she might have thought.

There's an unexpected guest in the house and he's not planning on going anywhere any time soon …
Menopause – A Hot Topic by Sam Bunch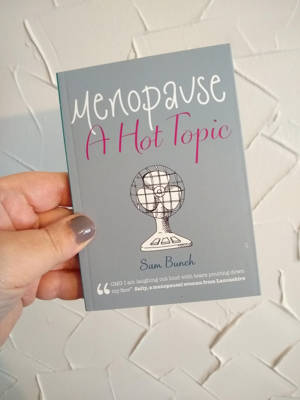 50 ordinary women share their menopausal shenanigans.Menopause is not an illness although it can feel that way.Our symptoms, moans and groans can affect our very existence. It's a change and a bloody tricky one for some of us.Along with the voices from over 50 women I spoke to on this subject I am sharing my own confusion and angst about the mystifying subject. I can't say you'll be demystified but at least you'll think – Thank God, it's not just me!
The Temple House Vanishing by Rachel Donohue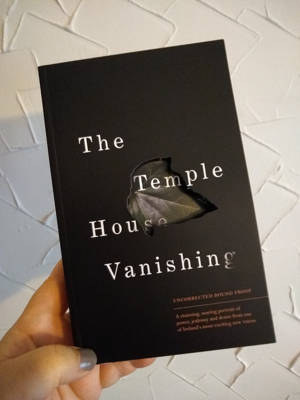 Power.
Jealousy.
Desire.

Twenty-five years ago, a sixteen-year-old schoolgirl and her charismatic teacher disappeared without trace…

In an elite Catholic girls' boarding-school, the pupils live under the repressive, watchful gaze of the nuns. Seeking to break from the cloistered atmosphere, two of the students – Louisa and Victoria – quickly become infatuated with their young, bohemian art teacher, who encourages their flirtation. Then, he and Louisa vanish.

Years later, a journalist uncovers the troubled past of the school and determines to resolve the mystery of the missing pair.
I was also lucky enough to receive my very own book cocktail! Laura Madeleine, author of An Echo of Scandal, was kind enough to send me a bottle of the cocktail of that name which was made specially to go with the book. It's quite potent and very delicious. I haven't drunk it all already, no, definitely not…….