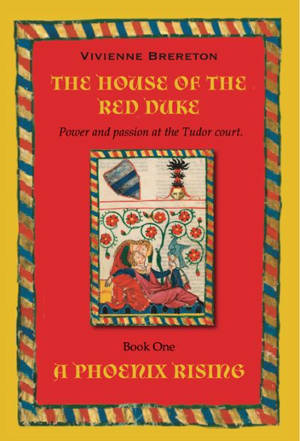 ShortBookandScribes #BlogTour #GuestPost by Vivienne Brereton, Author of A Phoenix Rising @hfvbt #APhoenixRising #VivienneBrereton #HFVBTBlogTours #giveaway
Welcome to my stop on the blog tour for A Phoenix Rising by Vivienne Brereton. I have a guest post by the author all about Cornwall to share with you today. There's also a giveaway to win a copy of the book. My thanks to Amy Bruno from Historical Fiction Virtual Book Tours for the place on the tour.
---

Publication Date: July 7, 2019
Yuletide Press
eBook & Paperback; 339 pages
Series: The House of the Red Duke (Book 1)
Genre: Historical Fiction/Romance
"If I have anything to do with it, we Howards will live forever."

Thomas Howard Charismatic head of one of the most powerful Houses in Tudor England. An indomitable old man approaching eighty: soldier, courtier, politician, a 'phoenix' rising from the ashes. After a calamitous period of disgrace, the Howards, renowned for their good looks and charm, are once more riding high at the court of Henry VIII.

Set against the backdrop of the extraordinary 1520 'Field of Cloth of Gold', it is a tale of ambition, love, and intrigue, with Thomas at the centre of this intricate tapestry

Will Thomas's bold vow be fulfilled? Danger stalks the corridors of the royal courts of Europe. Uneasy lies the head beneath a crown. Every other ruler – a fickle bedfellow…or sworn enemy.

The action takes place in England, Scotland, and France. On either side of the Narrow Sea, four young lives are interwoven, partly unaware of each other, and certainly oblivious to what Dame Fortune has in store for them.

"Nicolas de La Barre laid his lute to one side, hardly bothering to stifle a yawn of boredom. Nevertheless, he couldn't escape the fact he'd agreed to take on a new wife…."

Explosive family secrets are concealed behind the ancient walls of castles in three lands. But… "There are no secrets that time does not reveal."
---

Hello. Thank you for inviting me today. I would like to talk about my favourite geographical location in the novel and why I enjoyed writing about it so much.
Cornwall has a very special place in my heart. As a child, my parents took my brother and me there on holiday, although sadly I was too small to have any proper recollections. I returned myself in my late teens during the summer holidays to work in a hotel in Saint Ives (romantically perched on some rocks) and met my future husband in the town: the place where he was also born. Since that time, I've been back numerous times with our own children to visit his family and to create our own special memories. I'm going to begin with a short extract, seen from the point of view of one of the main characters, Tristan d'Ardres, son of a French nobleman, also the Governor of Picardy, and Grace Tredavoe, Cornish born and bred. Tristan has travelled to Zennor Castle, near the furthermost point of Cornwall, to visit his Aunt Grace, her husband and his cousin, Cecily….
"Cornwall was a beautiful place, with its ancient stones as old as time itself and where magic would weave its spell on all those who took a single step on its soil. One of my favourite places was Zennor Quoit, about a mile from the Castle, an ancient burial chamber with supposed magical powers. Cecy had taken me there on countless occasions, the two of us standing upon the huge stone slab, our arms outstretched, sometimes beneath the light of a full moon, and a velvety night sky of twinkling stars.
When the November winds blew icy blasts throughout Zennor Castle, and the huge waves of the Celtic Sea below broke against the rocks with great force – the fun-loving, silver-finned dolphins that came to frolic in the warm blue summer waters, long since departed – at night, there would be whispered ghost stories around the fire. Strange shadows would sway on the stone walls in the light of the dancing flames and the guttering, strong-smelling tallow candles would hiss and splutter until – with a sound like a quick sigh – they'd go out, leaving fear and eeriness in their wake. At this point, Cecy's mother would come bustling into the kitchen bearing fresh, far more fragrant, beeswax candles, scolding the servants for filling her child's head with nonsense, even though she'd know very well it was Cecy who'd wheedled the stories out of them."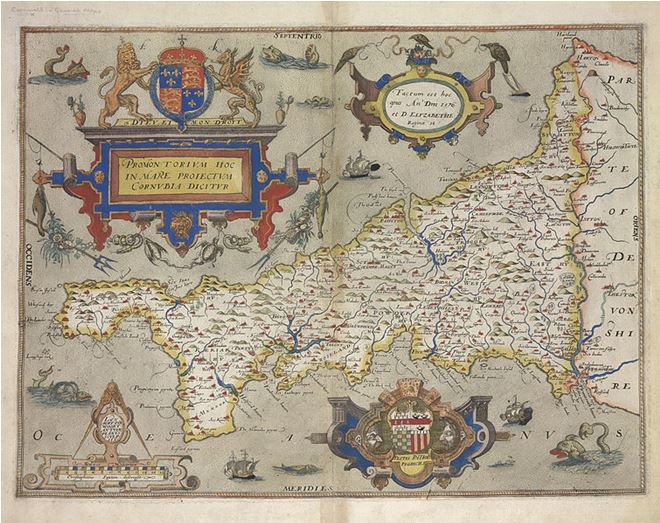 Writing about such a magical setting gave my imagination full scope to run wild across the wonderful landscape, easily imagining events. I had both my own memories to help me and the ones of my characters. When you begin to write, sometimes you are taken on a journey you weren't quite expecting which is extremely exciting. In your head, you have the path in front of you, roughly sketched so you think you're in control. But then the characters come racing in, some of them extremely strong-minded and you get caught up in their adventures. I'd like to include another extract to show what I mean. Cecy and Tristan are sitting through a boring sermon in the Lady Chapel on Saint Michael's Mount, a magnificent castle jutting out of the sea on a tidal island, complete with its own exciting historical adventures and legends (and a true gift from the Muses for any writer), cut off from the mainland by the sea twice a day. It was a joy taking my own children there and watching them get caught up in the thrill of a castle on an island in the sea. Told from Cecy's point of view this time, she decides she's had enough and wants to take her cousin on an adventure. They find themselves at a May Day market in Marazion, their only concern to listen out for the clock chiming so they don't get caught out by the tide and end up stranded….
"Luckily, I'd unearthed two silver groats in a pocket of my kirtle, enough, as I jested, to make us Lord Perkin and Lady Catherine Bountiful for the day, free to buy our heart's desire and bestow gifts upon any we saw fit. I was delighted when I spotted some coloured bangles on the tray of a passing peddler. They would make a perfect birthday gift for Mother, in addition to the nightgown I'd painstakingly embroidered for her. A short while later, Tristan took a fancy to a small gleaming dagger which I instantly bought for him.
'After all, I might need you to protect me,' I said, feeling very grown-up (far older than my eleven years) as I placed it in his hands. Tristan took his cue from me.
Dipping into the practised bow of a courtier, he pretended to doff an invisible cap. 'At your service, my Lady Catherine.'
'My Lord Perkin.' I dropped him a laughing curtsey back. However, I was soon distracted by a stall selling all kinds of sweet goods, including my favourite, gingerbread.
The sun was beginning to rise higher in the sky but we were too engrossed to pay much attention. Wiping away the sticky gingerbread from the side of my mouth, I wandered over to a peddler and bought two juicy green apples for us.
Tristan bit into one of them. 'I'll be sick if I eat much more. Especially as there's going to be an enormous feast for your mother's birthday. Shouldn't we be getting back soon? The clock just chimed twelve.'
I gave him a haughty stare. 'No, that was eleven. I counted it especially.'
I could see Tristan was having too much fun to protest. To be honest, I wasn't entirely sure I had only counted eleven chimes but knew we had ages yet. As I'd told him, the tide didn't start to come until after noon."
    I hope I've managed to give you a glimpse into the charms of Cornwall and why it was a pleasure to use it to bring the characters and events to life. Thank you so much for inviting me today and giving me the chance to talk about my novel.
Thank you, Vivienne. Cornwall is indeed a charming place.
---

During the Blog Tour, we are giving away a paperback copy of A Phoenix Rising! To enter, please use the Gleam form below.
Giveaway Rules
– Giveaway ends at 11:59 pm EST on October 11th. You must be 18 or older to enter.
– Giveaway is open worldwide.
– Only one entry per household.
– All giveaway entrants agree to be honest and not cheat the systems; any suspicion of fraud will be decided upon by blog/site owner and the sponsor, and entrants may be disqualified at our discretion.
– The winner has 48 hours to claim prize or a new winner is chosen.
Embed Code: A Phoenix Rising

---

Born near historic Winchester in the UK, Vivienne Brereton has been passionate about the Tudors for as long as she can remember. This led to a degree in medieval history at university where she met her future husband. Three sons later and six countries she called home, she finally felt ready to write a novel.
Words have always played an important part in Vivienne's life whether it's been writing, editing, teaching English to foreigners, or just picking up a good book. In preparation for her novel, she read intensively on the skills needed to write well and did an enormous amount of research which she greatly enjoyed. Having three sons was helpful when she came to write about the characters, Tristan and Nicolas. All those squabbles she had to deal with came in very handy. She also used her husband and sons as guinea pigs for her Tudor cookery attempts with varying degrees of success (abuse).
Seeing 'A Phoenix Rising' in print for the first time was a moment of great joy for her and she hopes you enjoy reading it as much as she enjoyed writing it.