ShortBookandScribes #BookReview – The Day We Meet Again by Miranda Dickinson @HQStories #BlogTour
I'm delighted to be sharing my review of this gorgeous book today as part of the blog tour. My thanks to Lily Capewell from HQ for the place on the tour and for sending not only a finished copy of the book for review purposes but also some lovely pampering treats.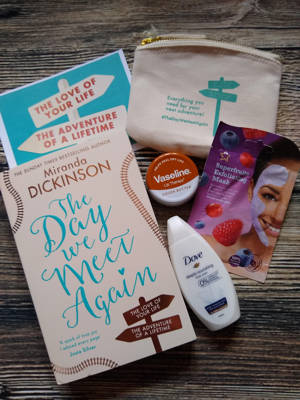 ---
Their love story started with goodbye…

The brand-new novel from The Sunday Times bestselling author, Miranda Dickinson.

'We'll meet again at St Pancras station, a year from today. If we're meant to be together, we'll both be there. If we're not, it was never meant to be . . .'

Phoebe and Sam meet by chance at St Pancras station. Heading in opposite directions, both seeking their own adventures, meeting the love of their lives wasn't part of the plan. So they make a promise: to meet again in the same place in twelve months' time if they still want to be together.

But is life ever as simple as that?

This is a story of what-ifs and maybes – and how one decision can change your life forever…
---

The course of true love never did run smoothly and never more so for Phoebe and Sam in The Day We Meet Again.
They first meet when setting off on their respective adventures. For each of them a year away is what they've dreamed of, for different reasons. Phoebe is setting off on a Grand Tour of Europe: Paris, Florence, Rome and maybe more. Sam, on the other hand, is going back to his childhood home, the Scottish island of Mull, for the first time in a long time to maybe sort out some of his inner demons that have plagued him since his father left when he was a kid.
A chance meeting by the statue of John Betjeman at St Pancras station leaves them questioning that desire to get away as it's literally love at first sight. These two are made for each other but they have their plans and they decide to see them through and meet back at the statue in a year's time.
So we follow Phoebe on her tour of Europe and Sam on his trip to Scotland. I loved reading about their settings. Italy and Scottish island? I was in my element. Each of them either makes new friends or meets up with old ones and it was really lovely to watch each of them learn and grow. But all the time I was waiting for that year to be up and for them to get back together. Because surely all would be well….
Well of course, things are never that easy and spending a year apart when you've only just met is bound to be problematic. There are plenty of ups and downs for our couple but I found their story utterly gorgeous. Don't make the mistake of thinking this is just a light and fluffy read as it's not. It's about making the right decisions at the right time, missed opportunities and what ifs.
This is the first book I have read by Miranda Dickinson and I was struck by her beautiful writing and storytelling and the absolutely delightful tale she has weaved here. I was so invested in Phoebe and Sam's love for each other and hoping beyond hope that they made it in the end. As our romantic hero I thought Sam was perfect. A Scottish island fiddle playing gorgeous kind-hearted guy! And Phoebe is really lovely too, so thoughtful and sweet.
I thought this was such a great idea for a story, throwing them together and then tearing them apart. But it's not only about their romance, it's also about them finding out what makes them tick. What a journey they both go on, both literally and emotionally.
So to conclude, wonderful characters, stunning locations, beautiful writing and a story to break the hardest heart. What a fabulous read. I now want to go to Mull and listen to fiddle players in people's front rooms!
That leads me on to sharing my favourite piece of fiddle music. Sam doesn't play this in the book but I bet he'd do it brilliantly.
---

---

Miranda Dickinson has always had a head full of stories. Born in Wolverhampton, in The Black Country, West Midlands, she grew up in Kingswinford and dreamed of one day writing a book that would reach the heady heights of Kingswinford Library… Her first novel, Fairytale of New York (2009) was discovered on Authonomy.com – HarperCollins' site for unpublished authors. Within three weeks of its release, Fairytale of New York had entered the Sunday Times Top Ten Bestsellers List, where it remained for five weeks – making it the world's first crowd-sourced bestseller. The novel was also shortlisted for the RNA's Romantic Novel of the Year Award 2010 at the Pure Passion Awards.
Miranda is a six-times Sunday Times Bestseller, with Fairytale of New York, Welcome to My World, It Started With a Kiss, When I Fall in Love, Take a Look at Me Now, I'll Take New York, A Parcel for Anna Browne and Searching for a Silver Lining. Her Christmas novella, Christmas in St Ives, is a festive treat and also a prequel to her ninth novel, Somewhere Beyond the Sea. She is an international bestseller in four countries and her books have been translated into fifteen languages. To date, she has sold one million books worldwide. The Day We Meet Again is her tenth novel and publishes on 5th September 2019.
Miranda is the founder of WriteFoxy – resources, vlogs and inspiration writing days for writers of all ages and abilities. Her popular vlogs feature her own publishing journey for each new novel, together with advice for authors and lots and lots of hats!
Miranda lives in Dudley with her husband, Bob and daughter, Flo. She is also a singer-songwriter and recently released her first solo album, About Time.
Follow Miranda's vlog and visit her website.
You can also follow Miranda on Twitter, on Instagram and on Facebook.