ShortBookandScribes Seven Day Spotlight – w/e 23/06/19
Welcome to this week's Seven Day Spotlight post. I wish I had loads of exciting stuff to share with you but I don't. In fact, I'm not entirely sure where the last week has gone to. If you read last week's post you'll know that we had a sickness bug in our house. For some reason, I did manage to avoid catching it. I was very lucky! Oh, and I was released from Twitter jail on Monday after the requisite 72 hours and am now being very careful to make sure I don't re-offend.
Here's what I posted this week:
On Monday I reviewed three children's books: Don't Drink the Pink by B.C.R. Fegan, Greedy Gertie by Salma Zaman and The Book of Silly Rhymes by Cheryl Lee-White.
Tuesday's post was my review of Something To Live For by Richard Roper.
On Wednesday I shared an extract from The Lost Properties of Love by Sophie Ratcliffe.
Thursday's post was my review of The Body Lies by Jo Baker.
Friday's post was my review of A Cornish Summer by Catherine Alliott.
Saturday – nowt.
This morning I shared a recipe for beet curry from A Feast of Serendib by Mary Anne Mohanraj.
---
Would you like to see this week's book post? Here goes:
Then She Vanishes by Claire Douglas
Everything changed the night Flora Powell disappeared.

Heather and Jess were best friends – until the night Heather's sister vanished.

Jess has never forgiven herself for the lie she told that night. Nor has Heather.

But now Heather is accused of an awful crime.

And Jess is forced to return to the sleepy seaside town where they grew up, to ask the question she's avoided for so long:

What really happened the night Flora disappeared?
The Woman in the Photograph by Stephanie Butland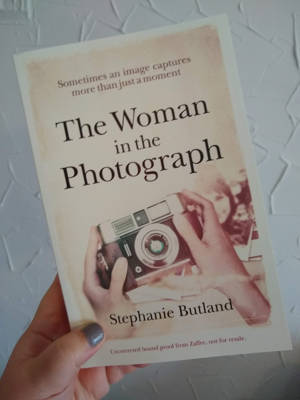 1968. Veronica Moon, a junior photographer for a local newspaper, is frustrated by her (male) colleagues' failure to take her seriously. And then she meets Leonie on the picket line of the Ford factory at Dagenham. So begins a tumultuous, passionate and intoxicating friendship. Leonie is ahead of her time and fighting for women's equality with everything she has. She offers Veronica an exciting, free life at the dawn of a great change.

Fifty years later, Leonie is gone, and Veronica leads a reclusive life. Her groundbreaking career was cut short by one of the most famous photographs of the twentieth century.

Now, that controversial picture hangs as the centrepiece of a new feminist exhibition curated by Leonie's niece. Long-repressed memories of Veronica's extraordinary life begin to stir. It's time to break her silence, and step back into the light.
The First Time I Saw You by Emma Cooper
Lost:
Six-foot-two Irish man who answers to the name Samuel McLaughlin. 
Has weak shins and enjoys show tunes.
If found, please return to Sophie Williams.

Before Sophie met Samuel she saw the world in grey.
Before Samuel met Sophie, he never believed in love at first sight.

When they first meet, something tells them they are meant to be.
But fate has other ideas.

Now they have lost each other and can't see a way back.
But they've already changed each other's lives in more ways
than they ever expected…
Fake Like Me by Barbara Bourland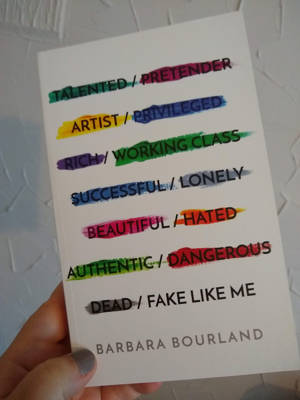 CAREY LOGAN

She was the genius wild child of the New York art scene, and my idol.

FAKE

I was a no-name painter from the Florida backwater, clawing my way into their world.

LIKE

When she died, she left a space that couldn't be filled. Except, maybe, by

ME

Everything that gets created destroys something else.

When a fire rips through her studio and burns the seven enormous paintings for her next exhibition, a young, no-name painter is left with an impossible task: recreate her art in just three months – or ruin her fledgling career. Thirty-four, single and homeless, she desperately secures a place at an exclusive upstate retreat.

Brimming with creative history and set on a sparkling black lake, Pine City and its founders – a notorious collective of successful artists – is what she's idolized all her life. She's dreamt of the parties, the celebrities, the privilege. What she finds is a ghost of its former self.

The recent suicide of founding member Carey Logan haunts everyone, lurking beneath the surface like a shipwreck. And one thought begins to shadow her every move – what really happened to her hero?

With a flair for sensational detail and acidic wit, Barbara Bourland delivers a darkly satirical thriller about art, money and identity with a twist so sharp it cuts.
The Spanish Promise by Karen Swan
One of Spain's richest men is dying. But as he prepares his estate, his family is shocked to discover he is making plans to give away his wealth to a young woman they have never even heard of. Who is she and what hold does she have over him?

Charlotte Fairfax is asked to travel to the troubled family's home in Spain to get to the bottom of the mysterious bequest. It's the week before her wedding but she is confident she has time – there's only one reason an older man leaves his money to a beautiful woman, isn't there?

But in Madrid, things don't go to plan when the woman denies knowing anything about the gift. Is she lying? Looking for clues, Charlotte digs into the prominent family's history and unearths a dark and shocking past in which two people were torn apart by conflict. But now, their long-buried secrets are starting to reach into the present and Charlotte starts to wonder whether love does not need to forgive or forget in order to endure – but just needs two hearts to keep beating.
Lies Behind the Ruin by Helen Matthews
How can you build a new life on toxic foundations?
Written by the winner of Winchester Writers' Festival prize for the opening pages of a novel, Helen Matthews is the author of the best-selling book `After Leaving the Village' – an absorbing story of deception, guilt, betrayal and the resilience of the human spirit.
Emma Willshire has overcome plenty of obstacles in her life. From student bride to single mum of a son, Owen, but she has found happiness with her second husband, Paul and another child, Mollie. Emma's dark days seem far behind her until a fatal accident happens at Paul's work and he is held responsible. On holiday in France, trying to leave his problems behind, Paul's behaviour turns erratic. On impulse, he buys a cheap, dilapidated property and, to Emma's dismay, persuades her they can renovate it into a holiday home. As the couple strive to renovate their marriage, and their French ruin to open a small business, shadows from the past threaten their happiness and safety. Because how can you build a new life on toxic foundations?
Every Monday, 49-year-old Ellie looks after her grandson Josh. She loves him more than anyone else in the world. The only thing that can mar her happiness is her husband's affair. But he swears it's over now, and Ellie has decided to be thankful for what she's got.

Then one day, while she's looking after Josh, her husband gets a call from that woman. And just for a moment, Ellie takes her eyes off her grandson. What happens next will change her life forever.

Because Ellie is hiding something in her past.

And what looks like an accident could start to look like murder…
The Library of Lost and Found by Phaedra Patrick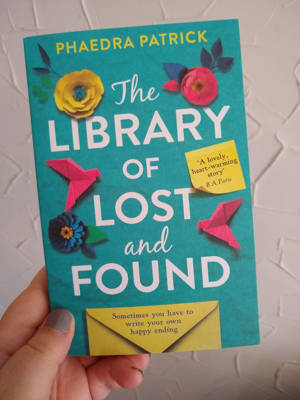 Librarian Martha Storm has always found it easier to connect with books than people, though not for lack of trying. She keeps careful lists of how to help others in her notebook. And yet, sometimes it feels like she's invisible.

All of that changes when a mysterious book arrives on her doorstep. Inside, Martha finds a dedication written to her by her grandmother Zelda, who died under mysterious circumstances years earlier. When Martha discovers a clue within the book that her grandmother may still be alive, she becomes determined to discover the truth. As she delves deeper into Zelda's past, she unwittingly reveals a family secret that will change her life forever.