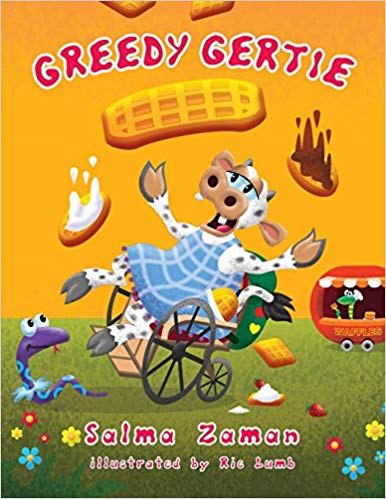 ShortBookandScribes #BookReview – Greedy Gertie by Salma Zaman, illustrated by Ric Lumb @bluefalconpub @SalmasBAcademy #ChildrensBooks
It's children's books day here on Short Book and Scribes today so do check out my other posts for Don't Drink the Pink and The Book of Silly Rhymes.
My thanks to Claire from Blue Falcon Publishing for sending me a review copy of Greedy Gertie.
---

Greedy Gertie is a wonderful waffle-eater! But when it comes to dancing, she's no good at all. Gertie is in a wheelchair, and everybody knows you use your legs for dancing.

One day, Gertie discovers a bunch of animals doing wonderful, unique dances. They encourage her to join them, but Gertie refuses. She's sure she will get in a muddle and mess things up… but the wise old owl has other ideas!

Will Greedy Gertie find her talent for dancing? Or will she stick to eating waffles like there's no tomorrow?

Greedy Gertie is an uplifting tale promoting disability awareness and acceptance to young readers.  Its appealing, brightly coloured illustrations and optimistic narrative will delight children and adults alike.
---
Greedy Gertie is a cow who loves nothing more than eating waffles. She's in a wheelchair and one day her wheelchair tips over because she's so full of waffles and whilst she's lying on the ground she sees frogs, snakes, monkeys, owls and more creatures doing a sort of talent show. They ask Gertie to take part but she thinks she doesn't have any talents. Eventually she is persuaded and she tries stacking waffles but they all fall down. It turns out she does have a talent and that is to catch each of those waffles as they fall using a series of moves and her tongue.
It's a fun story at face value but there are also two underlying messages which are brilliant to have reinforced to children. As Gertie is in a wheelchair this is a book that positively deals with disability and shows that Gertie has no bar to joining in. It was just about finding the right talent for her, which is the same as for anyone. The other message is one of giving it a go and that even if you fail you can make the best of it.
All in all, Greedy Gertie is a very positive and joyful read for young children with some very jolly and vibrant illustrations to match.
---

Salma Zaman is a dance, drama and SEN teacher and the founder and creative director of Salma's Bollywood Academy in Yorkshire. She is also a freelance lecturer and an ambassador for several charities. As if that wasn't enough, she has written two children's books and is about to publish her third with us at Blue Falcon. Quite an impressive CV!
Salma's books are aimed at children from all cultural backgrounds and encourage community cohesion and integration of all faiths. She is hugely passionate about encouraging understanding of culture, equality, diversity, inclusivity and disability awareness. Her next publication will be Greedy Gertie, an uplifting tale about a cow in a wheelchair who doesn't feel that she can join in with a group of dancing animals. Salma invests a lot of time working with children in schools, libraries and museums, using books and story-telling narratives to bring story writing and dance alive.
In 2018, Salma won the 'Yorkshire Women of Achievement' award for her contribution to the arts.
You can find out more information about Salma on Facebook, Twitter or Instagram.
Author bio and photo taken from Blue Falcon Publishing's website.