ShortBookandScribes #BookReview – Something To Live For by Richard Roper @richardroper @orionbooks @Tr4cyF3nt0n #BlogTour #FindYourSomething
I'm so so pleased to be reviewing this amazing book today. My thanks to Tracy Fenton of Compulsive Readers for the place on the tour and Orion Books for sending me a proof copy of the book for review purposes.
---
Sometimes you have to risk everything to find your something…

All Andrew wants is to be normal. He has the perfect wife and 2.4 children waiting at home for him after a long day. At least, that's what he's told people.

The truth is, his life isn't exactly as people think and his little white lie is about to catch up with him.

Because in all Andrew's efforts to fit in, he's forgotten one important thing: how to really live. And maybe, it's about time for him to start.
---

Something to Live For is on course to be one of the books of the year and it's definitely going to be on my books of the year list. It's absolutely superb in every way.
Andrew has a very unique job, one which I find fascinating and horrifying in equal measure. If somebody dies alone and doesn't appear to have any relatives or friends to take on the task of arranging a funeral and looking for next of kin, then the council have to step in to do all of this and that's where Andrew, and the team he works with, come in. He frequently has to attend a residence where somebody has died, go through their belongings, contact relatives and, although he doesn't have to, he attends the funeral. That's the kind of man Andrew is. It's not an easy job, especially when a person's passing has gone unnoticed for a while, but what I loved about him is that he showed respect at all times.
Andrew is also the kind of man who has a secret, one which he didn't intend to have but which has got bigger and bigger as the years have passed. When Peggy joins the team, for the first time in a long time Andrew starts to think he might want to make a different life for himself.
I loved Andrew and Peggy. Andrew is one of those self-effacing types, a man who is in the background causing no trouble at all. Peggy, on the other hand, is a more brash person who says what she thinks. Yet they hit it off as colleagues and friends quite quickly.
Richard Roper has cornered the market in glorious turns of phrase.
As if to confirm his gloom, he knew the restaurant was a poor choice by the look the waiter gave him on arrival, as if he were a stray dog who'd wandered in looking for a place to die.
He has a way of describing things that really appeals to me.
Ever since the disastrous dinner party he'd carried himself with the air of a well-meaning schoolteacher who'd let his students bring in a game on the last day of term only for them to spray silly string all over the place and write rude words on their desks.
His writing is sharp with a hint of sarcasm, witty and yet moving. This is a book that gave me all the emotions. I smiled and laughed A LOT and I also cried. I honestly don't know how he thinks up the analogies that he does but he is so talented to be able to do so.
I must mention the team from the council too. As supporting characters they are just fantastic. Cameron is Andrew's boss and is constantly trying to enforce team-building ideas upon everybody (nightmare!). Then there's Keith and Meredith. He's a bit of an oaf and I don't honestly know how to describe Meredith.
As stories go, I loved the unique feel to it and the quirkiness. Andrew is into model trains and Ella Fitzgerald and they are basically the mainstay of his life, along with his unusual job. Really, the whole thing is just an absolute joy from start to finish and even when it moved me it was still so uplifting and so wonderful.
If this is a debut then I can't wait to see what Richard Roper writes next. Something to Live For is a very special book indeed.
---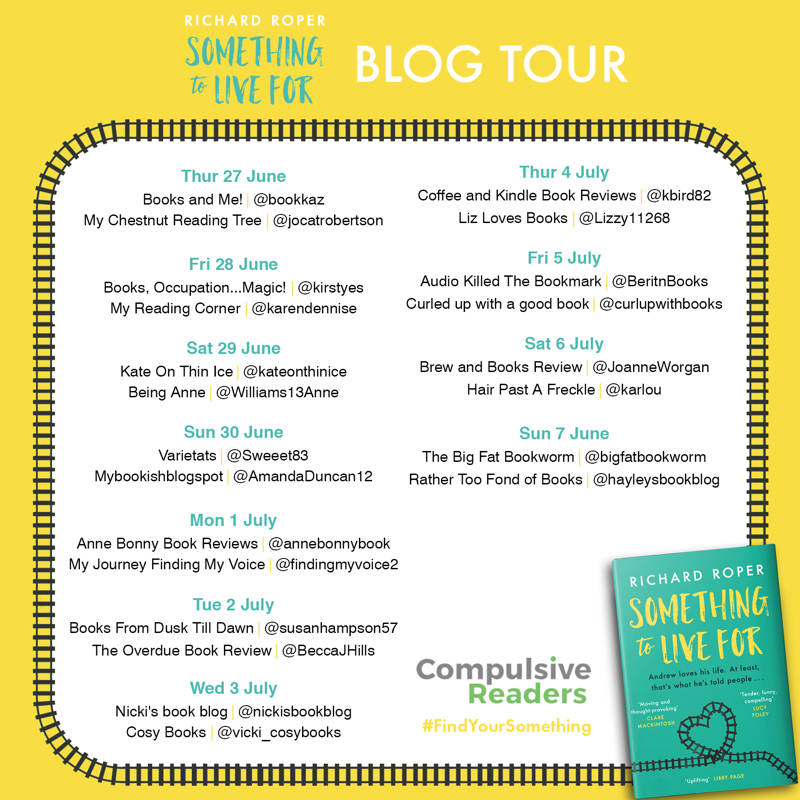 ---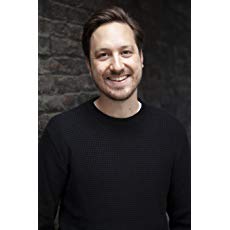 Richard Roper was inspired by an article he read about the council workers who deal with situations when someone dies alone. Their days are spent sifting through the ephemera of those who've slipped through the cracks, searching for clues to a next of kin. Council workers are under no obligation to attend the funerals. Yet they do, sometimes dozens of them a year, just to make sure at least someone is there.
Richard Roper lives in London. SOMETHING TO LIVE FOR is his first novel.
Author bio and photo taken from Amazon