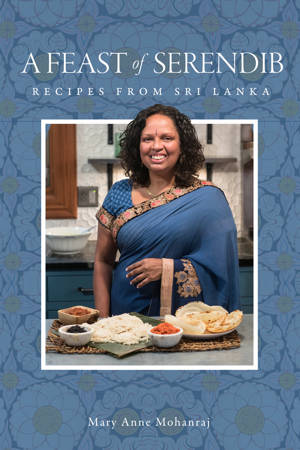 ShortBookandScribes #BlogTour #Recipe for Beet Curry from A Feast of Serendib by Mary Anne Mohanraj @mamohanraj @rararesources
I'm so pleased to be able to share a recipe with you today for Beet Curry, from A Feast of Serendib by Mary Anne Mohanraj. My thanks to Rachel Gilbey from Rachel's Random Resources for the place on the tour.
---
Dark roasted curry powder, a fine attention to the balance of salty-sour-sweet, wholesome red rice and toasted curry leaves, plenty of coconut milk and chili heat. These are the flavors of Sri Lanka.

Sri Lanka was a cross roads in the sea routes of the East. Three waves of colonization—Portuguese, Dutch and British—and the Chinese laborers who came with them, left their culinary imprint on Sri Lankan food. Sri Lankan cooking with its many vegetarian dishes gives testimony to the presence of a multi-ethnic and multi -religious population.

Everyday classics like beef smoore and Jaffna crab curry are joined by luxurious feast dishes, such as nargisi kofta and green mango curry, once served to King Kasyapa in his 5th century sky palace of Sigiriya.

Vegetable dishes include cashew curry, jackfruit curry, asparagus poriyal, tempered lentils, broccoli varai and lime-masala mushrooms. There are appetizers of chili-mango cashews, prawn lentil patties, fried mutton rolls, and ribbon tea sandwiches. Deviled chili eggs bring the heat, yet ginger-garlic chicken is mild enough for a small child. Desserts include Sir Lankan favorites:  love cake, mango fluff, milk toffee and vattalappam, a richly-spiced coconut custard.

In A Feast of Serendib, Mary Anne Mohanraj introduces her mother's cooking and her own Americanizations, providing a wonderful introduction to Sri Lankan American cooking, straightforward enough for a beginner, and nuanced enough to capture the flavor of Sri Lankan cooking.
Purchase Links:
http://serendibkitchen.com/shop/
https://a-feast-of-serendib.backerkit.com/hosted_preorders
---
Beet Curry
(30 minutes, serves 4)
This dish has a lovely sweet flavor with just a hint of spice—beets have a higher sugar content than any other vegetable, and in the old days, when sugarcane wasn't available, sugar was often made from beets.
3 medium onions, chopped fine
3 TBL vegetable oil
1/4 tsp black mustard seed
1/4 tsp cumin seed
4 large beets (about one lb), peeled, cut in thick matchsticks
1-2 rounded tsp salt
1 rounded tsp turmeric
2-3 tsp lime juice
3 chopped Thai green chilies
2 cups coconut milk
Sauté onions in oil on high with mustard seed and cumin seeds until onions are golden/translucent (not brown). Add beets, salt, turmeric, lime juice and chilies.
Lower heat to medium and add coconut milk. Cover and cook, stirring frequently, until beets are cooked through, about 20 minutes.
Remove cover and simmer, stirring, until well blended. Serve hot.
---

---

Mary Anne Mohanraj is the author of Bodies in Motion (HarperCollins), The Stars Change (Circlet Press) and thirteen other titles. Bodies in Motion was a finalist for the Asian American Book Awards, a USA Today Notable Book, and has been translated into six languages.  The Stars Change was a finalist for the Lambda, Rainbow, and Bisexual Book Awards.
Mohanraj founded the Hugo-nominated and World Fantasy Award-winning speculative literature magazine, Strange Horizons, and also founded Jaggery, a S. Asian & S. Asian diaspora literary journal (jaggerylit.com). She received a Breaking Barriers Award from the Chicago Foundation for Women for her work in Asian American arts organizing, won an Illinois Arts Council Fellowship in Prose, and was Guest of Honor at WisCon. She serves as Director of two literary organizations, DesiLit (www.desilit.org) and The Speculative Literature Foundation (www.speclit.org).  She serves on the futurist boards of the XPrize and Chicago's Museum of Science and Industry.
Mohanraj is Clinical Associate Professor of English at the University of Illinois at Chicago, and lives in a creaky old Victorian in Oak Park, just outside Chicago, with her husband, their two small children, and a sweet dog.  Recent publications include stories for George R.R. Martin's Wild Cards series, stories at Clarkesworld, Asimov's, and Lightspeed, and an essay in Roxane Gay's Unruly Bodies.  2017-2018 titles include Survivor (a SF/F anthology), Perennial, Invisible 3 (co-edited with Jim C. Hines), and Vegan Serendib. http://www.maryannemohanraj.com
Social Media Links –
Facebook
Twitter
Instagram
Website