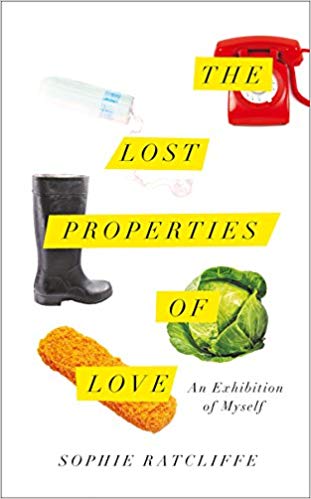 ShortBookandScribes #BlogTour #Extract from The Lost Properties of Love by Sophie Ratcliffe @soratcli @WmCollinsBooks @annecater #RandomThingsTours #BlogTour #TheLostPropertiesofLove
I'm delighted to be able to share an extract from The Lost Properties of Love by Sophie Ratcliffe with you today. I love the cover. My thanks to Anne Cater from Random Things Tours for the place on the tour.
---
This is a book about the things we hide from other people. Love affairs, grief, domestic strife and the mess at the bottom of your handbag. Part memoir, part imagined history, in The Lost Properties of Love, Sophie Ratcliffe combines her own experience of childhood bereavement, a past lover, the reality about motherhood and marriage, with undiscovered stories about Tolstoy and trains, handbags and honeymoons to muse on the messiness of everyday life.

An extended train journey frames the action – and the author turns not to self-help manuals but to the fictions that have shaped our emotional and romantic landscape. Readers will find themselves propelled into Anna Karenina's world of steam, commuting down the Northern Line, and checking out a New York El-train with Anthony Trollope's forgotten muse, Kate Field.

As scenes in her own life collide with the stories of real and imaginary heroines, The Lost Properties of Love asks how we might find new ways of thinking about love and intimacy in the twenty-first century. Frank and painfully funny, this contemporary take on Brief Encounter – told to a backing track of classic 80s songs- is a compelling look at the workings of the human heart.
---

What makes someone walk into the middle of someone else's marriage or out of the centre of their own? What makes someone end a relationship, or a life, placing their foot into the future's thin air? What makes someone start an affair?

You don't need to be a writer or an actor or a lover to dream a second life, an unlived life. You don't need to have an affair. Every reader does it. In the moment we touch the cover, a second world emerges – another reality with its own rules of space and time. And good novels knock us sideways, even as they take us forwards. With every story we turn the page for, we turn to feel the weight of the unlived life, the other ways we might have gone, or loved, or died. Some are unfaithful readers. A pile of books live next to my side of the bed, gathering dust and regret. For each book that we read, there's another we don't begin. And in choosing a tale to write, or relate, there is another we cannot, or do not speak. These small choices carry with them an accompanying sense of resistance, a gravitational pull towards the alter- natives we leave behind. The mushrooms we never picked on the picnic we never went on with the person we never met. Most of us are missing something. In so many of our imaginations, there's a vision of something like a train we missed, a moment in life when we were too late, or too scared to act. Or got stuck in the queue at the sandwich shop. Some of these trains move towards lands we've lost, some pause at stations of regret. We see others pass across the landscape of our memory with a sigh of relief. They are the boredoms we escaped, the journeys we avoided. But some are so painful we can only glimpse them at night. They pass at high speed, cornering the edge of dread, taking our breath away.
---

---

Sophie Ratcliffe is an academic, writer, and literary critic. She teaches English at the University of Oxford, where she is an Associate Professor and Fellow of Lady Margaret Hall. She is the author of On Sympathy (Oxford University Press), and edited the authorised edition of P. G. Wodehouse's letters. In her academic work, she is interested in ideas of emotion and the history of how we feel. She reviews regularly for the national press, and has served as a judge of a number of literary prizes, including the Baillie Gifford and Wellcome Book Prize.