ShortBookandScribes #BookReview – A Cornish Summer by Catherine Alliott @MichaelJBooks #BlogTour
Welcome to my stop on the blog tour for A Cornish Summer by Catherine Alliott. I'm reviewing the book today. My thanks to Sriya Varadharajan from Michael Joseph for the place on the tour and for sending a proof copy of the book for review purposes.
---
Flora's been in love with her husband for twenty years. The trouble is, he's been married to someone else for the past fifteen . . .

Now she's been invited to spend the summer in the shady lanes and sandy coves of Cornwall. It should be blissful.

There's just one small snag: she'll be staying with her former mother-in-law, Belinda.

And Flora discovers she's not the only one invited when her ex-husband shows up out of the blue, complete with his new wife. So now there are two small snags.

Can Flora spend the summer playing happy families with the woman who stole her husband's heart, and the mother-in-law who might have had a hand in it?

Or will stumbling on the family secret change her mind about them all?

If you like Fern Britton, Katie Fforde and Sophie Kinsella, you'll love this heartwarming read.
---

Years ago I read quite a few of Catherine Alliott's books and I loved them but for some reason I don't seem to have read any of her more recent works until now.
A Cornish Summer taps very nicely into that love of all things Cornish. The area is beautifully portrayed in this book as it's set in what sounds like an absolute idyllic area. Flora Bellingdon is divorced from her ex-husband, Hugo, and has been for the last fifteen years but she still carries a torch for him. Not in a way that means she would do anything about it, but more that she can't move on. He's been married to his second wife a lot longer than he was ever married to her.
Flora is a portrait artist and is commissioned to paint Hugo's father, Roger Bellingdon. Roger is a hoot and Flora really enjoys his company, but Hugo's mother, Belinda is another matter entirely. She's the stereotypical overbearing mother-in-law and Flora doesn't exactly relish the summer spent bumping into her.
The Bellingdons are very wealthy, in fact they seem to own a fair amount of Cornwall! There's a fairly upper class feel about the characters and the story but Flora is from an ordinary background and I liked her a lot, even if sometimes I wanted to give her a good shake.
It took me a little getting into the story but when I did I found it really enjoyable. The early chapters are very much about setting the scene and giving the background to Flora and Hugo's early relationship and Flora's life with her parents. Then, when she gets to Cornwall and settles in for the summer, she revisits old haunts and old friends, and gets to know new people, and it all really fell into place for me.
I'm wondering now why I haven't read any of Catherine Alliott's books for so long. So many books, so little time I guess. As a summer read it's perfect. I did think it was going to be a fairly light-hearted read, and indeed I did have a good laugh on a couple of occasions, but it also has a serious thread running through it, a topical one about seawater pollution, and Flora learns a few things that might have made her feel a bit different for the last fifteen years had she known about them sooner. A fabulously upbeat and lovely ending really topped it off nicely.
A Cornish Summer is a very pleasant and satisfying read with a tagline to put chills down any woman's spine: One First Wife, One Second Wife, One Mother-in-Law!
---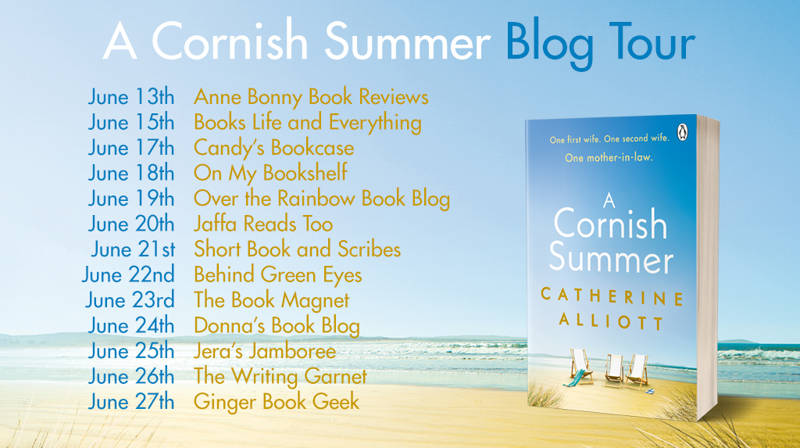 ---

People often ask me if I always had a burning desire to be an author, and the honest answer is no, in fact it almost happened by accident.
I was working as a copy-writer in an ad agency and tired of writing blurb for soap powder, began writing a novel under the desk. I had no thought of publication, was just doing it to relieve the boredom, but I must say it was a bit of a shock when my boss walked in one day and said we're not sure you're entirely committed and gave me the sack!
Actually I think that galvanized me and I was determined to finish it. I did, but it took a while: I was working freelance, and then pregnant with my first child so it wasn't at the forefront of my mind. When my son was born I discovered babies slept for great chunks of the day, so I revisited it, tapping it onto a computer my brother gave me. (The first draft was in long hand, I'm a complete Luddite by nature, and actually, still write my first draft into note books.)
My husband persuaded me to send it to an agent who took it – amazingly and then a few weeks later I had a publisher too. The Old Girl Network came out about a year later and the first time I saw it in a shop, I was so startled I ran out again! I'm convinced it was easier back then to get published, these days it's far more competitive because there are so many girls doing it I'm glad I started early!
I've written a few more since then, but some things don't change: I still get a thrill when I see them around. I hope you enjoy the books, I certainly have a lot of fun writing them.
Author bio and photo taken from Amazon