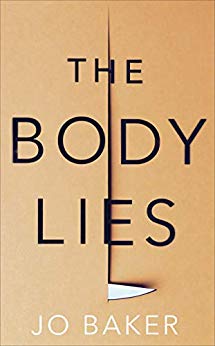 ShortBookandScribes #BookReview – The Body Lies by Jo Baker @JoBakerWriter @DoubledayUK #BlogTour #RandomThingsTours
I'm so pleased to be reviewing this fabulous, topical thriller today. My thanks to Anne Cater from Random Things Tours for the place on the tour and to Alison Barrow from Doubleday for sending me a proof copy of the book for review purposes.
---
When a young writer accepts a job at a university in the remote countryside, it's meant to be a fresh start, away from the big city and the scene of a violent assault she's desperate to forget. But when one of her students starts sending in chapters from his novel that blur the lines between fiction and reality, the professor recognises herself as the main character in his book – and he has written her a horrific fate.

Will she be able to stop life imitating art before it's too late?

At once a breathless battle-of-wits and a disarming exploration of sexual politics, The Body Lies is an essential book for our times.
---

I've been thinking about writing this review and wondering how I can do justice to this complex novel. I'll give it a go.
Our main protagonist is a writer. We never learn her name. This is very much her story and hers alone. A terrifying and random assault leads her to take a job away from home, teaching an MA at a university. She takes her young son with her but her husband stays behind and they agree a long distance relationship. One of her new students gets too close to her and his submitted work appears to be about her. The more she reads the more she realises the threat to her safety.
This is a dangerous story of obsession and fear. It's incredibly current with the #MeToo movement. She cuts herself off from life with a cottage with no phone signal in a remote area. With a small child this seems rather foolhardy but it adds to the tension, and the openness of her surroundings seems more claustrophobic than reassuring.
The Body Lies is an intricate story. There is layer upon layer to uncover from the writer's private life, the lives of her students, her neighbours, her new colleagues. It's a taut and exciting read with many different elements to consider.
I read with a growing sense of doom for most of it, partly because I could see where some of it was going, and partly because of the way the writer is treated by men. Does acquiescing because you are unable to fight mean that you consent? No, and yet it says it all that she worries whether anyone will believe what she says.
This is a book that is addictive to read. It has an interesting device in that we are able to read some of the students' work. This kind of thing doesn't always work for me as I find it distracts me from the main story, but here it works brilliantly and adds that extra layer to the narrative.
So…no idea if I have managed to do it justice after all. It's such a difficult book to review really but know this: I found it difficult to put down, it gripped me from start to finish, for a rather short read it packs such a punch, and it's very current. I thought it was a fabulous read and the tone of the writing was perfect.
---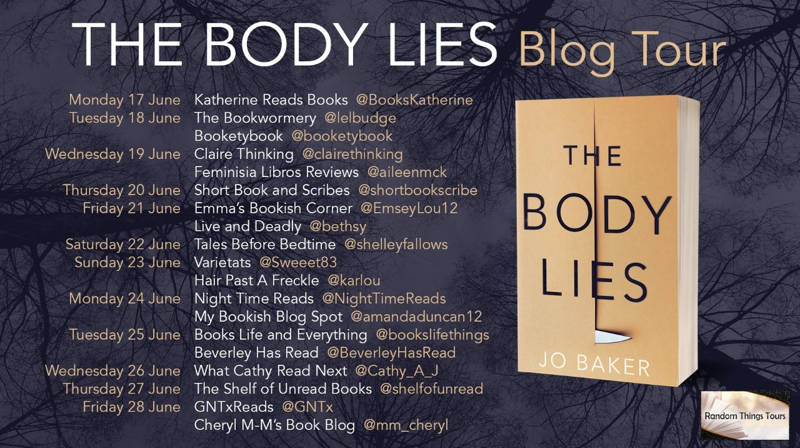 ---

JO BAKER is the author of the acclaimed and bestselling LONGBOURN and A COUNTRY ROAD, A TREE.
Her new novel, THE BODY LIES, is a thrilling contemporary novel that explores violence against women in fiction but is also a disarming story of sexual politics.
Jo Baker lives with her family in Lancashire.