ShortBookandScribes Seven Day Spotlight – w/e 15/09/19
Goodness me, is it really Sunday again? The week has whizzed by and I haven't done anything of note. In fact, a lot of the week has been knuckling down to reading as guess who overstretched herself again this week…… So here's what I posted this week:
Monday's post was a guest post by Kat Armstrong, author of A Pair of Sharp Eyes, all about location.
On Tuesday I reviewed Overdrawn by N.J. Crosskey.
On Wednesday I reviewed We Met in December by Rosie Curtis.
On Thursday I reviewed Meet Me in Monaco by Hazel Gaynor and Heather Webb and also shared an extract from With Kisses from Cecile by Jan Agnello and Anne Armistead.
On Friday I reviewed A Single Thread by Tracy Chevalier and also shared an extract from The Last Landlady by Laura Thompson.
Saturday's post went a bit wrong. It was supposed to be an extract from Wicked by Design by Katy Moran but I only realised way too late that the extract I had was the wrong one. I hope to be able to share the right one at some point.
And finally, this morning I shared an extract from The Quiet Ones by Theresa Talbot.
---
Here's this week's book post. A few of my own purchases, a couple were passed onto me and one giveaway win. Only one is for a blog tour which is unusual.
The Man Who Didn't Call by Rosie Walsh
Imagine you meet a man, spend seven glorious days together, and fall in love. And it's mutual: you've never been so certain of anything.

So when he leaves for a long-booked holiday and promises to call from the airport, you have no cause to doubt him.

But he doesn't call.

Your friends tell you to forget him, but you know they're wrong: something must have happened; there must be a reason for his silence.

What do you do when you finally discover you're right? That there is a reason – and that reason is the one thing you didn't share with each other?

The truth.
The Handmaid's Tale by Margaret Atwood – way behind the pack with this one, I couldn't resist this gorgeous hardback
'I believe in the resistance as I believe there can be no light without shadow; or rather, no shadow unless there is also light.'

Offred is a Handmaid in The Republic of Gilead, a religious totalitarian state in what was formerly known as the United States. She is placed in the household of The Commander, Fred Waterford – her assigned name, Offred, means 'of Fred'. She has only one function: to breed. If Offred refuses to enter into sexual servitude to repopulate a devastated world, she will be hanged. Yet even a repressive state cannot eradicate hope and desire. As she recalls her pre-revolution life in flashbacks, Offred must navigate through the terrifying landscape of torture and persecution in the present day, and between two men upon which her future hangs.

Masterfully conceived and executed, this haunting vision of the future places Margaret Atwood at the forefront of dystopian fiction.
Fever by Mary Beth Keane – after enjoying Ask Again, Yes so much I looked up this author's other work and this one really appealed to me.
Typhoid Mary: a selfish monster, or a hounded innocent?

They called her Typhoid Mary. They believed she was sick, that she was passing typhoid fever from her hands to the food that she served. They said she should have known.

But Mary wasn't sick. She hadn't done anything wrong.

She wasn't arrested right away. There were warnings. Requests. And when she was finally taken, she did not go quietly. Branded a murderer and condemned by press and public alike, Mary continued to fight for her freedom, no matter the cost…

Fever casts a brilliant light over the life of a figure once described as 'the most dangerous woman in America', and Mary Beth Keane's fictional account is as fiercely compelling as Typhoid Mary herself.
Introducing The Time Police, the brand-new series by international bestselling author, Jodi Taylor – an irresistible spinoff from the much-loved Chronicles of St Mary's series. Perfect reading for fans of Doctor Who, Ben Aaronovitch and Jasper Fforde.

A long time ago in the future, the secret of time travel became known to all. Everyone seized the opportunity – and the world nearly ended. There will always be idiots who want to change history.

And so, the Time Police were formed. An all-powerful, international organisation tasked with keeping the timeline straight. At all costs.

Their success is legendary, and the Time Wars are over. But now the Time Police must fight to save a very different future – their own.

This is the story of Jane, Luke and Matthew – arguably the worst recruits in Time Police history. Or, very possibly, three young people who might just change everything.
The Imaginary Lives of James Poneke by Tina Makereti
James Pōneke is a young Māori orphan, raised by missionaries, with a burning desire to travel and explore the world. When an English artist on a tour of New Zealand invites James to return home with him, the boy eagerly accepts and agrees to become a living exhibit at the artist's London show.

Gainsborough loathes pandering to grand sitters, but he changes his tune when he is commissioned to paint King George III and his large family. In their final, most bitter competition, who will be chosen as court painter, Tom or Sir Joshua?

By day, James dresses in full tribal outfit, being stared at, prodded and examined by paying visitors. By night, he is free to explore the city, but anything can happen to a young New Zealander on the savage streets of Victorian London and James is unprepared for the wonders, dangers and unearthed secrets that await.

The Imaginary Lives of James Pōneke is an unforgettable work of historical fiction in the spirit of Sarah Waters and Sarah Perry.
Last Bus to Everland by Sophie Cameron
Last Bus to Everland is Sophie Cameron's gorgeous follow up to her acclaimed debut Out of the Blue, introducing Everland: an addictive magical place where you do you.

Brody Fair has had enough of real life. Enough of the bullies on his block, of being second best to his genius brother, and of not fitting in at school or at home. Then one day he meets Nico. Colourful, confident and flamboyant, he promises to take Brody to Everland, a diverse magical place. A place where he can be himself, where there are no rules, time doesn't pass, and the party never ends. The only catch? It's a place so good, you could lose yourself and forget what's real.
The Bobby Girls by Johanna Bell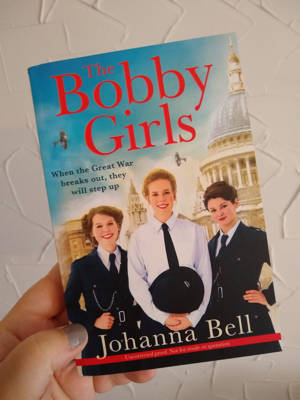 1914. While their men fight in France, at home in Britain women are finally seizing the opportunity to make a difference . . .

Maggie and her new friends Annie, Irene and Sarah come from very different backgrounds, but they've got one thing in common: they've all signed up for the Women Police Volunteers. They can't wait to show the men just what they're made of.

But soon, Maggie realises she's in over her head. Hiding her involvement with the WPV from her tyrannous father is becoming ever more difficult, and when she bumps into an old acquaintance with a big chip on his shoulder, the dangers of her new life become all too clear . . .

As Maggie and the girls work together to find their feet on the beat, will their friendship get her through the darkest of times?
The Man Who Saw Everything by Deborah Levy
'The man who had nearly run me over had touched my hair, as if he were touching a statue or something without a heartbeat…'

In 1988 Saul Adler (a narcissistic, young historian) is hit by a car on the Abbey Road. He is apparently fine; he gets up and goes to see his art student girlfriend, Jennifer Moreau. They have sex then break up, but not before she has photographed Saul crossing the same Abbey Road.

Saul leaves to study in communist East Berlin, two months before the Wall comes down. There he will encounter – significantly – both his assigned translator and his translator's sister, who swears she has seen a jaguar prowling the city. He will fall in love and brood upon his difficult, authoritarian father. And he will befriend a hippy, Rainer, who may or may not be a Stasi agent, but will certainly return to haunt him in middle age.

Slipping slyly between time zones and leaving a spiralling trail, Deborah Levy's electrifying The Man Who Saw Everything examines what we see and what we fail to see, the grave crime of carelessness, the weight of history and our ruinous attempts to shrug it off.