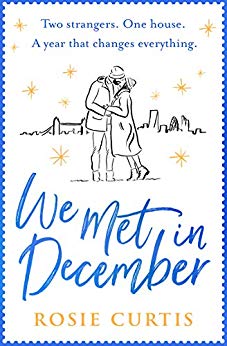 ShortBookandScribes #BookReview – We Met in December by Rosie Curtis @karamina @AvonBooksUK #BlogTour
This is my first Rosie Curtis book but not my first by Rachael Lucas, her alter ego, and it's a lovely read. Might be my first December book in September though 😉 My thanks to Sabah Khan from Avon Books for the place on the tour and for providing an e-ARC through Netgalley for review purposes.
---

What if you couldn't get away from the one who got away?

This December, unlucky-in-love Jess is following her dream and moving to Notting Hill. On the first night in her new house-share she meets Alex, the guy in the room next door. They don't kiss under the mistletoe, but there's still a spark that leaves Jess imagining how they might spend the year together – never mind the house rule against dating…

But when Jess returns from her Christmas holiday, she finds Alex has started seeing Emma, who lives on the floor above them. Now Jess faces a year of bumping into the man of her dreams – and, apparently, the woman of his.

Jess is determined to move on and spend the year falling in love with London, not Alex – but what if her heart has other ideas?
---
We Met in December is a lovely and gentle story about two people who seem to be drawn to each other but something always gets in the way. I have read and enjoyed Rachael Lucas's work before, so I did know to expect a delightful story from her alter ego, Rosie Curtis.
Those two people are Jess and Alex. By some lucky chance, they both know Becky who has just inherited a huge house in Notting Hill. Both looking for fresh starts they end up renting rooms in Becky's house and getting to know each other. As the book begins Jess is moving to London from Bournemouth to start a new life in publishing and Alex has given up his lucrative career as a lawyer to train as a nurse. Both are taking the plunge and when they meet at an unofficial housewarming they hit it off.
But then Jess goes away for a couple of weeks and when she returns Alex has moved on. And so follows a year of living in the same house but one or the other of them never being single or ready to take the next step at the right time.
This is such a sweet story and an incredibly easy one to read. I really liked Jess, especially when I saw her through Alex's eyes. I so wanted a happy ending for these two lovely characters. There's also a cast of supporting friends and each one plays their part in Jess and Alex's story. I enjoyed the little snippets into both of their jobs too which really helped me to get to know them and also the walks around London that Alex took Jess on.
This is not a Christmas book so no need to worry if you don't want to read Christmas books yet. It just begins and ends in December and whilst it is the perfect read for the festive season because of its heartwarming feel, it's set over the course of a year so you could just as easily read and enjoy it in July or indeed September! If you enjoy a light-hearted, cosy romance then this is the book for you. I thought it was a real treat.
---

---

Rosie Curtis was born in the Highlands of Scotland, and now lives with her family in a 150 year old house by the sea in the north west of England. She loves travel, happy ever after stories, and daydreaming. Her favourite book character is a toss up between Anne Shirley and Jo March. Rosie also writes adult and teen fiction as Rachael Lucas.
You can say hello to Rosie on Twitter where she is @karamina and follow her on Instagram at @rosiecurtisauthor.