ShortBookandScribes #BookReview – Meet Me in Monaco by Hazel Gaynor and Heather Webb @HazelGaynor @msheatherwebb @Harper360UK #MeetMeInMonaco #BlogTour
Meet Me in Monaco by Hazel Gaynor and Heather Webb is a book I have been so looking forward to reading and wow, I was not disappointed. My thanks to Jessie Meenan of Harper360 for asking me to be a part of the tour and for providing a gorgeous proof copy of the book for review purposes.
---
Set in the 1950s against the backdrop of Grace Kelly's whirlwind romance and unforgettable wedding to Prince Rainier of Monaco, New York Times bestselling author Hazel Gaynor and Heather Webb take the reader on an evocative sun-drenched journey along the Côte d'Azur in this page-turning novel of passion, fate and second chances…

Movie stars and paparazzi flock to Cannes for the glamorous film festival, but Grace Kelly, the biggest star of all, wants only to escape from the flash-bulbs. When struggling perfumer Sophie Duval shelters Miss Kelly in her boutique to fend off a persistent British press photographer, James Henderson, a bond is forged between the two women and sets in motion a chain of events that stretches across thirty years of friendship, love, and tragedy.

James Henderson cannot forget his brief encounter with Sophie Duval. Despite his guilt at being away from his daughter, he takes an assignment to cover the wedding of the century, sailing with Grace Kelly's wedding party on the SS Constitution from New York. In Monaco, as wedding fever soars and passions and tempers escalate, James and Sophie—like Princess Grace—must ultimately decide what they are prepared to give up for love.
---

Meet Me in Monaco is such a beautiful book. I loved every page of it. The story of Grace Kelly and her marriage to Prince Rainier of Monaco is such a romantic one and I absolutely adored how her journey from actress to princess is intertwined with that of James and Sophie.
James Henderson is a British press photographer, a reluctant one, when he finds himself in Cannes for the film festival. He is chasing Grace Kelly, desperate to obtain a much sought after photo of the Hollywood starlet, when she ducks into a perfume shop to try and escape him. Sophie Duval is the perfumer, a woman with an incredible nose for scent and a skill for putting them together to create the most beautiful fragrances. James' pursuit of Grace throws Sophie into the path of both of them, with a friendship being forged between the two women and rather more between James and Sophie.
I always love books that use real life events as the base for the story but sometimes it does feel as though that element and the other part of the story don't sit completely well together. Not so with Meet Me in Monaco where the two strands are perfectly woven together to create an engrossing, cinematic and memorable tale.
I have to comment on the fact that two authors wrote this book. I don't know how they do it, as in whether they take it in turns, write a 'voice' each or just work together at every stage, but it's absolutely seamless. It's a very successful writing partnership indeed.
This book is full of the atmosphere of the French Riviera and the glamour of the film star lifestyle and yet we also witness Sophie's worry over the future of her business, the one that her father passed onto her. She's trying desperately to keep it going and Grace Kelly's patronage might just help with that.
There are articles written by a journalist about Grace scattered throughout the book and at the beginning there is a lovely picture of her. It all adds together to make this a book a visual delight. And whilst I can't smell the perfumes that Sophie creates, I can almost imagine the scents from the descriptions. It really is wonderfully evocative.
The rapport between Sophie and James is beautifully drawn. I so badly wanted them to make it and I really wanted Sophie to hang onto her business. I can't tell you if all worked out for them but I liked the conclusion very much.
Meet Me in Monaco is the perfect read for those who like a hint of reality in their fiction. The life and death of Grace Kelly is well documented but I felt she was brought back to life in this book. The real story, however, is that of Sophie and James and what a truly gorgeous story it is. I found this book a complete pleasure to read.
---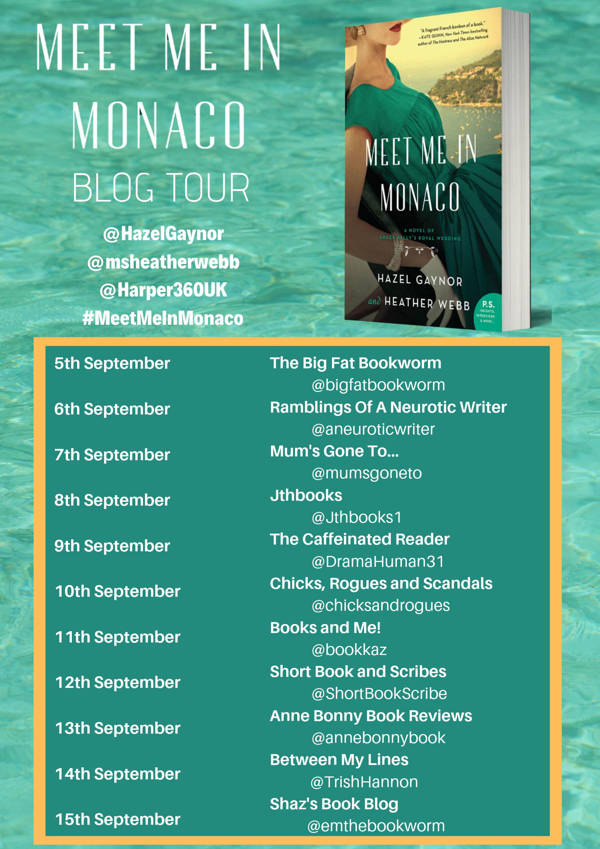 ---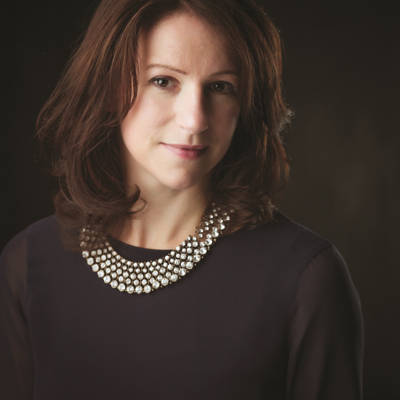 HAZEL GAYNOR is the New York Times and USA Today bestselling author of A Memory of Violets and The Girl Who Came Home, for which she received the 2015 Romantic Novelists' Association Historical Romantic Novel of the Year award. Her third novel, The Girl from The Savoy, was an Irish Times and Globe and Mail bestseller, and was shortlisted for the Irish Book Awards Popular Fiction Book of the Year. In 2017, she published The Cottingley Secret and Last Christmas in Paris (co-written with Heather Webb). Both novels hit bestseller lists, and Last Christmas in Paris won the 2018 Women's Fiction Writers Association Star Award. Hazel's most recent novel, The Lighthouse Keeper's Daughter, hit the Irish Times bestseller list for five consecutive weeks. Hazel was selected by Library Journal as one of Ten Big Breakout Authors for 2015. Her work has been translated into ten languages and is published in seventeen countries to date. She lives in Ireland with her husband and two children.
Website   Twitter   Facebook   Instagram
HEATHER WEBB is the international bestselling, award-winning author of Rodin's Lover, Becoming Josephine, The Phantom's Apprentice, and Last Christmas in Paris (co-written with Hazel Gaynor), which won the 2018 Women's Fiction Writers Association Star Award. Meet Me in Monaco will be followed by a fall 2019 release from HarperCollins in which Heather is one of six contributing, bestselling authors to Ribbons of Scarlet: A Novel of the French Revolution's Women. Her works have been translated into over a dozen languages worldwide. Heather is also passionate about helping writers find their voices as a professional freelance editor, speaker, and instructor at a local college.