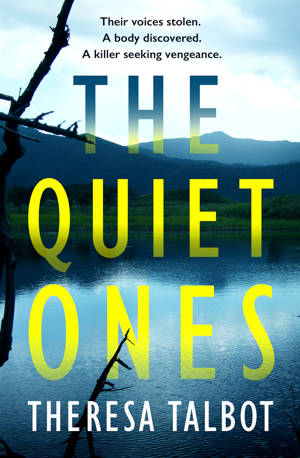 ShortBookandScribes #BlogTour #Extract from The Quiet Ones by Theresa Talbot @Theresa_Talbot @aria_fiction
Welcome to my stop on the blog tour for The Quiet Ones by Theresa Talbot. My thanks to Vicky Joss from Aria for the place on the tour.
---
If only someone had listened…

When the supposed suicide of famous Scottish football coach Harry Nugent hits the headlines, the tabloids are filled with tributes to a charitable pillar of the community that gave so much back to sport and to those less fortunate.

But something isn't right. Normally celebrities are queuing up to claim to have had a very special relationship with the deceased, but investigative journalist Oonagh O'Neil is getting the distinct impression that people are trying to distance themselves from Harry.

Oonagh's investigation leads her to uncover a heartbreakingly haunting cover-up that chills her to the core… and places her in mortal danger from those willing to protect their sadistic and dark secrets at any cost…

Perfect for fans of Patricia Gibney, Angela Marsons and Cara Hunter
Buy links:
---

'Poor sod.' Oonagh wasn't sure if Sandy was referring to Harry or his wife. Their wedding picture was already plastered all over the on-line early editions of the morning's red-tops.

Oonagh tried not to linger on the image in her head. The bulging eyes, his blue tongue and broken neck. In truth she had no idea what his body would have looked like, but her morbid curiosity flashed gruesome images in her head that she wanted gone.

'What would make him do something like that?' She was thinking out loud, not really expecting an answer.

Sandy shrugged. 'Who knows? Sometimes having it all is just too much.'

Oonagh guessed Sandy was just paying lip-service to get rid of her. Putting together an obit-package for television was a pain in the arse, but it would save him from doing any real work for the rest of the day. There were so many in the can already for senior dignitaries, politicians and every member of the royal family. There wasn't a broadcast journalist in the country that didn't fear accidentally playing out a pre-recorded obituary for the Queen. There were safeguards put in place to prevent that sort of thing. To avert disaster most of the tapes were held under lock and key with two senior station managers being privy to the security code. Oonagh imagined it would be easier to accidentally set off a nuclear warhead.

'I know those houses in Houston,' Oonagh was back idling at her screen, 'They've got high ceilings – would he have jumped from the banister or d'you think he climbed onto a stool or something then kicked it away?' Sandy shot her a look, which she ignored. 'How long does it take to die that way anyway?'

'D'you want to give it a rest, Morticia?' Sandy was losing patience; clearly he wanted to get his pack finished then grab a last pint at The Curler's Rest before closing time. Oonagh mulled over the idea of doing a follow-up feature on this. Male suicide was at an all-time high, practically an epidemic, and Harry Nugent must have been in some state to take his own life knowing his poor wife would find him. Such a high profile figure would be the perfect hook for a programme; speaking to the ones left behind, trying to make sense of this tragedy. She scanned the wires from the past few hours and pulled together all they had on his death. There was no mention of a note, or existing mental-health problems, but a few phone calls would clarify the situation on that. Money worries were usually the next port of call. She'd seen men bigger than Nugent lose everything to a gambling addiction. It wasn't her usual brief, but her hunch told her to stay with this one. Follow the human-interest angle.

She'd already decided to approach his wife, or widow as she now was. But she'd need to tread carefully. Thankfully, it seemed to be one of Oonagh's talents that wasn't diminishing with age: the ability to get perfect strangers to open up to her. She'd make sure she gave her enough breathing space before approaching her. But more than that she'd need to tread carefully with Alan. She'd used up most of her senior editor's goodwill of late. Most people seemed to think presenters had a bit of clout, called the shots, but the truth was Oonagh's jacket was on a very shaky nail and she knew it. There was always someone younger, cheaper – usually these things came in threes – but all it took was someone younger and cheaper and her seat would be filled before her arse reached the door. Right on cue, Colin breezed past clutching a pile of papers to his chest, looking young enough and cheap enough to give anyone the heave-ho.
---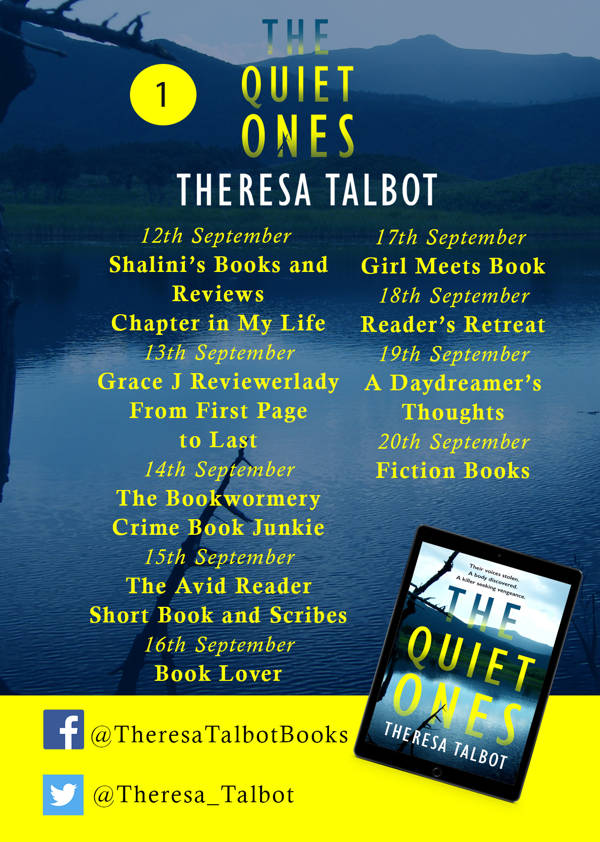 ---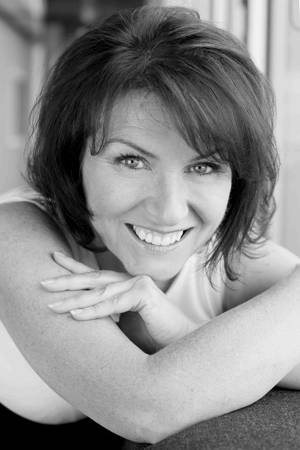 Theresa Talbot is a freelance writer, journalist and radio presenter, perhaps best known as the voice of Traffic and Travel on BBC Radio Scotland and as the host of The Beechgrove Potting Shed. Prior to working with the BBC she was with Radio Clyde and the AA Roadwatch team. Theresa worked in various roles before entering the media as an assistant in children's homes, a Pepsi Challenge girl and a library assistant. She ended up at the BBC because of an eavesdropped conversation on a no.66 bus in Glasgow. Her passions include rescuing chickens, gardening, music and yoga.
Follow Aria