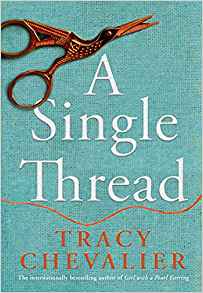 ShortBookandScribes #BookReview – A Single Thread by Tracy Chevalier @Tracy_Chevalier @fictionpubteam #BlogTour
A new Tracy Chevalier book is always something to be excited about and I'm so pleased to be able to share my thoughts about this fabulous book today. My thanks to Rebecca Bryant from Harper Fiction for the place on the tour and for the fabulous finished copy of the book for review purposes.
---

It is 1932, and the losses of the First World War are still keenly felt.

Violet Speedwell, mourning for both her fiancé and her brother and regarded by society as a 'surplus woman' unlikely to marry, resolves to escape her suffocating mother and strike out alone.

A new life awaits her in Winchester. Yes, it is one of draughty boarding-houses and sidelong glances at her naked ring finger from younger colleagues; but it is also a life gleaming with independence and opportunity. Violet falls in with the broderers, a disparate group of women charged with embroidering kneelers for the Cathedral, and is soon entwined in their lives and their secrets. As the almost unthinkable threat of a second Great War appears on the horizon Violet collects a few secrets of her own that could just change everything…

Warm, vivid and beautifully orchestrated, A Single Thread reveals one of our finest modern writers at the peak of her powers.
---
Do I want to read a new Tracy Chevalier book? It's a no-brainer, I would always say a big resounding yes! She's an incredibly versatile author when you think of her back catalogue and here she is again concentrating on another period in history, this time the more recent history of those difficult interwar years.
Our heroine is Violet Speedwell. Aged 38 when the book opens in 1932, she's one of the surplus women, those who remain spinsters because of the loss of so many men in World War 1. Violet, however, wants to be anything but surplus. She wants to be useful, she wants to be independent, she doesn't want to be confined to looking after her mother for the rest of her life.
Talking of her mother, Mrs Speedwell is a fabulous character, full of complaints and poor Violet can do nothing right. I had to smile! I loved Violet though. That hint of steel running through her core made her so courageous in the face of so much adversity. She moves alone to Winchester from Southampton, surviving on fish paste and cress sandwiches, some days forfeiting a hot meal to have the treat of a trip to the pictures, and yet she's doing it, she's branching out alone. It is at Winchester Cathedral that she embarks on a new hobby: she becomes a broderer, part of a group of women embroidering kneelers. It's also in Winchester that she meets someone who is destined to change her future but enough of that – read this book for yourself to find out!
Chevalier has hit just the right tone with this book. The horror of the first war is still hanging over so many people, the losses still just as strong as they were then, and yet Hitler's power in Germany is growing and a second war is looming on the horizon. It's such an interesting time to read about, especially from a woman's point of view, and one of Violet's age.
A Single Thread is a book I wanted to devour but I also wanted to savour every word. The descriptions are so rich and the author has a particular talent for making her characters not only three-dimensional but also completely fascinating. They come to life on the page and are a people-watcher's dream come true.
This is a wonderful read, a gentle one and yet so full of life. It's the perfect read for those of us who enjoy social history, those little details about how people lived their ordinary lives. I found it to be compelling reading and I loved how it ended, uplifting and hopeful for the future.
---

---