ShortBookandScribes Seven Day Spotlight – w/e 04/18/19
Welcome to this week's Seven Day Spotlight post. I'm heaving a very big sigh of relief as I write this as it's been a busy reading week. You remember a few weeks ago I had six review blog tours in a week? Well this week I had five. You might think that's better but it's the school holidays, for the love of God! I didn't have a head start on the five so it was a bit crazy but you know what? I made it! I'm basking in a little glow of achievement right now 😀 I can now allow myself two days for my next read instead of one! I have to say that I wouldn't have missed it for the world though as all five were cracking good reads and two of them are very likely to make it onto my books of the year list.
Here's what I posted this week:
Monday's post was my review of The Huntingfield Paintress by Pamela Holmes.
On Tuesday I shared an extract from Heathcliff by Sue Barnard.
On Wednesday I posted my review of Nightingale Point by Luan Goldie and shared a guest post from Sherryl Clark, author of Trust Me, I'm Dead, all about research.
Thursday's post was my review of Found by Erin Kinsley.
Friday's post was my review of The Girl at the Window by Rowan Coleman.
Saturday's post was my review of The July Girls by Phoebe Locke.
---
Here's what's come my way this week. A couple are ones I have bought because I just didn't have enough books already (who believes that!?!?) and the rest are ones I have been sent.
Degrees of Guilt by HS Chandler
When you read this book, you will think you know every twist in the tale.

Maria is on trial for attempted murder.

She has confessed to the crime and wanted her husband dead.

Lottie is on the jury, trying to decide her fate.

She embarks on an illicit affair with a stranger, and her husband can never find out.

You will think you know who is guilty and who is innocent.

You will be wrong.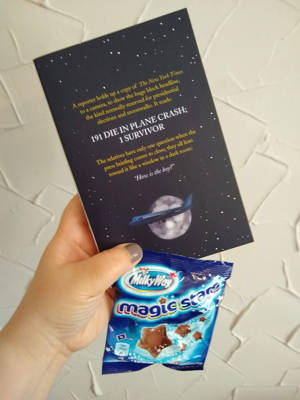 A luminous, life-affirming novel about a 12-year-old boy who is the sole survivor of a deadly plane crash

One summer morning, a flight takes off from New York to Los Angeles. There are 216 passengers aboard: among them a young woman taking a pregnancy test in the airplane toilet; a Wall Street millionaire flirting with the air hostess; an injured soldier returning from Afghanistan; and two beleaguered parents moving across the country with their adolescent sons, bickering over who gets the window seat. When the plane suddenly crashes in a field in Colorado, the younger of these boys, 12-year-old Edward Adler, is the sole survivor.
Dear Edward depicts Edward's life in the crash's aftermath as he struggles to make sense of the meaning of his survival, the strangeness of his sudden fame, and find his place in the world without his family. In his new home with his aunt and uncle, the only solace comes from his friendship with the girl next door, Shay. Together Edward and Shay make a startling discovery: hidden in his uncle's garage are sacks of letters from the relatives of the other passengers, addressed to Edward.

As Edward comes of age against the backdrop of sudden tragedy, he must confront some of life's most profound questions: how do we make the most of the time we are given? And what does it mean not just to survive, but to truly live?
A beautiful home. A loving wife. And in-laws to die for.

Gemma Robinson comes into Elliot's life like a whirlwind, and they marry and settle into his home. When she asks him if her parents can come to stay for a couple of weeks, he is keen to oblige – he just doesn't quite know what he's signing up for.

The Robinsons arrive with Gemma's sister, Chloe, a mysterious young woman who refuses to speak or leave her room. Elliot starts to suspect that the Robinsons are hiding a dark secret. And then there are the scars on his wife's body that she won't talk about . . .

As Elliot's in-laws become more comfortable in his home, encroaching on all aspects of his life, it becomes clear that they have no intention of moving out. To protect Gemma, and their marriage, Elliot delves into the Robinsons' past. But is he prepared for the truth?

From the two million copy bestselling author comes a tale about the chilling consequences of welcoming strangers into your home.
You trust your family. They love you. Don't they?

When 17-year-old Eva Olsen awakes after a horrific accident that has left her bedbound, her parents are right by her side. Devoted, they watch over her night and day in the attic room of their family home in the forests of Norway.

But the accident has left Eva without her most recent memories, and not everything is as it seems. As secrets from the night of the accident begin to surface, Eva realises – she has to escape her parents' house and discover the truth. But what if someone doesn't want her to find it?
Miss Nightingale's Nurses by Kate Eastham
From the docks of Liverpool to a distant battlefield, can one girl find her brother and save herself?

Ada Houston's life is shattered when her brother Frank goes missing following an accident at the docks. But a short time later she hears a rumour that he survived and left Liverpool to fight a foreign war.

Determined not to lose him a second time she boards a ship to bring him home. But the battlefields of the Crimea are a hostile place for a penniless young woman.

Then one day a lifeline is thrown her way as she is offered the chance to train as a nurse under the famous Florence Nightingale. Working in the most terrible of conditions, Ada shows an aptitude beyond anyone's expectations as she cares for her injured countrymen, makes new friends and enjoys the first flutter of romance.

But Frank is still missing and she needs to find him before it's too late . . .
Dead Guilty by Michelle Davies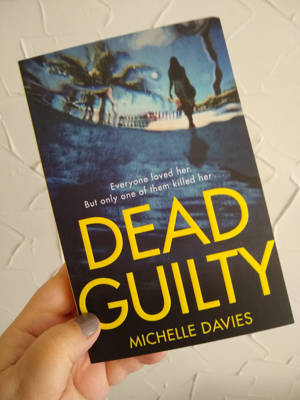 Has the killer in DC Maggie Neville's cold case returned after a decade of silence?

Katy Pope was seventeen when she was brutally murdered on a family holiday in Majorca. Despite her mother's high rank in the Met and the joint major investigation between the British and Spanish police, Katy's killer was never caught.

Ten years later, Katy's family return to the Spanish island to launch a fresh appeal for information, taking with them the now skeletal team of investigating Met detectives, and newly seconded Maggie as the family liaison officer.

But Maggie's first international investigation quickly goes from being more than just a press conference when another British girl there on holiday goes missing, and Katy's killer announces that it's time for an encore . . .
A Shadow on the Lens by Sam Hurcom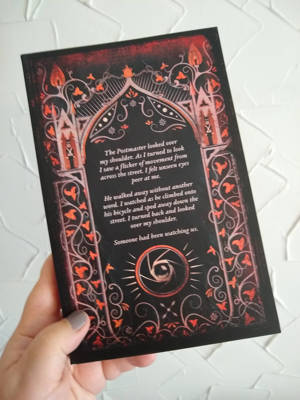 The Postmaster looked over my shoulder. As I turned to look I saw a flicker of movement from across the street. I felt unseen eyes peer at me. 
He walked away without another word. I watched as he climbed onto his bicycle and sped away down the street. I turned back and looked over my shoulder. 
Someone had been watching us.

1904. Thomas Bexley, one of the first forensic photographers, is called to the sleepy and remote Welsh village of Dinas Powys, several miles down the coast from the thriving port of Cardiff. A young girl by the name of Betsan Tilny has been found murdered in the woodland – her body bound and horribly burnt. But the crime scene appears to have been staged, and worse still: the locals are reluctant to help.

As the strange case unfolds, Thomas senses a growing presence watching him, and try as he may, the villagers seem intent on keeping their secret. Then one night, in the grip of a fever, he develops the photographic plates from the crime scene in a makeshift darkroom in the cellar of his lodgings. There, he finds a face dimly visible in the photographs; a face hovering around the body of the dead girl – the face of Betsan Tilny.
The Librarian by Salley Vickers
In 1958, Sylvia Blackwell, fresh from one of the new post-war Library Schools, takes up a job as children's librarian in a run down library in the market town of East Mole.

Her mission is to fire the enthusiasm of the children of East Mole for reading. But her love affair with the local married GP, and her befriending of his precious daughter, her neighbour's son and her landlady's neglected grandchild, ignite the prejudices of the town, threatening her job and the very existence of the library with dramatic consequences for them all.

The Librarian is a moving testament to the joy of reading and the power of books to change and inspire us all.
The Things We Left Unsaid by Emma Kennedy
Rachel's relationship with her mother, Eleanor, has always been far from perfect. Eleanor is a renowned artist born from the swinging sixties, and Rachel has forever lived in the shadow of her success.

When Rachel is left by her fiancé on the morning of their wedding she has no choice but to move back into her family home and spend an unbearably hot summer with a mother she feels distant from – in the presence of many painful memories.

It will take another turn of events before Rachel realises that sometimes the past holds exactly the comfort we need. And that behind the words left unsaid are untold stories that have the power to define us.

Imbued with warmth and full of characters who will steal your heart, THE THINGS WE LEFT UNSAID is a radiant novel in which past and present collide with life-affirming consequences.