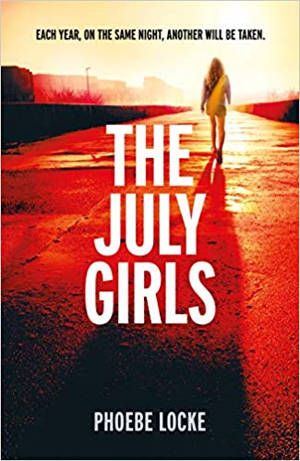 ShortBookandScribes #BookReview – The July Girls by Phoebe Locke @Wildfirebks #RandomThingsTours #BlogTour
I'm so pleased to be reviewing The July Girls by Phoebe Locke today as part of the blog tour. My thanks to Anne Cater from Random Things Tours for the place on the tour and to Wildfire/Headline for sending me a proof copy of the book along with a bracelet that, erm….., may have come from a dead woman!!! 😉
---
Every year, on the same night in July, a woman is taken from the streets of London; snatched by a killer who moves through the city like a ghost. 

Addie has a secret. On the morning of her tenth birthday, four bombs were detonated across the capital. That night her dad came home covered in blood. She thought he was hurt in the attacks – but then her sister Jessie found a missing woman's purse hidden in his room.

Jessie says they mustn't tell. She says there's nothing to worry about. But when she takes a job looking after the woman's baby daughter, Addie starts to realise that her big sister doesn't always tell her the whole story. And that the secrets they're keeping may start costing lives . . .
---

I liked The Tall Man, Phoebe Locke's first book, but I really loved The July Girls. It's a fast-paced story which kept me turning those pages as fast as I could.
Addie is 10 in 2005 when the story begins. She lives with her father and her 17 year old sister, Jessie, in a flat in London. Her birthday is 7/7 and this is the year of the London tube and bus bombings on that very date. It's also the day that her dad comes home with blood on his clothes, acting shiftily. Jessie is almost like a mother to Addie but she's also very adept at keeping things from her, things that are important.
I thought Addie was a fantastic protagonist. The narrator of her tale, she's brave and old for her years, yet still vulnerable (she's only 10, after all). But she understands so much and when it becomes clear that every year on 7/7 a woman goes missing she finds herself starting to put two and two together.
The writing in this book is so engaging, it pulled me right into Addie's world. I watched her grow up and become a wonderful and strong young woman. I whipped through her story, finding it a little creepy and full of underlying tension, yet it's also a tale of a fractured family having to cope with what life throws at them.
The July Girls is very cleverly plotted. It kept me guessing and the denouement, when it came, was a complete surprise. I really didn't expect any of what happened. Whilst this is a thriller, it's also the story of a young girl coming of age, learning that the world can be a difficult and cruel place. I thought it was innovative to have a 10 year old as the main character and it allowed an air of innocence to accompany the murder spree that the killer goes on. I enjoyed this book, which has darkness at its heart, very much indeed.
---

---

PHOEBE LOCKE is the pseudonym of full-time writer Nicci Cloke. She previously worked at the Faber Academy, and hosted London literary salon Speakeasy. Nicci has had two literary novels published by Fourth Estate and Cape, and also writes YA for Hot Key Books. She lives and writes in Cambridgeshire. THE JULY GIRLS follows Phoebe Locke's debut thriller THE TALL MAN.