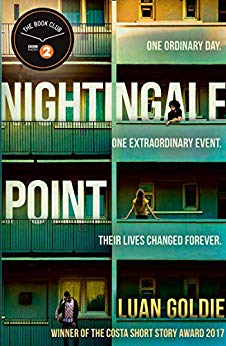 ShortBookandScribes #BookReview – Nightingale Point by Luan Goldie @HQstories #BlogTour
I'm so pleased to be reviewing Nightingale Point by Luan Goldie today as part of the blog tour. My thanks to Lucy Richardson from HQ Stories for the place on the tour and for sending me a proof copy of the book for review purposes.
---

On an ordinary Saturday morning in 1996, the residents of Nightingale Point wake up to their normal lives and worries.

Mary has a secret life that no one knows about, not even Malachi and Tristan, the brothers she vowed to look after.
Malachi had to grow up too quickly. Between looking after Tristan and nursing a broken heart, he feels older than his twenty-one years.
Tristan wishes Malachi would stop pining for Pamela. No wonder he's falling in with the wrong crowd, without Malachi to keep him straight.
Elvis is trying hard to remember to the instructions his care worker gave him, but sometimes he gets confused and forgets things.
Pamela wants to run back to Malachi but her overprotective father has locked her in and there's no way out.

It's a day like any other, until something extraordinary happens. When the sun sets, Nightingale Point is irrevocably changed and somehow, through the darkness, the residents must find a way back to lightness, and back to each other.
---
Nightingale Point is a set of high-rise flats in London. It contains 56 flats with people going about their daily business. The book begins with us meeting some of them.
Elvis is a young man with learning disabilities, living alone in his own flat for the first time. His carer, Lina, arrives to help him choose which pie to eat today.
Mary is a Filipino nurse. Her twins are grown up and her husband is off chasing some dream or other, although he does return sometimes. But Mary has dreams of her own.
Malachi and Tristan are brothers, 21 and 15 respectively. Malachi is sensible and Tristan is most definitely not. Malachi always looks out for Tristan, especially since the death of their mother.
Pamela is 17. Her father keeps her on a tight leash. He keeps threatening to lock her in the flat if he finds out she's still seeing Malachi.
But these are ordinary, everyday problems, ones that people all over the world have to deal with. Until something terrible happens that makes one particular day in the mid 90s extraordinary for all these people and for the other residents of Nightingale Point.
Luan Goldie took as her inspiration for this story two events. One is the cargo plane that crashed into two high-rise blocks of flats in Amsterdam in 1992 and the other is the more recent Grenfell Tower tragedy. It certainly made me think more about the vulnerability of tall buildings, of people piled on top of each other.
The book is broken up into the before, the during and then the aftermath, which itself is split into immediately after, a few months after and then five years after. I found the before sections really helped to get to know the characters, to start to care about them, with this knowledge of a terrible event which is about to shape the rest of their lives. And then the aftermath, hoping that they would recover, that they would be able to return to some normality. Of course, the sections that take place during the crash are the most shocking and the most poignant.
It's hard to believe Goldie is a debut author. Her writing is assured, it's empathetic and moving. Despite this, I didn't always find myself as completely absorbed by it as I expected and not as emotionally invested in the characters as I thought I would be. I'm not sure why that is but perhaps it was the multiple points of view, although that's not something that is usually an issue for me. Nevertheless, I was still very taken by this book, by the brave characters and what they went through and I know it's a book that will stay with me.
Nightingale Point is a thought-provoking and intelligent story about humans' ability to deal with life's unexpected misfortunes. I think this author is heading for a very successful career based on this, her first book and I shall most definitely be looking out for book two.
---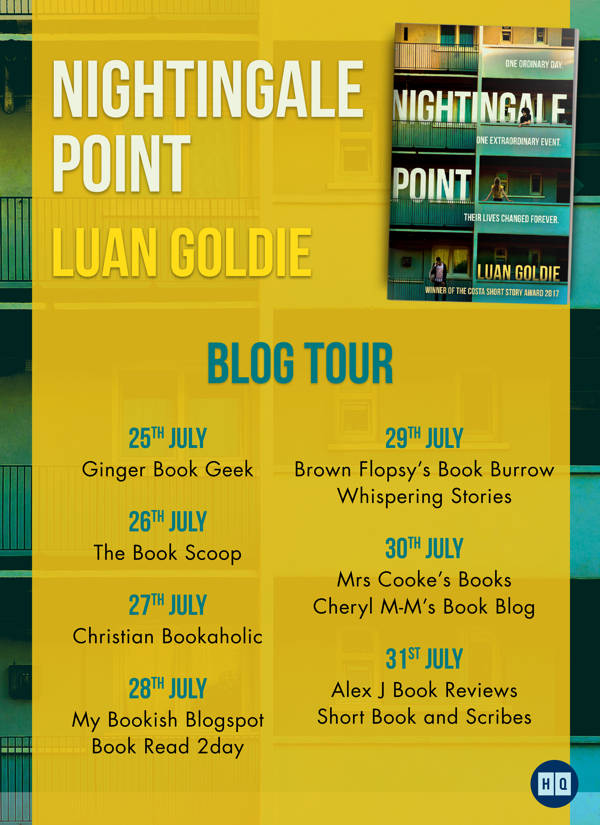 ---

Luan Goldie was born in Glasgow but has lived in East London for most of her life. She is a primary school teacher, and formerly a business journalist. She is the winner of the Costa Short Story Award 2017 for her story 'Two Steak Bakes and Two Chelsea Buns'. Her short stories have also been long and short listed by Spread the Word and the Grazia/Women's Prize First Chapter competition. Nightingale Point is her debut novel.