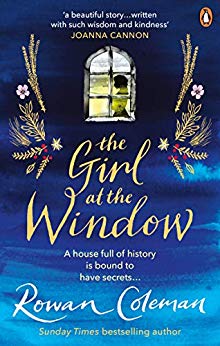 ShortBookandScribes #BookReview – The Girl at the Window by Rowan Coleman @EburyPublishing #RandomThingsTour #BlogTour
The Girl at the Window by Rowan Coleman is a book I have been looking forward to since I first heard about it. I'm delighted to be able to share my review today as part of the blog tour. My thanks to Ebury for sending me a proof copy for review purposes and to Anne Cater from Random Things Tours for the place on the tour.
---
Ponden Hall is a centuries-old house on the Yorkshire moors, a magical place full of stories. It's also where Trudy Heaton grew up. And where she ran away from…

Now, after the devastating loss of her husband, she is returning home with her young son, Will, who refuses to believe his father is dead.

While Trudy tries to do her best for her son, she must also attempt to build bridges with her eccentric mother. And then there is the Hall itself: fallen into disrepair but generations of lives and loves still echo in its shadows, sometimes even reaching out to the present…

A hauntingly beautiful story of love and hope, from the Sunday Times bestselling author of The Memory Book and The Summer of Impossible Things
---

The Girl at the Window is what I call a wow book. It's simply stunning from the very beginning to the very end, all 440 pages of it. Not a short book, by any means, but in my opinion not one word is surplus to requirements.
The story is very much set around Ponden Hall on the Yorkshire moors and it most definitely is a character in its own right. When Trudy returns to her childhood home after losing her husband, Abe, it feels like the right thing to do. It's so much more than just a house. She takes her 8 year old son, Will, with her and it's the first time he's met his grandmother due to an estrangement between her and Trudy.
Ponden Hall is where Emily Brontë is thought to have got her inspiration for Wuthering Heights and where she spent some time before her untimely death. Already it's a magical place. Add in Rowan Coleman's storytelling skills and it's even more exquisite.
There's so much going on in this book and yet it never felt overcrowded. There's the obvious grief that Trudy and Will are suffering. There's the difficult mother/daughter relationship where they have to learn to live together again after so many years. Then there's Trudy's discovery in the house of items that could change history, along with the Brontë connection and the story of another Ponden Hall resident, Agnes. It's all wonderfully atmospheric and full of those lovely little details that I love. There's much going through records, searching through boxes, delving into archives, exploring dusty stacks for something long hidden. It captivated me and I just didn't want to leave this fascinating story alone for a minute.
Added to this is the ghostly element at the hall. Over the years, ghosts have made their home at the hall too. I'm not a believer in ghosts and yet I totally believed in them in this story. Coleman hits exactly the right tone of plausibility.
The writing is sublime, the plotline is inspired and imaginative, I felt empathy with the characters and of course, there's the setting. The beautiful and bleak Yorkshire moors of Wuthering Heights come back to life in The Girl at the Window. I thought it was a completely gorgeous read and one that will probably find its way onto my books of the year list.
---

---

Rowan Coleman lives with her husband and their five children in a very full house in Hertfordshire. She juggles writing novels with raising her family. Rowan's last novel, The Summer of Impossible Things, was selected for Zoe Ball's ITV Book Club. Rowan has an
everlasting love for the Brontes, and is a regular visitor of Ponden Hall.