Seven Day Spotlight – w/e 05/11/17
Hello! Happy Sunday and welcome to my spotlight post for the last week.
This week on my blog:
On Monday I had a really funny Q&A with Peter Jones as part of his blog tour for My Girlfriend's Perfect Ex-Boyfriend.
On Tuesday Amanda Hickie shared her top five post-apocalyptic/pandemic novels as part of the blog tour for Before This is Over.
On Wednesday I had two posts. I had a Q&A with Winnie Li as part of the blog tour for Not the Booker Prize winner, Dark Chapter.
And I shared my review of Different Genes by Claire Baldry as well as a guest post from Claire about her journey from poetry to prose.
On Friday I had another two posts. The first was for Recipe for Disaster by Stephen Phelps which combines two of my favourite things: Italy and cooking/food. Instead of a normal guest post I featured a recipe for soft chocolate cake – yum!
Also on Friday (it was a foody sort of day as it turned out) I took part in the cover reveal for Sylvia Ashby's next instalment of the Pot Love series, A Prosecco Christmas, and what a stunning cover it is.
On Saturday I took part in the blog tour for Sara Alexi's new book, The Other Daughter. I had a fab guest post from Sara about Yorkshire and a Yorkshire themed giveaway which is still open.
And finally, this morning I posted my review of the CWA Anthology of Short Stories: Mystery Tour which is a great collection of crime stories with a travel theme.
---
So what have I added to my TBR pile this week?
Beneath the Skin by Caroline England – I featured a guest post from Caroline on my blog and really liked the sound of her book.
Three women. Three secrets.

Antonia is beautiful and happily married. Her life is perfect. So why does she hurt herself when nobody's watching?

Sophie is witty, smart and married to the best-looking man in town. She likes a drink, but who doesn't?

Olivia is pretending to be a happy wife and mother. But her secret could tear her family apart.

Their lies start small, they always do. But if they don't watch out, the consequences will be deadly.
The Good Samaritan by John Marrs – the premise of this one sounds irresistible.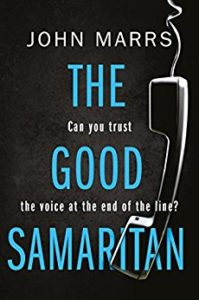 She's a friendly voice on the phone. But can you trust her?

The people who call End of the Line need hope. They need reassurance that life is worth living. But some are unlucky enough to get through to Laura. Laura doesn't want them to hope. She wants them to die.

Laura hasn't had it easy: she's survived sickness and a difficult marriage only to find herself heading for forty, unsettled and angry. She doesn't love talking to people worse off than she is. She craves it.

But now someone's on to her—Ryan, whose world falls apart when his pregnant wife ends her life, hand in hand with a stranger. Who was this man, and why did they choose to die together?

The sinister truth is within Ryan's grasp, but he has no idea of the desperate lengths Laura will go to…

Because the best thing about being a Good Samaritan is that you can get away with murder.
Islands by Gwyn GB – The title alone was enough for me as I love islands and books set there.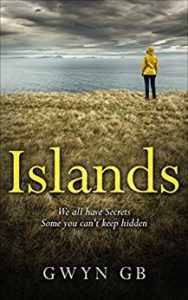 Be prepared to cry at this powerful, beautifully written story that takes you on Katherine's journey from a naïve childhood, riven with guilt, to a lonely adult who knows it's time to face up to her hidden past.

Set against the real-life events of 2008 that shocked the beautiful island of Jersey, this is a story that deals with difficult subjects, honestly and compassionately.

Katherine, is a successful business woman living and working in London. She's estranged from her husband and family and hiding from the pain of failed motherhood.

When a major murder and child abuse investigation launches in her home island of Jersey, the news shocks the island and brings the world's media to its idyllic shores.

As the island of Jersey faces up to its hidden past, Katherine is forced to face up to hers. A letter arrives from the dying mother of her teenage friend – the friend whose death Katherine caused 32 years before.

She knows she must return home and tell the truth; but Katherine isn't the only one with secrets…

Will the truth heal or destroy her? Will she ever come to terms with what drove her away from the man she loved and the sister that needs her?
Alfie the Holiday Cat by Rachel Wells – this and the following two books were surprise book post from Avon Books to celebrate #TenYearsYoung.
The Sunday Times bestseller returns for a fourth book! Alfie and his mischievous kitten George are back for more adventures – this time taking them a long way from home…

Alfie and George just can't seem to keep out of trouble. So when they hear that their owners have got a new holiday home, they can't wait to visit it and enjoy some new adventures.

But when they arrive, they don't find the comfort they're used to. Crumbling walls, peeling paint, dripping ceilings…this little Cornish cottage is clearly on its last legs.

Family and friends rally round to try and save the cottage – but it soon becomes clear that the locals don't want them there at all. It's up to Alfie and George to make sure their family is welcomed into the village – that's if they can keep out of the way of the nastiest cat they've ever encountered…
Henry the Queen's Corgi by Georgie Crawley
The heart-warming story of one little dog's big adventure, and the lives he changes along the way.

This Christmas, anything could happen…

When their dog goes missing during a day trip to London, the Walker family are forced to accept that they may never see Henry again. But as the family search for their beloved pet, the reality of what has happened to Henry never even crosses their minds: Henry has been mistaken for one of the Queen's prized corgis.

Swept into Buckingham Palace, Henry is about to discover how the other half of the dog world lives. Henry's life with the Walkers is a long way from the world of china dog bowls of the corgi room.

But Henry isn't such an average dog either – and as he explores the palace, getting under the feet of royals and staff alike, this naughty dog will change the residents of Buckingham Palace's lives in ways they could never have imagined …
An Orphan in the Snow by Molly Green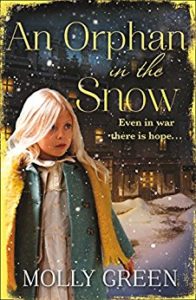 War rages, but the women and children of Liverpool's Dr Barnado's Home cannot give up hope. An Orphan in the Snow is the perfect heartwarming saga for Christmas.

LIVERPOOL, 1941
Haunted by the death of her sister, June Lavender takes a job at a Dr Barnardo's orphanage. June couldn't save Clara from their father's violence, but perhaps she can help children whose lives have been torn apart by war.

A WORLD AT WAR
When June bumps into Flight Lieutenant Murray Andrews on the bombed streets of Liverpool, the attraction is instant. But how can they think of love when war is tearing the world apart?

A FIGHT FOR HOPE
As winter closes in, and the war rages on, can June find the strength and courage to make a better life for herself and the children?
The Lives She Left Behind by James Long – I love Ferney and have been meaning to read this follow up for years so I snapped it up at its current price of 99p.
One of the most brilliant timeslip novels ever written,The Lives She Left Behind will appeal to fans of The Time Traveller's Wife and Life After Life – and, of course, Ferney.

In a Somerset village, a teenage boy confronts a teacher with a story he should know nothing about. The boy's impossible knowledge uncovers memories Michael Martin has done his utmost to forget – and soon propels him into danger.

As Martin confronts his past once more, three girls arrive in the village of Pen Selwood, one of them drawn by an ancient instinct to find a man called Ferney. Her actions reignite a love story, an instinct that cannot be broken, irrespective of the hurt and danger it brings to those around them…

A passionate love story that spans the centuries, fall under the spell of Ferney and Gally's enduring romance.
Why Mummy Drinks by Gill Sims – I saw this on the fabulous Portobello Book Blog and thought it sounded hilarious.
Why Mummy Drinks is the brilliant novel from Gill Sims, the author of the online sensation Peter and Jane.

It is Mummy's 39th birthday. She is staring down the barrel of a future of people asking if she wants to come to their advanced yoga classes, and polite book clubs where everyone claims to be tiddly after a glass of Pinot Grigio and says things like 'Oooh gosh, are you having another glass?'

But Mummy does not want to go quietly into that good night of women with sensible haircuts who 'live for their children' and stand in the playground trying to trump each other with their offspring's extracurricular activities and achievements, and boasting about their latest holidays.

Instead, she clutches a large glass of wine, muttering 'FML' over and over again. Until she remembers the gem of an idea she's had…
21st Century Yokel by Tom Cox – this is a book I keep hearing about. I follow Tom Cox on Facebook and so when the opportunity arose to help to crowdfund this book I couldn't resist. More about this book and the next one in this list tomorrow.
21st-Century Yokel explores the way we can be tied inescapably to landscape, whether we like it or not, often through our family and our past. It's not quite a nature book, not quite a humour book, not quite a family memoir, not quite folklore, not quite social history, not quite a collection of essays, but a bit of all six.

It contains owls, badgers, ponies, beavers, otters, bats, bees, scarecrows, dogs, ghosts, Tom's loud and excitable dad and, yes, even a few cats. It's full of Devon's local folklore – the ancient kind, and the everyday kind – and provincial places and small things. But what emerges from this focus on the small are themes that are broader and bigger and more definitive.

The book's language is colloquial and easy and its eleven chapters are discursive and wide-ranging, rambling even. The feel of the book has a lot in common with the country walks Tom Cox was on when he composed much of it: it's bewitched by fresh air, intrepid in minor ways, haunted by weather and old stories and the spooky edges of the outdoors, restless, sometimes foolish, and prone to a few detours… but it always reaches its intended destination.

The book is illustrated with Tom's own landscape photographs and linocuts by his mother.
My Groupon Adventure by Max Dickins – an extract from this one had me giggling away.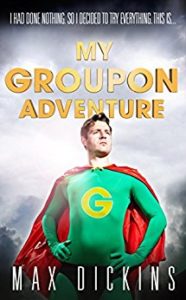 In 2013, comedian Max Dickins wasn't sure of very much in life, but he did know one thing for certain: his life was excruciatingly and mind-numbingly boring. He was heartbroken and desperate to shake things up. That's when he found Groupon.

What started as a gateway to some new experiences snowballed into a limitless Narnia of discounted possibility. His insatiable desire to try out new experiences was accompanied by only one rule: he wasn't allowed to turn anything down.

Over the course of 18 months, Max did a new Groupon deal every week, charting his experiences along the way: he changed his name, became a Lord, moonlighted as a beekeeper, trekked with alpacas, underwent a colonic irrigation and ultrasound scan, and even convinced Groupon to sell a date with him on their site. They sold 1,000.

From a deep rut, he emerged a better man, resuscitated by the oxygen of new experience. My Groupon Adventure is a hilarious and uplifting account of these experiences and what can happen when you inject a healthy dose of spontaneity into your life. It's a book about opening yourself – and sometimes parts of your body – up to new experiences, and ultimately choosing the life you want for yourself.
Twice the Speed of Dark by Lulu Allison – kindly sent to me by the author in readiness for the blog tour coming soon.
A mother and daughter circle each other, bound by love, separated by fatal violence. Dismayed by the indifference she sees in the news to people who die in distant war and terror, Anna writes portraits of the victims, trying to understand the real impact of their deaths. Meanwhile Anna's daughter, killed by a violent boyfriend, tells her own story from the perplexing realms of death, reclaiming herself from the brutality. Anna's life is stifled by heartache; it is only through these acts of love for strangers that she allows herself an emotional connection to the world. Can Anna free herself from the bondage of grief and find a connection to her daughter once more?
As always I would really love to hear any thoughts and comments on these books.