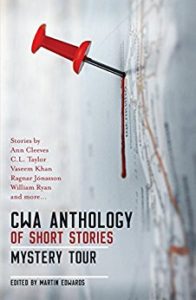 #blogtour – CWA Anthology of Short Stories: Mystery Tour @OrendaBooks #crimefiction
I'm so pleased today to be posting my review of the CWA Anthology of Short Stories: Mystery Tour as part of the blog tour. Thank you to Orenda Books and Anne Cater for the review copy and the place on the tour.
The CWA Short Story Anthology has recently changed publishers and is now with the fabulous Orenda Books. This set of stories has a travel theme. Here's some more information.

Crime spreads across the globe in this new collection of short stories from the Crime Writer's Association, as a conspiracy of prominent crime authors take you on a world mystery tour. Highlights of the trip include a treacherous cruise to French Polynesia, a horrifying trek in South Africa, a murderous train-ride across Ukraine and a vengeful killing in Mumbai. But back home in the UK, life isn't so easy either. Dead bodies turn up on the backstreets of Glasgow, crime writers turn words into deeds at literary events, and Lady Luck seems to guide the fate of a Twickenham hood. Showcasing the range, breadth and vitality of the contemporary crime-fiction genre, these twenty-eight chilling and unputdownable stories will take you on a trip you'll never forget.

Contributions from:
Ann Cleeves, C.L. Taylor, Susi Holliday, Martin Edwards, Anna Mazzola, Carol Anne Davis, Cath Staincliffe, Chris Simms, Christine Poulson, Ed James, Gordon Brown, J.M. Hewitt, Judith Cutler, Julia Crouch, Kate Ellis, Kate Rhodes, Martine Bailey, Michael Stanley, Maxim Jakubowski, Paul Charles, Paul Gitsham, Peter Lovesey, Ragnar Jónasson, Sarah Rayne, Shawn Reilly Simmons, Vaseem Khan, William Ryan and William Burton McCormick
---
In all honesty, short stories are not usually my thing but I couldn't resist this collection of twenty-eight stories by some of the crime writing fraternity's biggest players. A wonderful array of respected crime authors have contributed towards this collection with a theme of travel and intriguing destinations and I did indeed feel like I had travelled the world in twenty-eight easy steps, whizzing through the pages of felonies, follies and fatalities.
By the time I closed the book I felt like I had met all of human nature and experienced places I had never been to. It's difficult to review short stories as you can't say much about the plot because it would practically give it all away. But I can say that this is a collection of pure quality which thrilled me. I think it would be ideal for dipping into on those occasions when you have only a few minutes. The stories range in length and you can easily pick one that fits the bill. I'm one of those people who feels compelled to read from front to back but you can pick one by your favourite author or one with a title that catches your eye.
All in all it's a great selection and a must have if you enjoy crime and short stories.
---
If this anthology appeals to you then it's available now in ebook and paperback.
There are lots of other blogs taking part in the tour so please do have a look.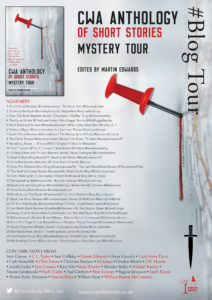 ---
Martin Edwards has published eighteen novels, including the Lake District Mysteries. The Golden Age of Murder won the Edgar, Agatha, H.R.F. Keating, and Macavity awards. He has edited thirty-five crime anthologies and has won the CWA Short Story Dagger, the CWA Margery Allingham Prize and the Poirot award. He is president of the Detection Club and current chair of the CWA.