#blogtour – The Other Daughter by @SaraAlexi Yorkshire #GuestPost #giveaway
I'm delighted to welcome Sara Alexi back to Short Book and Scribes. She's been here twice before. I reviewed one of her fabulous Yorkshire books, The Piano Raft, here and I also featured a Q&A with Sara.
Today's she here to talk about her new book, The Other Daughter and I have a lovely guest post about Yorkshire (which seems apt as I am from Yorkshire myself) and there's a fab giveaway with a Yorkshire theme too. But first, here's what The Other Daughter is about:

The Other Daughter by Sara Alexi is a compelling and gritty tale, set amongst the wild moors and crooked streets of a Yorkshire Village, following one woman who finally untangles herself from the clutches of a painful past and a self-centred mother.

More than a decade after leaving home Dawn finds herself stuck in a dead-end job, in a rundown flat, while her sister has it all – the husband, children and prestigious job in sunny Australia. Their mum's favouritism is palpable, and even as she has a terrible fall leaving Dawn to pick up the pieces, nothing Dawn does can live up to her perfect, absent sister.

But still Dawn persists with taking care of her aging and fragile mum, until one day it begins to feel like the only thing standing between Dawn and her happiness is her mother's continued, pitiful existence…
If you like the sound of it then it's out now in ebook and paperback.
---

My newest novel The Other Daughter is set in Yorkshire. I chose to set the story in Yorkshire as it is a deeply emotional book and I relish the raw passion of that Northern county. Yorkshire folk speak plainly, the weather is distinct in its seasons, the towns are gritty and the moors are achingly beautiful.
This love I have for Yorkshire can be traced back to my formative years when I lived there. I think it is possible that I absorbed more of the place than many of my peers who were raised there for the simple reason that it was not familiar to me, having been born in Oxford. For example as a school child, when everyone else was in flares and platform shoes I took to wearing clogs that were made by a little old man in his front room in a tiny terraced house just on the edge of Haworth, famous for the Bronte sisters, Jane Eyre and Wuthering Heights. If I was to be in Yorkshire, I decided, then I wanted it all – the reality, the history and the romance.
My weekends during this time were spent wandering Ilkley moor, getting lost and finding my way again, picking up litter that had no place in such an awe inspiring country and laying in deep heather listening to the raucous call of grouse. In contrast I would also get soaked to the bone with fine rain that had the ability to penetrate the most resistant of fibres and freeze my finger ends and toes with marches across the county's winter landscape, my clogs rocking as the instep filled with compacted snow. All these aspects; passion, love, hate, the general moodiness of the barren moors and bleakness of the dry stone walls came to me as the perfect setting for the topic of The Other Daughter.
But as I describe Yorkshire I can hear how it may come across as rather grim and forbidding. I think the topic of the book could also be viewed in the same way; after all  a girl whose mother is dying does not totally lend itself to lighthearted merriment. But, like Yorkshire, even in the book's grimmest moments there is inspiration for the possibilities of life, uplifting twists and examples of mankind's ever forward movement in our natural pursuit of happiness.
I hope the book, rather like Yorkshire, is surprising. And if you don't believe that Yorkshire is a surprising place let me tell you a few surprising facts about this county – some well kept secrets perhaps …
The Cats eye was invented in Yorkshire by Percy Shaw of Halifax.
Bram Stoker was inspired to write Dracula when on holiday in Whitby.
The first lighthouse in England was on Flamborough head. (1669)
Thomas Crapper – famous for his loo – came from Yorkshire, giving extra pleasure to those who like to swear.
The white rabbit in Alice In Wonderland was inspired by a stone rabbit Lewis Carol saw in a churchyard in Beverly.
Guy Fawkes was a Yorkshire man.
Marks and Spencer started its penny bazaar in Leeds Market.
Jelly Tots were accidentally invented in Horsforth, just outside Leeds.
Dame Judi Dench was brought up in York.
And last but obviously not least the writers that come from Yorkshire are second to none. Yorkshire can boast Alan Bennett, Anne, Charlotte and Emily Bronte, Margaret Drabble, Barbara Taylor Bradford, Kate Atkinson, J.B. Priestley, Ted Hughes and W.H Auden.
Obviously I do not claim, even if I do aspire, to be compared with such noteworthy writers. I am too much a story teller and a people watcher to be put on such a venerable list of people who I consider true wordsmiths. But I hope, in its own way, that The Other Daughter will entertain you and inspire you to turn every page until the end.
Thank you so much, Sara, for such an interesting post about a wonderful county. I love the idea of the man making clogs in his front room.
---

And now, courtesy of Sara, I have a very special Yorkshire giveaway for you.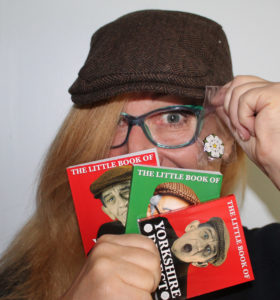 ---
My thanks to Sara and Twinkle Troughton for the place on the blog tour and the post and giveaway.
Please have a look at the other blogs taking part in the tour.
---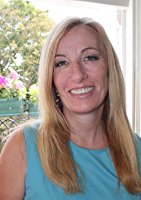 Sara Alexi is from Oxford in England but now splits her time between there and a tiny rural village in the Peloponnese, in Greece, where she is (very slowly!) renovating a ruined stone farmhouse, whilst observing the Greek way of life and absorbing the culture, to enrich her vision for both writing and painting.
She wrote her first novel THE ILLEGAL GARDENER in 2012 with massive success and The Greek Village series was born which allowed her to became a full time writer over night.
Sara began writing later in life. In school English lessons were a time of confusion, books indecipherable hieroglyphics. Dyslexia was not well understood then and no support was available. The joy of reading and writing were cancelled by the teacher's red pen …
Despite her dyslexia Sara qualified as a psychotherapist and ran her own practice for years. Her artistic nature was, at that time, confined to painting and she exhibited widely.
In a casual conversation with a client she discovered that Agatha Christie, Jules Verne and Hans Christian Andersen were all dyslexic, and Sara's perspective changed. The world of fiction opened to her with this shift in perception and she has been a prolific writer ever since.
Her 'Greek Village Series' has been very well received and provides a keenly observed, compassionate insight into the Greek people and culture, and the human condition in general.