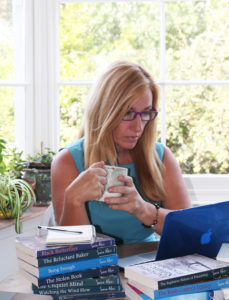 #QandA with Sara Alexi with an amazing giveaway @SaraAlexi #giveaway
Last month I reviewed The Piano Raft by Sara Alexi. You can read my review of this quirky and charming book here.
So, having enjoyed that book and having recently added the first in the Greek Village series, The Illegal Gardener, to my TBR pile, I was keen to ask Sara Alexi a few questions. Hope you enjoy reading the answers. After that there is a brilliant giveaway for which my thanks go to Sara.

You're a prolific writer. When you wrote your first Greek Village book in 2012, did you ever envisage that it would lead to 19 books? (I can't believe you have written so many books in 5 years!!!)
The first book came as a shock to me. I never imagined I would write even one novel in my lifetime. It was just a fluke of circumstances, a mixture of outrage and curiosity (to see if I could write at all) that led to the first one. I have now written twenty four books and have three novellas in the pipeline (summer 2017), and it seems the ideas never stop. I have so many in my head waiting to be put on paper.
You're a human dynamo, Sara!
Tell me about your writing day. Where do you write and do you have a daily routine?
I write before I do anything else. Often I read through what I wrote yesterday before I even get out of bed, and then it just continues from there. Until my daily word count is done everything else takes second place. It no longer feels like it is just about me putting down my ideas onto paper but more as if I have a team of wonderful readers who contribute their own ideas and spur me on daily through social media. It has become a very pleasant way of life for which I am very grateful.
I love the fact that you have brought out a Greek Village colouring book. Do you use colouring as a way to relax and if not then how do you wind down?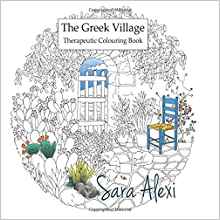 Before taking up the pen I always had hold of a paintbrush and I expressed myself in oils. The colouring book was such a joy to do; drawing the pictures felt like returning to an old friend and it was wonderful to try and put the images of The Greek Village and its characters into black and white and concrete up my internal images. I have now taken up ceramics as my way to wind down, the only trouble is that when I do something I tend to be all or nothing so now I fight for hours in which I play with clay as well as to write. There are just not enough hours in the day.
You're dyslexic along with some other quite (!) well known authors such as Agatha Christie and Hans Christian Andersen. What advice would you give to other dyslexics who wish to be successful writers?
My one piece of advice is 'remember that you see the world in a different way and that is your strength, so don't be afraid.' Technically there are now all sorts of tools available to help writers correct grammar and spelling so nothing needs hold us back any more.
I understand that you live for some of the time in a Greek village. How much of what you write about in the Greek Village series is based on where you live?
The whole of the Greek Village and the plot of all of the books is based on reality of some sort. They say write what you know, so I write what I experience or witness. If I don't know about something I don't write about it. I have had comments in respect of 'The Illegal Gardener' about the speed Aarman learnt English and the speed he learnt to programme but as I have witnessed immigrants learning English at a phenomenal speed and watched someone close to me learn to programme C++ in less than six months I know I am basing what I write on fact not fiction. As they say 'Nothing is as strange as real life'.
I am also fortunate that my background is in psychology. I think that gives me a core of understanding with which to enrich my characters, and it's hugely enjoyable for me to work through a character and work  and idiosyncrasies that personality would show and be governed by.
I've read The Piano Raft and one thing kept occurring to me throughout. How much research did you do into the size and structure of the raft? I know how heavy pianos can be!
The Piano Raft is real! Yes, there is really is a piano on a raft drifting down the canals on its way to London. Ben Cummins, the man behind the scheme, is an artist and the raft is his art project. The piano is in rather a poor state, and each season it gets worse as bits decay and fall off. I bumped into him on the canal in Skipton, WestYorkshire, England last summer. A reader posted new pictures on Facebook recently that showed his raft had grown in length and that he had made some progress (but not much) towards London. I wish him well and thank him for the inspiration for the story and I guess any technical questions as to how the whole things stays afloat are best directed at him. Find him on Facebook.
I can't believe it's real! You can find the Piano Raft on Twitter and Facebook.
Where did the idea for The Piano Raft come from? A man, a piano and a dog sailing down the canals of England on a raft is quite unusual!
Oh I've already answered this question! I think Ben, who is sailing the real Piano Raft, has a very different idea about what he is doing to the story I imagined, but as I was once an art student at Bradford College the sight of the piano on a raft reminded me of those days and the thoughts I had back then and my story took on a cathartic replay of so much of my life from those days. I knew jugglers, I knew tramps, I knew the London art world, I knew wandering with no concept of time (I would walk for days with nothing but a sleeping bag on my back) and I knew the need to be alone and the pleasure of being silent in a crowd so, I guess, to some degree this is a cobbled autobiography of my mind in those early years, if that makes sense.
Do you have time to read yourself and if so what kind of books do you enjoy?
I have recently challenged myself to make sure I finish a book a month. It's not a great undertaking I know, but it's easy for the days to slip by. I'll read any genre if it is well written. I generally prefer books that have been written a hundred years ago, because I prefer the use of the English language back then, but there are some really gripping modern reads out that that even if they do not stand up to the test of time are worth the roller coaster ride. But generally I veer toward more reflective books, ones that illustrate characters and their metamorphosis by the events within the pages. Remains of The Day by Kazuo Ishiguro is a classic in this line. But equally Isaac Asimov was a great observer of mankind and how we work and so equally absorbing for me.
Do you ever struggle to come up with something new to write about or are you full of ideas (it certainly seems like the latter)?
The ideas just keep coming. I worry as I draw towards the end of writing one book that I will never have another idea again but up pops a thought and before I know it another book is in the making. There have been times when I have had so many ideas I have not been sure which to write first. I just wish I could plot faster and that there were more hours in the day to write down all that is in my head! I just hope I have the stamina to keep writing in the years to come to try and least get the majority of what I have to say on paper.
I read that a Yorkshire Village series is on the way. Tell me more (as a Yorkshire lass).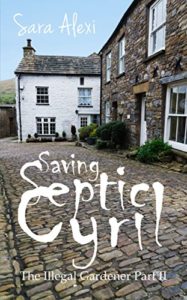 Ah Yorkshire! Or to be specific the Yorkshire moors! A more perfect place does not exist! Having grown up there from the age of seven I feel I understand Yorkshire people and the Yorkshire ways. As I mentioned before, in my late teens I would take off for days with nothing but a sleeping bag, walking across moor and dale, sometimes not returning to bricks and mortar or seeing anyone for over a week. It is such a romantic place. So The Yorkshire Village is again a real place; it is a one street hamlet that I have known since my childhood. Some of the people I knew then are still there so the characters are all based on real people and real events. Saving Septic Cyril is the first in this series and, as you your probably guessed, he was based on a real character. Neil and Kimberly from The Piano Raft have moved into the village. Aaman and Saabira who were originally introduced in The Illegal Gardener were shown to have moved to the Yorkshire Village in Saving Septic Cyril and I will have a new book in the Autumn based there that I am hoping will pull all these threads together to give a feeling of this Yorkshire Village existence. I imagine that the Yorkshire Village will grow just as the Greek Village grew but my books will always be based around people and so that will be the common thread. But there is gravity in Yorkshire with its blackened stone buildings that stand solidly in the ground –  something strong and grounded about the place – so I imagine this will come through in the story telling. The tales may be more gritty; I might not pull my punches. We'll see I guess.
Sounds fabulous. I must get a copy of Saving Septic Cyril (what a title!)
You're an extremely successful self-published author. Have you got any tips for other aspiring authors?
I often say I got lucky, with timing, starting five years ago before Amazon was flooded and goodness knows what else went my way. But also there is something in seizing opportunities and making opportunities. I have tried two approaches after the first year of just enjoying myself. The first was to write for commercial gain, which did not go well! I felt under pressure to write X amount of words a day and all my actions were about furthering the name Sara Alexi, and it felt stressful. The second approach was to forget all that and celebrate everything I achieved but above all give as much as I could to anyone who wanted it. So I gave as much of myself as I could in each book, I gave as much of my time as I could on Facebook, Goodreads, Instgram and Pinterest to readers who wanted to chat, I started doing giveaways over the summer of Greek goody boxes and so on. It was all an expression of my gratitude and this felt so much better, it felt real, I was connected with the readers and so this is now the way I work. My dedicated readers, I light heartedly call them the VIPs, get all the books at a discount rate before the day of publication. Anyone can sign up for two free give away stories so they can try before they buy another in the series if they want. I do my best to ensure those who want to read can and those who want to chat do.
So my advice, for what it is worth, is be true to yourself and be authentic in the way you approach your readers. Obviously no one likes to be patronized, the readers are, after all, just like you and me. So if you don't have the time to give an enquirer a genuine answer then leave it until you do have time.
There are a few rules that I stick to: Write from the heart or don't write at all. If what you have written sounds good to your ears check it is not a cliché. Don't swear, it never improves a book. Never read back until you get to the end or you will get stuck editing and, most important of all, is 'hours in the chair'. Books take time, the more hours you put in the more you will get out. But above all enjoy – it shows in what you produce.
Thank you so much, Sara. Your answers were fascinating and you are an inspiration.
---

Now I have a real treat for you all. Not one but two fantastic prizes. Up for grabs is a copy of The Greek Village Colouring Book, illustrated by Sara herself and five ebooks of Black Butterflies. This was originally the second in the Greek Village series but some of those books have now been split off into the Greek Island series of which Black Butterflies is the first. The giveaway is open internationally.
Win a copy of The Greek Village Colouring Book or one of five ebooks of Black Butterflies

Good luck!
---

Sara Alexi is from Oxford in England but now splits her time between there and a tiny rural village in the Peloponnese, in Greece, where she is (very slowly!) renovating a ruined stone farmhouse, whilst observing the Greek way of life and absorbing the culture, to enrich her vision for both writing and painting.
She wrote her first novel THE ILLEGAL GARDENER in 2012 with massive success and The Greek Village series was born which allowed her to became a full time writer over night.
Sara began writing later in life. In school English lessons were a time of confusion, books indecipherable hieroglyphics. Dyslexia was not well understood then and no support was available. The joy of reading and writing were cancelled by the teacher's red pen …
Despite her dyslexia Sara qualified as a psychotherapist and ran her own practice for years. Her artistic nature was, at that time, confined to painting and she exhibited widely.
In a casual conversation with a client she discovered that Agatha Christie, Jules Verne and Hans Christian Andersen were all dyslexic, and Sara's perspective changed. The world of fiction opened to her with this shift in perception and she has been a prolific writer ever since.
Her 'Greek Village Series' has been very well received and provides a keenly observed, compassionate insight into the Greek people and culture, and the human condition in general.
Cat, door and author pictures © Sara Alexi