Seven Day Spotlight – w/e 29/04/18
Welcome to another Seven Day Spotlight post. Here's what happened this week on my blog:
On Monday, I reviewed The Corner Shop in Cockleberry Bay by Nicola May, which was a simply wonderful read.
Tuesday brought a guest post from Carol Roberts, author of Atlantis.
On Wednesday, I reviewed The Craftsman by Sharon Bolton. I loved this creepy story with more than a hint of witchcraft.
Thursday was extract day with teasers from Guilt by Amanda Robson and The Lighthouse Keeper's Daughter by Cherry Radford.
On Friday, I reviewed Little Big Man by Katy Regan. This is an absolute beauty of a book and will definitely be in my top books of 2018. The ebook is only 99p until the end of April and I urge you to read it, you won't be disappointed.
Saturday's post was a review of The Fear by C.L. Taylor. I thought it was a gripping, twisty story of a dangerous man and his prey.
And this morning, I shared an extract from Ghost by Helen Grant.
---
And now to this week's additions to the reading pile.
The Street Orphans by Mary Wood
Born with a club foot in a remote village in the Pennines, Ruth is feared and ridiculed by her superstitious neighbours who see her affliction as a sign of witchcraft. When her father is killed in an accident and her family evicted from their cottage, she hopes to leave her old life behind, to start afresh in the Blackburn cotton mills. But tragedy strikes once again, setting in motion a chain of events that will unravel her family's lives.

Their fate is in the hands of the Earl of Harrogate, and his betrothed, Lady Katrina. But more sinister is the scheming Marcia, Lady Katrina's jealous sister. Impossible dreams beset Ruth from the moment she meets the Earl. Dreams that lead her to hope that he will save her from the terrible fate that awaits those accused of witchcraft. Dreams that one day her destiny and the Earl's will be entwined.
The Forgotten Guide to Happiness by Sophie Jenkins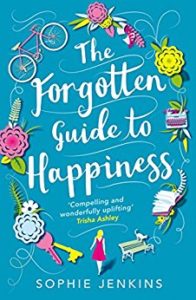 Sometimes, happiness can be found where you least expect it…

Twenty-eight-year-old Lana Green has never been good at making friends. She's perfectly happy to be left alone with her books. Or at least, that's what she tells herself.

Nancy Ellis Hall was once a celebrated writer. Now eighty, she lives alone in her North London house, and thinks she's doing just fine. But dementia is loosening Nancy's grip on the world.

When Lana and Nancy become unconventional house mates, their lives will change in ways they never expected. But can an unusual friendship rescue two women who don't realise they need to be saved?

An irresistible story of love, memory and the power of friendship that readers of The Keeper of Lost Things and The Lido will adore.
This is not your baby.

You wake up alone after an emergency caesarean, dying to see your child.

But when you are shown the infant, you just know . . .

This baby is not yours.

No one believes you.

They say you're delusional, confused, dangerous.

But you're a doctor . . .

Do you trust yourself?

Because you know only one thing – You must find your baby.
The Peacock Summer by Hannah Richell
'If she could reach back through the years and warn the person she once was, what would she say? … What would she say to the ghosts who now inhabit her days? So many of those she has loved are now nothing but dust and memory.'

At twenty-six, Lillian feels trapped by life. Her marriage to Charles Oberon has not turned out the way she expected it would. To her it seems she is just another object captured within the walls of Cloudesley, her husband's beautiful manor house tucked away high in the Chiltern Hills. But, with a young step-son and a sister to care for, Lillian accepts there is no way out for her. Then Charles makes an arrangement with an enigmatic artist visiting their home and his presence will unbalance everything she thought she knew and understood.

Maggie Oberon ran from the hurt and resentment she caused. Half a world away, in Australia, it was easier to forget, to pretend she didn't care. But when her elderly grandmother, Lillian, falls ill she must head back to Cloudesley. Forced to face her past, Maggie fights to hold herself and her family's legacy together as she learns that all she thought was real, all that she held so close, was never as it seemed.

Two summers, decades apart.

Two women whose lives are forever entwined.

And a house that holds the dark secrets that could free them both.
The Very White of Love by S C Worrall
Torn apart by war, their letters meant everything…

'My love. I am writing to you without knowing where you are but I will find you after all these long months…'

3rd September 1938. Martin Preston is in his second year of Oxford when his world is split in two by a beautiful redhead, Nancy Whelan. A whirlwind romance blossoms in the Buckinghamshire countryside as dark clouds begin to gather in Europe.

3rd September 1939. Britain declares war on Germany. Martin is sent to the battlefields of France, but as their letters cross the channel, he tells Nancy their love will keep him safe. Then, one day, his letters stop.

3rd September 1940. It's four months since Nancy last heard from Martin. She knows he is still alive. And she'll do anything to find him. But what she discovers will change her life forever…
Her Greatest Mistake by Sarah Simpson
DO WE EVER KNOW WHAT GOES ON BEHIND CLOSED DOORS?

Eve and Gregg were the perfect couple, with the perfect marriage… which has become the perfect lie. Gone is the charming, attentive Gregg – instead Eve wakes up each morning beside a manipulative and sinister man who controls his wife's every move.

So Eve flees her immaculate marital home to keep herself, and young son Jack safe. Yet no matter how careful she has been, she knows Gregg will be relentless in his pursuit of his missing family. And that one day, when she's least expecting it, he will find them…

What was Eve's greatest mistake?

Marrying Gregg? Leaving him? Or leaving him alive…?
Dying to See You by Kerena Swan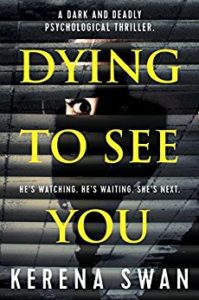 He's Watching, He's Waiting, She's next.

When Sophie is told to organize care for elderly Ivy, she is unaware that by meeting Max, Ivy's grandson, her life will be turned upside down.

As Sophie's involvement with Max and Ivy increases she becomes more distracted by her own problems.

Because Sophie is certain she is being watched.

For a while, Ivy relishes Sophie's attention but soon grows concerned about the budding relationship between Sophie and Max.

Torn between Sophie and his grandmother, Max cuts ties with the care agency, leaving Sophie hurt and confused.

Meanwhile, there is a murderer killing women in the area.

Is there a link between Sophie's stalker and the killings?

Soon Sophie will learn that appearances can be deceiving.
Perfect Silence by Helen Fields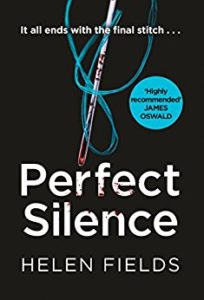 When silence falls, who will hear their cries?

The body of a young girl is found dumped on the roadside on the outskirts of Edinburgh. When pathologists examine the remains, they make a gruesome discovery: the silhouette of a doll carved in the victim's skin.

DCI Ava Turner and DI Luc Callanach are struggling to find leads in the case, until a doll made of skin is found nestled beside an abandoned baby.

After another young woman is found butchered, Luc and Ava realise the babydoll killer is playing a horrifying game. And it's only a matter of time before he strikes again. Can they stop another victim from being silenced forever – or is it already too late?
The Mistress of Pennington's by Rachel Brimble – pre-order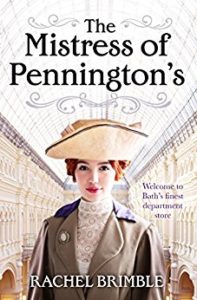 1910 – A compelling tale of female empowerment in Bath's leading department store. Perfect for the fans of the TV series Mr Selfridge and The Paradise.

Elizabeth Pennington should be the rightful heir of Bath's premier department store through her enterprising schemes and dogged hard work. Her father, Edward Pennington, believes his daughter lacks the business acumen to run his empire and is resolute a man will succeed him.

Determined to break from her father's iron-clad hold and prove she is worthy of inheriting the store, Elizabeth forms an unlikely alliance with ambitious and charismatic master glove-maker Joseph Carter. United they forge forward to bring Pennington's into a new decade, embracing woman's equality and progression whilst trying not to mix business and pleasure.

Can this dream team thwart Edward Pennington's plans for the store? Or will Edward prove himself an unshakeable force who will ultimately ruin both Elizabeth and Joseph?
On the streets of London, a vicious killer is using social media to turn murder into entertainment . . .

I, Killer has posted two photos of his first victim online – Before Death and After Death. They've gone viral before DCI Fenton's team even discovers the body.

Soon, another victim's photo is similarly posted . . . and so begins the killer's following.

DCI Fenton is determined to discover the identity of I, Killer before another innocent life is claimed. Then the case takes a dark turn, and Fenton's search becomes a matter of life or death for him and his young daughter.

But as I, Killer's body-count rises, his number of online followers is growing – and he loves to give his fans what they want . . .
The Runaway Wife by Dee MacDonald
One evening in early August, while mashing the potatoes for dinner, Connie McColl decides she's had enough…

Connie is tired of solving one family crisis after another – usually involving her unruly grandchildren – while her husband Roger spends all day at his beloved golf course. Surely it must be time for her to shake off her apron and start living again?

So Connie packs a bag, gets in her little green car and drives off…

As Connie journeys from England to Scotland on an unexpected adventure, she finally begins to rediscover herself. And she starts to wonder, will she ever be ready to return home? Or will this summer change her life forever?
Sunset Over the Cherry Orchard by Jo Thomas
It's time for Beti Winter to dance to her own beat.

After three failed engagements Beti is in desperate need of a fresh start. What better place than the sun-drenched hills of southern Spain?

But it's not all sangria and siestas. Beti finds work on an old Andalusian cherry farm where there are cherries to be picked, trees to be watered and her fiery boss, Antonio, to win over.

As the sun toasts her skin, Beti finds herself warming to the Spanish way of life. Embracing the art of flamenco, she discovers there is much to learn from the dance of passion. She just has to let loose and listen to the rhythm of her heart.

Jo Thomas takes you there.
The Little Cornish Kitchen by Jane Linfoot – pre-order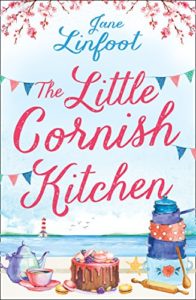 It's time to come home to Cornwall

With an exiting new life in Paris, Clemmie Hamilton isn't looking forward to heading home to the picturesque but sleepy village of St Aidan, Cornwall. However, when she discovers that the cosy apartment by the sea, which her grandmother left to her, is under threat from neighbour and property developer, Charlie Hobson, Clemmie realises she can't abandon her home in its time of need.

With her childhood friends encouraging her, Clemmie decides to turn the apartment into 'The Little Cornish Kitchen' – a boutique pop up pudding club raising money for the repairs to the building in an effort to stop Charlie once and for all. But when Charlie and his easy charm won't seem to go away, everything soon becomes even messier than the state of Clemmie's Cornish kitchen…
Someone is always watching…

Derek Flint is a loner. He lives with his mother and spends his
evenings watching his clients on the CCTV cameras he has installed inside their homes. He likes their companionship – even if it's through a screen.

When a series of crimes hits Derek's neighbourhood, DC Beth Mayes begins to suspect he's involved. How does he know so much about the victims' lives? Why won't he let anyone into his office? And what is his mother hiding in that strange, lonely house?

As the crimes become more violent, Beth must race against the clock to find out who is behind the attacks. Will she uncover the truth in time? And is Derek more dangerous than even she has guessed?

A spellbinding crime novel from the worldwide bestseller
Cathy Glass, writing as Lisa Stone.
I'd love to hear any thoughts on these books.
Happy Sunday and, as always,