#bookreview – The Fear by C.L. Taylor @callytaylor @AvonBooksUK #blogtour
I'm so pleased to be reviewing The Fear by C.L. Taylor today as part of the epic blog tour. I'd like to thank Sabah Khan from Avon Books for the place on the tour and for the e-copy of the book via Netgalley.

Sometimes your first love won't let you go…

When Lou Wandsworth ran away to France with her teacher Mike Hughes, she thought he was the love of her life. But Mike wasn't what he seemed and he left her life in pieces.

Now 32, Lou discovers that he is involved with teenager Chloe Meadows. Determined to make sure history doesn't repeat itself, she returns home to confront him for the damage he's caused.

But Mike is a predator of the worst kind, and as Lou tries to bring him to justice, it's clear that she could once again become his prey…
The Fear is available now in ebook and paperback.
---
A new C.L. Taylor book is highly anticipated, by me and by tons of other readers too, so I couldn't wait to get my mitts on The Fear. As always with Taylor's books, there was this panicky, intense feeling to the story, the knowledge that something really not good was going to happen.
Lou Wandsworth was groomed as a 14 year old by her karate teacher, Mike. He took her away to France and, although she was able to return home, she's never gotten over it. It's not hard to imagine how far-reaching the consequences of Mike's behaviour would have been for Lou. She's been unable to form relationships or settle down. She hasn't seen him since she was 14 but then she discovers that he might be doing the same thing to another girl, 13 year old Chloe.
From thereon, it's clear that Lou changes, becomes angry and scared about what happened to her. Everything turns quite dark and sinister and the story just goes along at such a fast and exciting pace. There are two other 'voices': that of Wendy Harrison, and that of Chloe. We obviously know who Chloe is but Wendy is more of a mystery. I liked the way the action switched between the three of them, giving us different viewpoints.
As with most psychological thrillers, in order to excite the reader the story often has to be a little far-fetched and I thought that was the case here. But it doesn't bother me if it's well-written and thrilling and again, that was the case here. It's a disturbing story and it certainly had that effect on me, especially in the sections where we have a flashback to Lou and Mike's time in France, and also where we witness Chloe's thoughts. It's scary just how manipulative some people can be, and I saw that in Mike.
For a book with over 400 pages, it didn't feel like it was long as I raced through it. I really couldn't see how all the strands could be tied up and if everything was going to work out as I wanted it to, but Taylor did a fabulous job of bringing it all together whilst constantly turning it on its head, leading up to a frankly superb ending that I didn't see coming (although perhaps I should have).
All in all, it's a really gripping read about a dangerous man and his prey and I enjoyed it very much. I though it was dark, twisty and absorbing.
---

---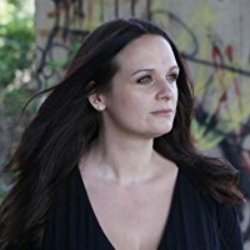 C.L. Taylor is the Sunday Times bestselling author of five gripping, stand-alone psychological thrillers: THE ACCIDENT, THE LIE, THE MISSING, THE ESCAPE and THE FEAR. Her books have sold in excess of a million copies, been number one on Amazon Kindle, Kobo, iBooks and Google Play and have been translated into over 20 languages. THE ESCAPE won the Dead Good Books 'Hidden Depths' award for the Most Unreliable Narrator and THE LIE has been optioned for TV by The Forge who produced National Treasure featuring Robbie Coltrane.
Cally Taylor was born in Worcester and spent her early years living in various army camps in the UK and Germany. She studied Psychology at the University of Northumbria and went on forge a career in instructional design and e-Learning before leaving to write full time in 2014.
She started writing short stories in 2005 and was published widely in literary and women's magazines. She also won several short story competitions. In 2009 and 2011 her romantic comedy novels (as Cally Taylor) were published by Orion and translated into fourteen languages. HEAVEN CAN WAIT was a bestseller in Hungary and China and HOME FOR CHRISTMAS was made into a feature film by JumpStart Productions. Whilst on maternity leave with her son Cally had an idea for a psychological thriller and turned to crime. She has also written a Young Adult thriller, THE TREATMENT, which was published by HarperCollins HQ.
C.L. Taylor lives in Bristol with her partner and young son.
Sign up to join the CL Taylor Book Club for access to news, updates and information that isn't available on the web, as well as exclusive newsletter-only competitions and giveaways and the books that CL Taylor thinks will be the next big thing. You will also receive THE LODGER for free when you sign up here.