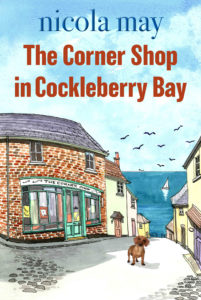 #bookreview – The Corner Shop in Cockleberry Bay by Nicola May #TCSICB @nicolamay1 @rararesources #blogtour #giveaway

I'm delighted to be one of the blogs closing the blog tour for The Corner Shop in Cockleberry Bay by Nicola May. Thank you to Rachel Gilbey from Rachel's Random Resources for the place on the tour and the author for the review copy of this absolutely lovely read. Isn't that cover fabulous too?
My review is further down this post along with a giveaway to win a paperback copy of the book – please do enter, you won't be disappointed.

Praise for Nicola May's books

'This book will twang your funny bone & your heartstrings' – Milly Johnson

'A fun and flighty read' the Sun

'A funny and fast-paced romp – thoroughly enjoyable!'  WOMAN Magazine

*

Rosa Larkin is down on her luck in London, so when she inherits a near-derelict corner shop in a quaint Devon village, her first thought is to sell it for cash and sort out her life. But nothing is straightforward about this legacy.  While the identity of her benefactor remains a mystery, he – or she – has left one important legal proviso: that the shop cannot be sold, only passed on to somebody who really deserves it.

Rosa makes up her mind to give it a go: to put everything she has into getting the shop up and running again in the small seaside community of Cockleberry Bay. But can she do it all on her own? And if not, who will help her succeed – and who among the following will work secretly to see her fail?

There is a handsome rugby player, a sexy plumber, a charlatan reporter and a selection of meddling locals. Add in a hit and run incident and the disappearance of a valuable engraved necklace – and what you get is a journey of self-discovery and unpredictable events.

With surprising and heartfelt results, Rosa, accompanied at all times by her little sausage dog Hot, will slowly unravel the shadowy secrets of the inheritance, and also bring her own, long-hidden heritage into the light.
Purchase from –
---
Wow, this book is fantastic. I thought it might be a sweet read, but it completely exceeded my expectations and, although it has some sweet bits in it, it's much more than that.
Rosa Larkin has inherited the Corner Shop in Cockleberry Bay. Nothing that unusual really except that she has no idea who left it to her, or why. Rosa's had a tough time and it is a chance for her to make a go of something, especially as there is a condition that she can't sell the shop. So off she goes to Cockleberry Bay, leaving behind her landlord/flatmate/friend with benefits, Josh.
Cockleberry Bay is one of those places where everybody knows everybody else's business. That's hard for a girl used to London where so much is anonymous. But she makes friends and starts to settle in nicely. There are some great people and some not so great in the Bay, and I liked the fact that it wasn't all nicey-nicey. I have to say that one of my favourite characters was the one Rosa left behind – Josh. But he appears plenty in the story so I was pleased about that. I loved Mary, and also Jacob and Raffaele, who were all a massive support to Rosa. And Rosa herself is a fantastic creation – so feisty, so no-nonsense, so much fun and I can't fail to mention Hot, Rosa's sausage dog. What a fab little dog and friend to Rosa he was.
I love books set in and around shops so all the details about the Corner Shop were right up my street. There's a mystery for Rosa to solve regarding who left it to her and I loved how it all came together, particularly the fabulous ending.
This book was just a complete and utter pleasure from start to finish. It has a beautiful setting by the sea in Devon, a fabulously prickly protagonist, some gorgeous men for Rosa to fall for, a shop, a cute dog and some fab supporting characters. It has it all! I was sorry when it ended and would love a return to Cockleberry Bay, perhaps focusing on another character (one, in particular, immediately springs to mind).
---

---

---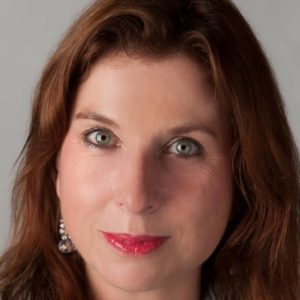 Award winning author Nicola May lives in Ascot in Berkshire with her rescue cat Stanley. Her hobbies include watching films that involve a lot of swooning, crabbing in South Devon, eating flapjacks and enjoying a flutter on the horses. Inspired by her favourite authors Milly Johnson and Carole Matthews, Nicola writes what she describes as chicklit with a kick.
​Follow Nicola May