Seven Day Spotlight – w/e 19/05/19
Hello again. Welcome to this week's Seven Day Spotlight.
This week I decided to go back and watch Line of Duty from the beginning. I'd only seen series 1, 4 and 5 so rather than just watch 2 and 3, I thought I'd re-watch 1 first. And I'm glad I did as there's loads I had forgotten about. I also finished watching the amazing Fleabag. I'm really sad that there are no more series of that planned. Apart from that, my viewing this week consisted of the new Paw Patrol film. My boy is a big fan of the pups.
Here's what I posted on my blog this week:
Monday's post was my review of The Wrong Envelope by Liz Treacher.
Tuesday's post was my review of Becoming Mrs Lewis by Patti Callahan.
Wednesday was a two post day with me sharing an extract from Death and the Harlot by Georgina Clarke and my review of The Last Village by Audla English.
Thursday's post was my review of Harvey and the Moon Bus by Jill Stanton-Huxton.
On Friday I shared an extract from The Wartime Midwives by Daisy Styles.
Saturday's post was my review of The Abandoned Daughter by Mary Wood.
---
Here's what made its way onto my TBR pile this week:
In 1922, Paul Beckermann arrives at the Bauhaus art school and is immediately seduced by both the charismatic teaching and his fellow students. Eccentric and alluring, the more time Paul spends with his new friends the closer they become, and the deeper he falls in love with the mesmerising Charlotte. But Paul is not the only one vying for her affections, and soon an insidious rivalry takes root.

As political tensions escalate in Germany, the Bauhaus finds itself under threat, and the group begins to disintegrate under the pressure of its own betrayals and love affairs. Decades later, in the wake of an unthinkable tragedy, Paul is haunted by a secret. When an old friend from the Bauhaus resurfaces, he must finally break his silence.

Beautifully written, powerful and suspenseful, Naomi Wood's The Hiding Game is a novel about the dangerously fine line between love and obsession, set against the most turbulent era of our recent past.
If you leave a door half-open, soon you'll hear the whispers spoken…

Still devastated after the loss of his wife, Tom Kennedy and his young son Jake move to the sleepy village of Featherbank, looking for a fresh start.

But Featherbank has a dark past. Fifteen years ago a twisted serial killer abducted and murdered five young boys. Until he was finally caught, the killer was known as 'The Whisper Man'.

Of course, an old crime need not trouble Tom and Jake as they try to settle in to their new home. Except that now another boy has gone missing. And then Jake begins acting strangely.

He says he hears a whispering at his window…
The Things I Know by Amanda Prowse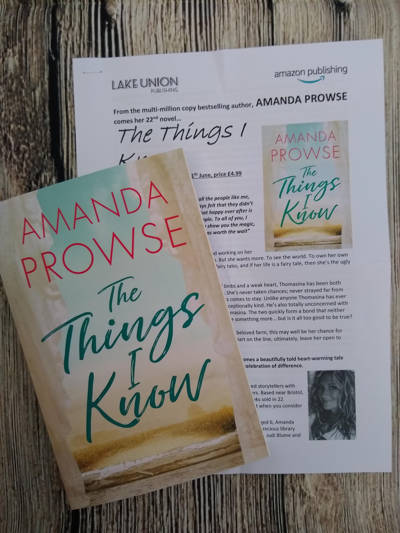 Thomasina 'Hitch' Waycott loves living and working on the remote family farm and B&B. But she also wants more. To see the world. To own her own home. To fall madly in love.

But those are fairy tales, and if her life is a fairy tale, then she's the ugly duckling. Her deformed lip, her crooked limbs and her weak heart have kept her from taking chances. But that's about to change.

When Grayson Potts comes to stay, he's unlike anyone Thomasina has ever met. He's aloof, eccentric and exceptionally kind. He's also totally unconcerned with the physical flaws that have always defined Thomasina.

The two form a bond that neither has had before. It's possible that it could become something more, but Thomasina also wonders if it's too good to be true. By putting her heart on the line, Thomasina may open herself to heartbreak. But she may also open herself to so much more.
Come Back For Me by Heidi Perks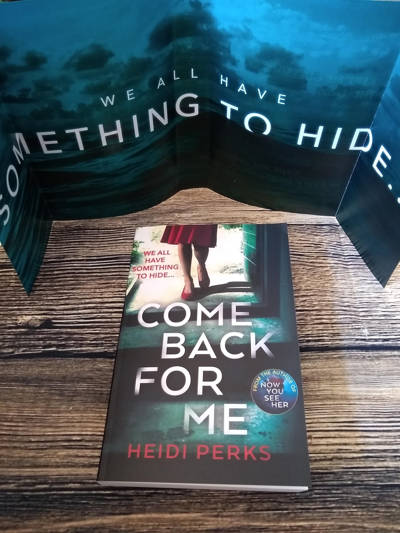 A SHOCKING DISCOVERY.
A COMMUNITY WRAPPED IN SECRETS.

A tiny island community is stunned by the discovery of a long-buried body.

For Stella Harvey the news is doubly shocking. The body has been found in the garden of her childhood home – the home her family fled without explanation twenty-five years ago.

Now, questioning her past and desperate to unearth the truth, Stella returns to the isolated island. But she quickly finds that the community she left isn't as welcoming as she remembers – and that people in it will go to any length to protect their secrets.

One thing rings true…
You can't bury the truth forever.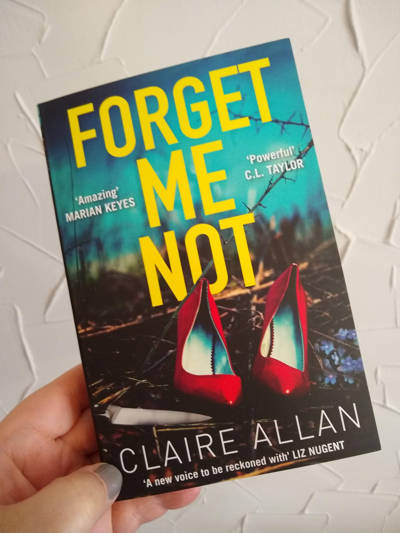 I disappeared on a Tuesday afternoon. I was there one minute and the next I was gone. They've never found my body…

It's six in the morning during the hottest summer on record when Elizabeth O'Loughlin, out walking her dog, comes across Clare, a victim of a horrific knife attack, clinging onto life at the side of the road.

Clare dies minutes later, but not before whispering her haunting last words to Elizabeth.

When it becomes clear that Clare's killer has more than one murder on his mind, Elizabeth has to take drastic action or face losing everything.

But what if she can't stop a killer determined never to be forgotten?
Jay-Jay and the Carnival by Sue Wickstead
Jay-Jay the Supersonic Bus is a brightly coloured playbus full of toys.
He's always ready for adventure, and after an eventful summer the bus is ready for his journey to the carnival.
The children are also excited – but what will happen on the way?

A children's picture story book.
Any of these take your fancy? I'd love to know.