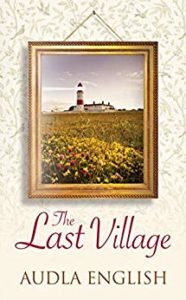 ShortBookandScribes #BookReview – The Last Village by Audla English @AudlaE
I'm reviewing The Last Village by Audla English today and would like to thank the author for sending me a review copy of the book.
---
The majestic Souter Lighthouse stands proudly at the edge of the cliff top surrounded by open grassy empty fields and overlooking a vast blue wilderness. Anna Charles knows nothing of the life that her grandmother once had here.
It wasn't until an unexpected engagement, that Anna discovered the past of her Gran and the truth behind an enduring love.

Seventy years earlier, Lillian Smith, had been part of the close-knit community that once thrived in the village that existed next to the lighthouse. A chance meeting with a sailor one day, would change the course of her life forever.

Set in the North East of England, The Last Village, is a moving love story which spans and binds the generations.
---

I enjoy dual timeline stories and The Last Village appealed to me because of the two family stories and the social history behind them.
It's set around Marsden village in the north-east. The village was completely demolished in the 1960s according to the notes at the back of the book. Anna Charles' grandmother, Lily, had been part of that village, next to Souter Lighthouse, and events in Anna's life prompt her to talk to her gran about her life over the last 70 years or so.
This book reminds me of a memories project I undertook a few years ago. I asked local people about their lives in the area and this is exactly what Anna does with Lily. I enjoyed Lily's story although I did think it read like a telling of factual events rather than a work of fiction. I also liked the descriptions of the area, the Rattler steam train, the stairs or the lift down to the beach, the sailing ships and the lighthouse itself. I'm not sure that Anna's story added a great deal apart from as a device for Lily to share her memories but it did provide a lovely ending to the whole book.
The Last Village is a very quick read, a love story and a tale of friendship. It's very nostalgic which I liked. A pleasant way to spend a few hours.
---

Audla English grew up in the North East of England.
Born in Sunderland, a graduate of Newcastle University and living in South Tyneside, she is passionate about this wonderful region.
​​The Last Village is her debut novel.