ShortBookandScribes #BookReview – The Wrong Envelope by Liz Treacher @liztreacher @LoveBooksGroup #LoveBooksTours #Blog Blitz
I'm so pleased to be taking part in the blog blitz for The Wrong Envelope by Liz Treacher today. I'm reviewing the book and it was a pleasure to read it. My thanks to Kelly Lacey from Love Books Tours for the place on the tour. Big thanks to Liz for sending me a copy of the book with a letter from Bernard Cavalier to Evie Brunton, which forms part of the story. I thought it was a lovely little touch!
I'll be reviewing The Wrong Direction on 27th May.
---

Summer 1920. Two worlds are about to collide. Evie Brunton loves her job. Twice a day, she spins along the narrow lanes of Devon on her bicycle, delivering letters from a heavy post bag. When the flamboyant London artist, Bernard Cavalier, drops like a meteor into her sleepy village, everything changes. Bernard is supposed to be painting for an important exhibition, but the countryside has its own charms, in particular his young post lady…Light and witty, and full of twists and turns, The Wrong Envelope is a charming romantic comedy. It captures the spirit of another age – when letters could change lives.
---
First of all, I don't normally comment on the look of a book but Liz Treacher self-published The Wrong Envelope and I wanted to say what a very pleasurable experience it was to pick it up and read it. This is a beautifully put together book in terms of cover, font, paper etc.
So to the story. It immediately caught my attention. It's 1920, the war has been over for two years but it's going to take some time for things to get back to normal. Evie Brunton is a post lady in Devon, ostensibly taking a man's job, but she enjoys it and nobody else seems to need it at the moment. On a train back to Devon with her friend, Cassie, she encounters artist, Bernard Cavalier (pronounced Caval E A) when he is mesmerised by the mole on the back of her neck and reaches out to touch it. You can imagine that went down well! He's on his way to the village where Evie lives so that he can have some quiet time away to knuckle down to some painting.
From there, it's sort of a comedy of errors in a way. After getting off to a difficult start there are lots of ups and downs between Bernard and Evie, culminating in The Wrong Envelope, a delightful mix up of letters.
This book had me smiling a lot and giggling sometimes too. Bernard is a bit of a bumbling fool at times, but still immensely likeable, and I found Evie to be a quite feisty woman for the times. I loved the idea of her cycling along on her post bike down the country lanes and Bernard looking out for her. There's a very comical scene that takes place when Evie takes him by surprise, and another one when Bernard goes to dinner with Evie's parents.
There's a real charm to The Wrong Envelope. There's something about letter writing that seems so romantic, probably because we don't really do much of it now. I was really hoping for a happy ending for Bernard and Evie and given that there is a sequel, The Wrong Direction, it seems hopeful that they have stayed together.
I also liked the supporting cast. Evie's parents are stuck in their village ways and her friend, Cassie, is quite cutting and not that much of a friend after all, but they all add so much to the telling of the story.
All in all, I spent an enjoyable day or so reading The Wrong Envelope and found it really rather lovely. I'm looking forward to the sequel now to find out what happens next.
---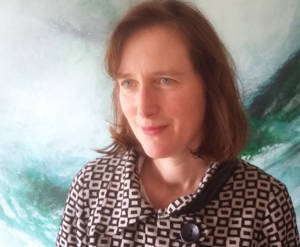 Liz is a writer, a Creative Writing teacher and an Art photographer. She lives in the Highlands of Scotland with a view of the sea. Her love of images influences her writing.
Her debut novel, 'The Wrong Envelope', is a romantic comedy, set in 1920 in Devon, England. It tells the story of Bernard, an impulsive artist and Evie, his beautiful post lady. You can watch the trailer on this page, under 'Videos'. Light and witty, and full of twists and turns, 'The Wrong Envelope' captures the spirit of another age – when letters could change lives.
The sequel, 'The Wrong Direction', follows Evie and Bernard to London, and charts their further adventures in Mayfair's high society. Wild parties, flirtatious models, jealous friends – Bernard and Evie must negotiate many twists and turns if they are to hold on to each other.