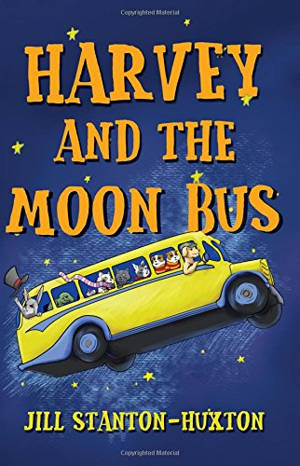 ShortBookandScribes #BookReview – Harvey and the Moon Bus by Jill Stanton-Huxton @JMSTantonHuxton #RandomThingsTours #BlogTour
I'm so pleased to be reviewing Harvey and the Moon Bus by Jill Stanton-Huxton today. My thanks to Anne Cater from Random Things Tours for the place on the tour and Matador/Jill for the review copy of the book.
---
"Harvey is a grey cat with big green eyes and a long bushy tail, who loves wearing his favourite pair of blue dungarees. What a lovely sunny morning, Harvey thought, just the sort of day for an adventure."

A beautifully-illustrated story about anthropomorphic animals who have a fantasy adventure together.

An underlying theme and moral message which is the importance of helping people.

A fantastical adventure story for children 5-7 years old.

Harvey sees his friends, Chester and Nelly, heading for the corner shop and boarding the Moon Bus, so he decides to join them. Harvey sits next to a grumpy grey rabbit. The Moon Bus takes off and flies through space and lands on the Moon and they all head off to The Moon Rock Sweet Emporium in Moon Crater Alley.

Harvey loses Chester and Nelly – so when he sees the grey rabbit heading for a nearby circus tent he decides to follow him, where he meets a small mouse called Gretel. But they only have 15 minutes to reach the Moon Bus before it leaves for the day!

Gretel tells him the magic mats on the Helter Skelter will take them to the Moon Bus really quickly. The magic mat flies over the cobbled streets towards a huge crater but Gretel falls out of Harvey's pocket and starts plummeting to the ground. Harvey manages to grab her safely. As the Moon Bus is about to take off, Harvey uses the last of his three wishes to catch it and jumps on board.. They look out of the window and see the grey rabbit running along the runway after the Moon Bus… But will he catch it in time?
---

I read Harvey and the Moon Bus with my 5 year old son and he enjoyed it a lot. We read a bit each night over a few nights which worked really well.
We follow Harvey and his friends, Chester and Nelly, as they end up on a surprise visit to the moon. He finds himself sitting next to a rather mean rabbit who he follows when he reaches the moon, mainly because he's lost his friends and doesn't know how to tell the time so doesn't know how to get back to the Moon Bus in time for the journey home.
This is a lovely read for children, lots of fun and adventure. It's quite an involving story and my son's attention was on it all the way through. There are pencil illustrations scattered throughout the book which was nice as they brought the characters and the story to life.
I believe this is the first in a planned series of Harvey books and I think we'll both be interested to see what capers he gets up to next.
---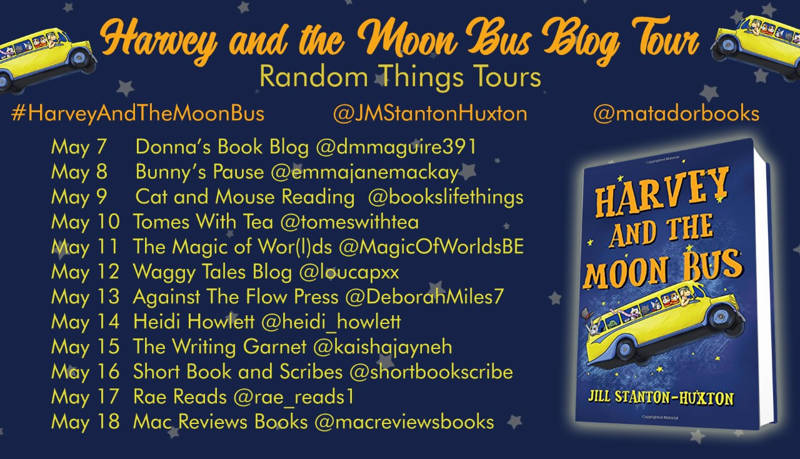 ---

JILL STANTON-HUXTON grew up in Buckinghamshire and has a BA Honours Degree, a Diploma in Humanities and a Diploma in Literature & Creative Writing from the Open University. She has had non-fiction articles, short stories and poems published in magazines, local newspapers and online. Jill has been a volunteer judge on the BBC Radio 2 500 words competition for the last two years, marking stories in the 5-9 year range. She was also the winner of The Buckinghamshire Family History Society Alan Dell Memorial Award for 2013.
The idea for the characters in the book came from her own childhood and family pets. The inspiration for the book comes from our beautiful and charismatic Norwegian Forest Cat, Macavity. He is six years old now and has become a local celebrity in the neighbourhood," says Jill. With so many of Macavity's cat antics to choose from and the fact that I'm always making up stories in my head … it was only a matter of time before Harvey materialised
I plan on writing more books in the series … what adventures will Harvey and his friends go on next? Only time will tell," says Jill. Harvey and the Moon Bus is the first in a planned series of Harvey books.