Seven Day Spotlight – w/e 18/02/18
Welcome to this week's Seven Day Spotlight post. This week on my blog:
On Monday I reviewed A Library Miscellany by Claire Cock-Starkey, and featured an extract about fictional libraries of note.
On Tuesday, Derek Thompson, author of Flashpoint, was my guest, talking about London Pride.
On Wednesday, I featured Martin Gore and his book, Pen Pals.
On Friday, Rebecca Rosenberg, author of The Secret Life of Mrs London, was my guest, with 10 novel inscriptions from Jack London to his wife, Charmian.
On Saturday, I reviewed the magnificent Perfect Prey by Helen Fields.
And this morning, Kate Hewitt has been talking about family dynamics and her latest book, A Vicarage Reunion.
---
And now for additions to my TBR pile. Some crackers again this week. In fact, every week is filled with crackers. I just wish I could fit them all in.
Everything I Know About Love by Dolly Alderton – I was drawn to this one after reading an extract which made me smile.
When it comes to the trials and triumphs of becoming a grown up, journalist and former Sunday Times dating columnist Dolly Alderton has seen and tried it all. In her memoir, she vividly recounts falling in love, wrestling with self-sabotage, finding a job, throwing a socially disastrous Rod-Stewart themed house party, getting drunk, getting dumped, realising that Ivan from the corner shop is the only man you've ever been able to rely on, and finding that that your mates are always there at the end of every messy night out. It's a book about bad dates, good friends and – above all else – about recognising that you and you alone are enough.

Glittering with wit and insight, heart and humour, Dolly Alderton's powerful début weaves together personal stories, satirical observations, a series of lists, recipes, and other vignettes that will strike a chord of recognition with women of every age – while making you laugh until you fall over. Everything I know About Love is about the struggles of early adulthood in all its grubby, hopeful uncertainty.

A spot-on, wildly funny and sometimes heart-breaking book about growing up, growing older and navigating all kinds of love along the way
The Woolworths Girls by Elaine Everest – I've been coveting the Woolworths books for a while and so I thought it was time to get this one, the first in the series.
Can romance blossom in times of trouble?
It's 1938 and as the threat of war hangs over the country, Sarah Caselton is preparing for her new job at Woolworths. Before long, she forms a tight bond with two of her colleagues: the glamorous Maisie and shy Freda. The trio couldn't be more different, but they immediately form a close-knit friendship, sharing their hopes and dreams for the future.

Sarah soon falls into the rhythm of her new position, enjoying the social events hosted by Woolies and her blossoming romance with young assistant manager, Alan. But with the threat of war clouding the horizon, the young men and women of Woolworths realize that there are bigger battles ahead. It's a dangerous time for the nation, and an even more perilous time to fall in love . . .
The Things You Do For Love by Rachel Crowther – I really enjoyed Every Secret Thing and so couldn't resist when I saw the paperback of this one on Amazon for £2. The ebook has since dropped in price too.
An elite surgeon with a brilliant but philandering husband, Flora Macintyre has always defined herself by her success in juggling her career and her marriage. Until, all at once, she finds herself with neither.

Retired and widowed in the space of a few months, Flora is left untethered. In a moment of madness, she realises there's nothing to stop her running away to France.

But back home her two daughters – the family she's always loved, but never had the time to nurture – are struggling. Lou is balancing pregnancy with a crumbling relationship, while her younger sister, Kitty, begins to realise she may have to choose between love and her growing passion for music.

And even as the family try to pull together, one dark secret could still tear them all apart…
Too Close to Breathe by Olivia Kiernan – this sounds so good.
TOO SOON TO SEE

Polished. Professional. Perfect. Dead. Respected scientist Dr Eleanor Costello is found hanged in her immaculate home: the scene the very picture of a suicide.

TOO LATE TO HIDE

DCS Frankie Sheehan is handed the case, and almost immediately spots foul play. Sheehan, a trained profiler, is seeking a murderer with a talent for death.

TOO CLOSE TO BREATHE

As Frankie strives to paint a picture of the killer, and their victim, she starts to sense they are part of a larger, darker canvas, on which the lines between the two blur.

Olivia Kiernan's debut is a bold, brilliant thriller that will keep you guessing and leave you breathless.
I Know Where You Live by Pat Young – this is the follow up to Till the Dust Settles so I'm looking forward to seeing what happens next.
Penny believes she's being watched. Yet no one should know where she lives.

Penny seizes the chance of a new life for her family when her husband is offered a job in Europe.

At the airport, they meet charming Sophie, fluent in French and looking for work as an au pair. Penny, struggling to cope in France, offers Sophie a job and she soon becomes an important part of the family's life. But Sophie is hiding something.

Then Penny's toddler son, Ethan, is abducted and an international hunt for the child

begins. The police beg Penny and her husband to take part in a television appeal but the couple refuse. Unknown to the police, Penny and Seth have new identities and are determined to lay low and protect them. But it may be too late for that.

Who has taken Ethan and why?

Are the couple's true identities linked to the abduction?

And who has been watching them?

To save her son Penny may have to put her own life on the line.
The Tall Man by Phoebe Locke – I think this one sounds rather sinister!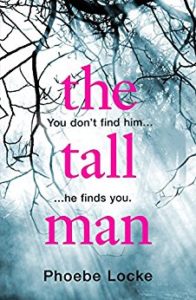 A SENSELESS MURDER. A TERRIFYING LEGEND. A FAMILY HAUNTED.

1990: In the darkest woods, three girls devote themselves to a sinister figure.

2000: A young mother disappears, leaving behind her husband and baby daughter.

2018: A teenage girl is charged with murder, and her trial will shock the world.

Three chilling events, connected by the shadow he casts.

He is the Tall Man. He can make you special…
Chatterbox: Poems by Sandy Day – a win from the author.
Inspired over the course of a year, Chatterbox is a four-part sequence: Chattering, Cracking, Craving, and Knocking. Raw, honest, irreverent, and tender, Chatterbox Poems delve into life's losses: divorce, abandonment, infidelity, and faith.
The Heart is a Burial Ground by Tamara Colchester – this one sounds so intriguing.
'I will describe it as best I can. This is their story. Or perhaps just mine. Let us begin, again . . .'

A vivid and inventive debut novel about four generations of women in a family, their past and their legacy, which evokes the work of Kate Atkinson, Tessa Hadley and Virginia Baily.

On a brisk day in 1970, a daughter arrives at her mother's home to take care of her as she nears the end of her life. 'Home' is the sprawling Italian castle of Roccasinibalda, and Diana's mother is the legendary Caresse Crosby, one half of literature's most scandalous couple in 1920s Paris, widow of Harry Crosby, the American heir, poet and publisher who epitomised the 'Lost Generation'.

But it was not only Harry who was lost. Their incendiary love story concealed a darkness that marked mercurial Diana and still burns through the generations: through Diana's troubled daughters Elena and Leonie, and Elena's young children.

Moving between the decades, between France, Italy and the Channel Islands, Tamara Colchester's debut novel is an unforgettably powerful portrait of a line of extraordinary women, and the inheritance they give their daughters.
The Emperor of Shoes by Spencer Wise – courtesy of No Exit Press.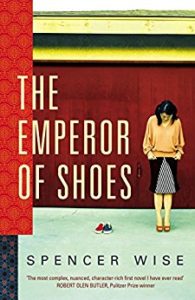 Alex Cohen, a twenty-six-year-old Jewish Bostonian, is living in southern China, where his father runs their family-owned shoe factory. Alex reluctantly assumes the helm of the company, but as he explores the plant's vast floors and assembly lines, he comes to a grim realization: employees are exploited, regulatory systems are corrupt and Alex's own father is engaging in bribes to protect the bottom line. When Alex meets a seamstress named Ivy, his sympathies begin to shift. She is an embedded organizer of a pro-democratic Chinese party, secretly sowing dissonance among her fellow labourers. Will Alex remain loyal to his father and his heritage? Or will the sparks of revolution ignite?

Deftly plotted and vibrantly drawn, The Emperor of Shoes is a timely meditation on idealism, ambition, father-son rivalry and cultural revolution, set against a vivid backdrop of social and technological change.
The Craftsman by Sharon Bolton – can't wait to read this one!
Devoted father or merciless killer?

His secrets are buried with him.

Florence Lovelady's career was made when she convicted coffin-maker Larry Glassbrook of a series of child murders 30 years ago. Like something from our worst nightmares the victims were buried…ALIVE.

Larry confessed to the crimes; it was an open and shut case. But now he's dead, and events from the past start to repeat themselves.

Did she get it wrong all those years ago?
Or is there something much darker at play?
Never Go There by Rebecca Tinnelly – courtesy of Hodder Publicity.
What if you found out that you'd been married to a stranger?

'Never go there, Nuala. Please, never go there'.

Nuala knows nothing of her husband James's past. He made her swear that she would never contact his family and never, EVER visit the place he was from.

But now James is dead, and Nuala is alone. Grieving and desperate, she decides to ignore his warning.

Nuala is about to find out that some secrets are better left buried – and that uncovering the truth about the man she married will have terrible consequences…
Little Big Man by Katy Regan – this sounds great.
Meet 10-year-old Zac – a boy on a mission – in Katy Regan's new novel Little Big Man . . .

You can't see the truth from the outside, that's what I've worked out.

Ten-year-old Zac has never met his dad, who allegedly did a runner before he was born. But when his mum lets slip that he's the only man she's ever loved, Zac turns detective and, roping in his best friend, hatches a plan to find his father and give his mum the happy-ever-after she deserves. What he doesn't realize, though, is that sometimes people have good reasons for disappearing . . .

Little Big Man is a story about family secrets and fierce, familial love. It's about growing up and being accepted; grief and lies, and the damage they can do. Most of all though, it's about a little boy determined to hunt down the truth; a boy who wants to give the Dad he's never met a second chance to be a father – and his mum a second chance at love.
Cinema Lumière by Hattie Holden Edmonds – this one sounds rather unusual.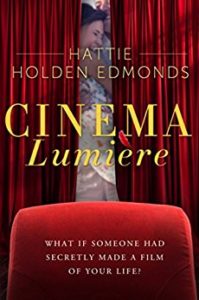 What if someone had secretly made a film of your life? Hannah Bailey has resigned herself to a dead-end job, she's sealed her heart against love and her catastrophic thinking is out of control. In fact, she's hard pushed to find a single reason for her existence until the day she stumbles across a tiny one-seated cinema and its mysterious French owner Victor Lever… Cinema Lumière doesn't screen Hollywood blockbusters or even low budget arthouse indies. Instead it shows people films of their lives. But how does Victor create such unique biopics and why is he so determined to coax Hannah into that single red velvet seat?

Set between the bustling streets of both Portobello and Paris, Cinema Lumière turns a literary projector on the timeless experiences of love and loss. If you liked The Time Traveller's Wife and One Day, this could well be the book for you.
Do you have any thoughts on any of these books? I'd love to hear from you.