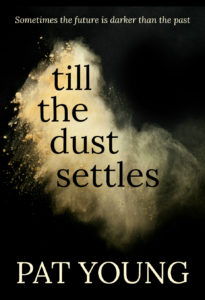 #blogtour – Till the Dust Settles by Pat Young @py321_young @Bloodhoundbook #bookreview
I'm thrilled to be on the blog tour today for Till the Dust Settles by Pat Young. I'll be sharing my review of this fantastic debut with you but first here's what the book's about:

Two women will never meet, but their lives are about to collide. 

Lucie married young. Her husband has become abusive, controlling and violent. Having lost everything as a result of the marriage, Lucie decides it is time to walk away.

As she leaves the house on the morning of September 11th, heading to a job interview at the World Trade Centre and the promise of a new life, the unthinkable happens.

On a street in New York, choking on the dust, Lucie stumbles upon an opportunity to start again.

She thought the grass would be greener but starting again is never that simple. And sometimes, what lies ahead is even more deadly.
---
I think what attracted me initially to this book was the fact it was set around 9/11. It was such a seismic event and one which I remember watching unfold. Like the generations before remembering where they were when Kennedy was shot, Elvis died, Lennon killed, this is one of those major world events that I remember.
Lucie is going to the World Trade Center on the morning of the attacks, hoping to escape her loathsome husband, Curtis. He really is a piece of work! By chance she is not in one of the towers but is on the street choking on the dust that enveloped everybody as the towers collapsed. This is where the story gets really interesting as she ends up embarking on a life quite different to the one she had, purely as a result of the confusion everybody was experiencing at the time.
I found the storyline quite plausible. I don't want to give anything away but it's got a lot to do with having the audacity to live a life that's not yours and I thought it was all rather clever, in particular the way that Pat Young took me down one path only for me to find that there'd been a deviation on that path and we were going a slightly different way. I suspect it's quite easy in the midst of such chaos for things to happen that would never have happened under normal circumstances. That's really the crux of this very well written, thrilling, story.
I'm so impressed with this debut novel. It has such a lot of twists and turns and the characterisations are great. Oh and that ending was so clever and unexpected, a bit like the rest of the book actually!
With thanks to Bloodhound Books and Sarah Hardy for the review copy. Till the Dust Settles is available now in ebook and paperback.
---

Pat Young grew up in the south west of Scotland where she still lives, sometimes. She often goes to the other extreme, the south west of France, in search of sunlight.
Pat never expected to be a writer. Then she found a discarded book with a wad of cash tucked in the flyleaf. 'What if something awful happened to the person who lost this book?' she thought, and she was off.
Pat knew nothing of writing, but she knew a thing or two about books, having studied English, French and German at Glasgow University. A passion for languages led to a career she loved and then a successful part-time business that allowed her some free-time, at last.
Pat had plans, none of which included sitting at her desk from daybreak till dusk. But some days she has to. Because there's a story to be told. And when it's done, she can go out to play. On zip-wires and abseil ropes, or just the tennis court.
Pat writes psychological thrillers. Till the Dust Settles is her debut, from Bloodhound Books.