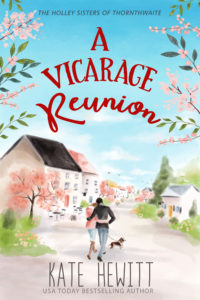 #blogtour – A Vicarage Reunion by Kate Hewitt @katehewitt1 @NeverlandBT #GuestPost
Welcome to my stop on the blog tour for A Vicarage Reunion by Kate Hewitt. This is book 2 in the Holley Sisters of Thornthwaite series, the first being A Vicarage Christmas. I have a lovely guest post from Kate to share with you today, along with a giveaway. First, shall we see what A Vicarage Reunion is about?

Welcome to Thornthwaite, a quaint village tucked up in England's beautiful but rainy Lake District, where homecomings and surprises await the four Holley sisters…

Esther Holley, the eldest in the family, has always had her life firmly in control until a miscarriage knocks her off course. Two months later, still emotionally spinning, she separates from her husband Will, a sheep farmer and man of few words and moves back in with her parents.

Life as a singleton thirtysomething living in her parents' house is miserable, but Esther is determined to re-boot her life, including going on a few unfortunate dates. She's shocked when tight-lipped Will shows up on her doorstep determined to woo her back. They've been married for seven years, but Will wants to return to the beginning, dating and getting to know each other again.

New challenges face them as they start over–and new chances too. Can Esther and Will save their marriage, especially when faced with the hardest decision of all?
---

A Vicarage Reunion: Family Dynamics
One of my favourite parts of writing the Holley Sisters series is the family dynamics. As the youngest of five myself, as well as the mother of five (and four of them girls!) I'm pretty experienced when it comes to the dynamics of a large, busy family. And while there are poignant parts of people feeling left out or getting missed in the busyness, there is also the fun, laughter, and craziness of a house with a lot of people in it—or a meal where everyone is struggling to get a word in edgewise.
Although the Holley sisters are now adults, family dynamics often remain the same in a fundamental way through adulthood. I've tried to capture some of that in these books, from Anna's shyness to Esther feeling as the oldest that she has to have everything in control, not to mention to be the best of everything! Part of everyone's journey is letting go of who they think they need to be and discovering who they really are.
The next book, A Vicarage Wedding, is about Rachel, the daughter who felt she had to overcompensate by always being friendly and cheerful. What happens when she can't anymore?
In the meantime, I hope you enjoy Esther's bittersweet story. What about you? Where are you in the sibling order? How did your family dynamics affect who you are today?
Thank you, Kate. I'm an only child so have never needed to worry about sibling order.
---

Here's your chance to win!
1st prize: £10 Amazon Gift card
2nd prize: A paperback copy of A Vicarage Christmas
Open Internationally
---

Kate is the USA Today-bsetselling author of over 60 books of women's fiction and romance. She is the author of the Hartley-by-the-Sea series, set in England's Lake District and published by Penguin. She is also, under the name Katharine Swartz, the author of the Tales from Goswell books, a series of time-slip novels set in the village of Goswell.
She likes to read romance, mystery, the occasional straight historical and angsty women's fiction; she particularly enjoys reading about well-drawn characters and avoids high-concept plots.
Having lived in both New York City and a tiny village on the windswept northwest coast of England, she now resides in a market town in Wales with her husband, five children, and an overly affectionate Golden Retriever.