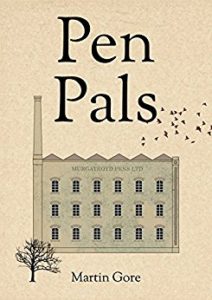 #Guestpost – Martin Gore, author of Pen Pals @martingore
I'm delighted to welcome Martin Gore to Short Book and Scribes today. He's the author of Pen Pals, a book I have patiently waiting on my Kindle for me to read and which sounds like a great read. In the meantime, Martin has written a piece about his background and his writing. I hope you enjoy it.

Brenda Arkwright has been the Managing Director of Murgatroyd Pens for much of her working life. She is popular, personable and competent. But Brenda has secrets. When Jean Murgatroyd passes away in a nursing home in the northern industrial town of her birth, old wounds are re-opened. Events
from Brenda's past, inextricably intertwined with the Murgatroyd family, are coming back to haunt her. Simultaneously, Jean's difficult, estranged son James seeks to regain control of the family business.

Jean leaves a beautiful monogrammed pen to Brenda's daughter, one of only two that were ever made. The person in possession of the other was a mystery to everybody but Brenda and Jean, but that person may now hold the future of Murgatroyds in their hands…
You can get the ebook for £1.99 and the paperback is available too. You can also get it on Netgalley until 25th February.
---

"When Martin Gore was nine years old he told his mother he wanted to be a writer. She told him to get a proper job so he did. Now fifty years later he is semi retired and living his own dream. Eight pantomimes, two plays and now his first novel Pen Pals is out."
Martin says "Overall I've had a pretty successful career. After all I started life as an Office Junior at Jaguar in Coventry in 1973, and semi retired in 2015 as Director of Corporate Services at Humberside Probation."
His career has had its ups and downs. Born in Coventry he moved his young family to Kent, and then to Walkington in 1992, joining Fenner. His career included several redundancies and a successful management buy out. He started in private sector manufacturing, but as that contracted he moved first to a local charity, Deflog, and then into public sector. At aged 57 he decided to semi retire and was able to resume his passion for writing. He is now a non-executive director at Hull & East Yorkshire NHS Trust and Together Housing, a major provider of social housing.
"I had the opportunity to resume writing in 2009 when I wrote my first pantomime for Walkington Pantomime Players. Since then I've written eight."
He has since written three plays, one of which, the comedy "He's Behind You" had a successful debut in January 2016. Another play, Pen Pals, was written when Martin was on Hull Truck's Playwrite programme under Hull Playwright Dave Windass.
"It was a great learning experience, but Pen Pals is full of characters, and could never work as a commercially viable play."
When he retired Martin decided that Pen Pals would be his first novel, and it is now available as both an ebook and paperback on all on-line outlets, plus available to order at Waterstones.
"It is a family saga about a family business based in a Yorkshire mill town, mainly in the class ridden, strike torn seventies. It has at its heart a warm human story, but it does offer a social comment about the austerity we have today."
Martin continues.
"I grew up in Coventry where manufacturing was king and we were world leaders in many fields. In my lifetime we have allowed that to be destroyed, and horrific social consequences have followed. In my view poor management, class divisions in the workplace and politically driven trade unions are equally to blame for our current demise. Austerity is in my view the result, not a policy as is currently implied."
But writing a novel isn't easy, and he made a lot of mistakes along the way.
'Avoiding just telling the story, which is boring to the reader, as opposed to showing, which triggers the reader's imagination, is very difficult. The first draft was criticised by readers for this most cardinal of sins, and I learned so much from my editor, Alice Boynton, and my late sister-in-law, Sue Vaudin-Gore.'
'It was Sue who helped me to rewrite the crucial first three chapters. In particular the opening chapter, which I'm now very proud of. Sadly she died of cancer just before publication, hence the dedication to her in the book.
'Alice is a professional editor, and she really made the book what it is. A writer has hobby horses, and I've got more than most, but these have no place in a novel. She trimmed the novel from 89000 words to 79000 and tightened up the story telling no end.'
Martin is proud that his Pen Pals has a 4.7 amazon rating, with some really great reviews. One Amazon Reviewer wrote:
'This is an original and engaging book. I was drawn into the characters in this novel which is set against a background of industrial decline in the North and changes to the industrial landscape. It's a story of some pioneering male entrepreneurs, but even stronger women, and the relationships between them over time. It's a thoroughly enjoyable read'
'I'm delighted to get this sort of review for my first novel. Bringing pleasure to people through my work, either through a pantomime, play or novel is just the greatest thrill. It inspires you to carry on and improve.'
So what's next?
"I'm working on my next novel, called "The Road to Cromer Pier", which I hope to publish in 2018, and have a new play in progress.'
His next pantomime, King Arthur, will be available later this year, and will be made available free of charge to Amdram groups, reflecting his desire to support amateur theatre.
'I've experienced success and failure in my career, so I'm prepared to put myself out there and dare to fail. In 2016 I submitted a successful bid to deliver a major concert for Hull's 2017 City of Culture, involving the HEY Choir, Hull Children's University and seven Hull Schools, which was a fantastic success. It's a busy and happy retirement. I'm thoroughly enjoying fulfilling my statement to my mother all those years ago. My parents loved the theatre and reading, so I think they'd be proud."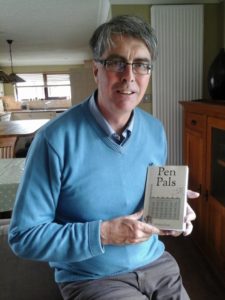 Martin Gore's website is www.martingore.co.uk and he is on Facebook, penpalsthenovel and Twitter @martingore