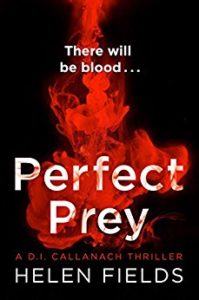 #bookreview – Perfect Prey by Helen Fields @Helen_Fields @AvonBooksUK #crimefiction
Ooh, how much do I love the 'Perfect' series by Helen Fields? Lots, that's how much. Perfect Prey is book two and whilst you can read it perfectly (ahem!) well as a standalone, I definitely recommend starting at the beginning with Perfect Remains, which I reviewed here. Thank you to Avon Books for the review copy of Perfect Prey via Netgalley.

Welcome to Edinburgh. Murder capital of Europe.

In the middle of a rock festival, a charity worker is sliced across the stomach. He dies minutes later. In a crowd of thousands, no one saw his attacker.

The following week, the body of a primary school teacher is found in a dumpster in an Edinburgh alley, strangled with her own woollen scarf.

D.I. Ava Turner and D.I. Luc Callanach have no leads and no motive – until around the city, graffitied on buildings, words appear describing each victim.

It's only when they realise the words are being written before rather than after the murders, that they understand the killer is announcing his next victim…and the more innocent the better.
Perfect Prey is available now in ebook and paperback.
---
Oh My God. This book is phenomenal! I think I actually liked it more than Perfect Remains, the first in the series featuring DIs Luc Callanach and Ava Turner.
Perhaps it was the return of these familiar and hugely likeable characters that made this book stand out for me. This time they're investigating some horrific murders which is turning Edinburgh into a murder zone. And they really are horrific to read about – I was wincing many times (this is something this book has in common with Perfect Remains). Helen Fields does not hold back but it's not just one long gore-fest at all, although she does manage to come up with some pretty twisted ways of causing death.
Perfect Prey is perfectly plotted. The author brings together many different threads and deftly weaves them together. The fact that one of these threads is about the dark web makes it all the more exciting and very current, although also all the more scary as well.
As I hurtled towards the end I just could not put this book down. I found it completely absorbing and absolutely thrilling and I was practically on the edge of my seat. Talk about ramping up the tension!
Although Callanach and Turner are the main characters, I have to say that I love the other Police Scotland officers. Detective Superintendent Overbeck, in particular, is just such a fantastically unpleasant person and I found myself smiling whenever she was in a scene. I'm also hoping the journalist, Lance Proudfoot, might pop up again in future books as he more than proved himself worthy of a second outing.
I don't often stick with series but this is one that I definitely will stick with. The storylines are brilliant and inspired and when you combine that with the dishy Luc then it's just win-win.
I can't wait to get to Perfect Death and I note there is book 4 on the horizon, which makes me extremely happy indeed. This series is just superb.
---

A former barrister, Helen now writes a Scottish set crime series – D.I.Callanach and D.I. Ava Turner. Her debut novel Perfect Remains and the second in the series Perfect Prey are Amazon best sellers. The third book 'Perfect Death' was published on 25 January 2018. She currently commutes between Hampshire, Scotland and California, and lives with her husband and three children.