#bookreview – A Library Miscellany by Claire Cock-Starkey @nonfictioness @BodPublishing #blogtour
Today, I'm delighted to be taking part in Claire Cock-Starkey's blog tour for A Library Miscellany. I had the pleasure of reviewing The Book Lovers' Miscellany at the end of last year and so I was pleased to have a read of Claire's new book. My review is further down this post, along with an extract about fictional libraries of note, but first let's see what it's all about:

What can be found in the Vatican's Secret Archive? How many books did Charles Darwin's library aboard the Beagle hold? Which library is home to a colony of bats? Bursting with potted histories, quirky facts and enlightening lists, this book explores every aspect of the library, celebrating not only these remarkable institutions but also the individuals behind their awe-inspiring collections. From the ancient library at Alexandria to the Library of Congress in Washington DC, A Library Miscellany explores institutions both old and new, from the university library to that of the humble village. It opens the door to unusual collections such as herbaria, art libraries, magic libraries and even the library of smells, and charts the difficulties of cataloguing books deemed to be subversive, heretical, libellous or obscene. Packed with unusual facts and statistics, this is the perfect volume for library enthusiasts, bibliophiles and readers everywhere.
The hardcover is available to buy now.
Claire will be speaking about A Library Miscellany (and The Book Lovers' Miscellany) at Oxford Literary Festival on March 20th at 12pm see here.
---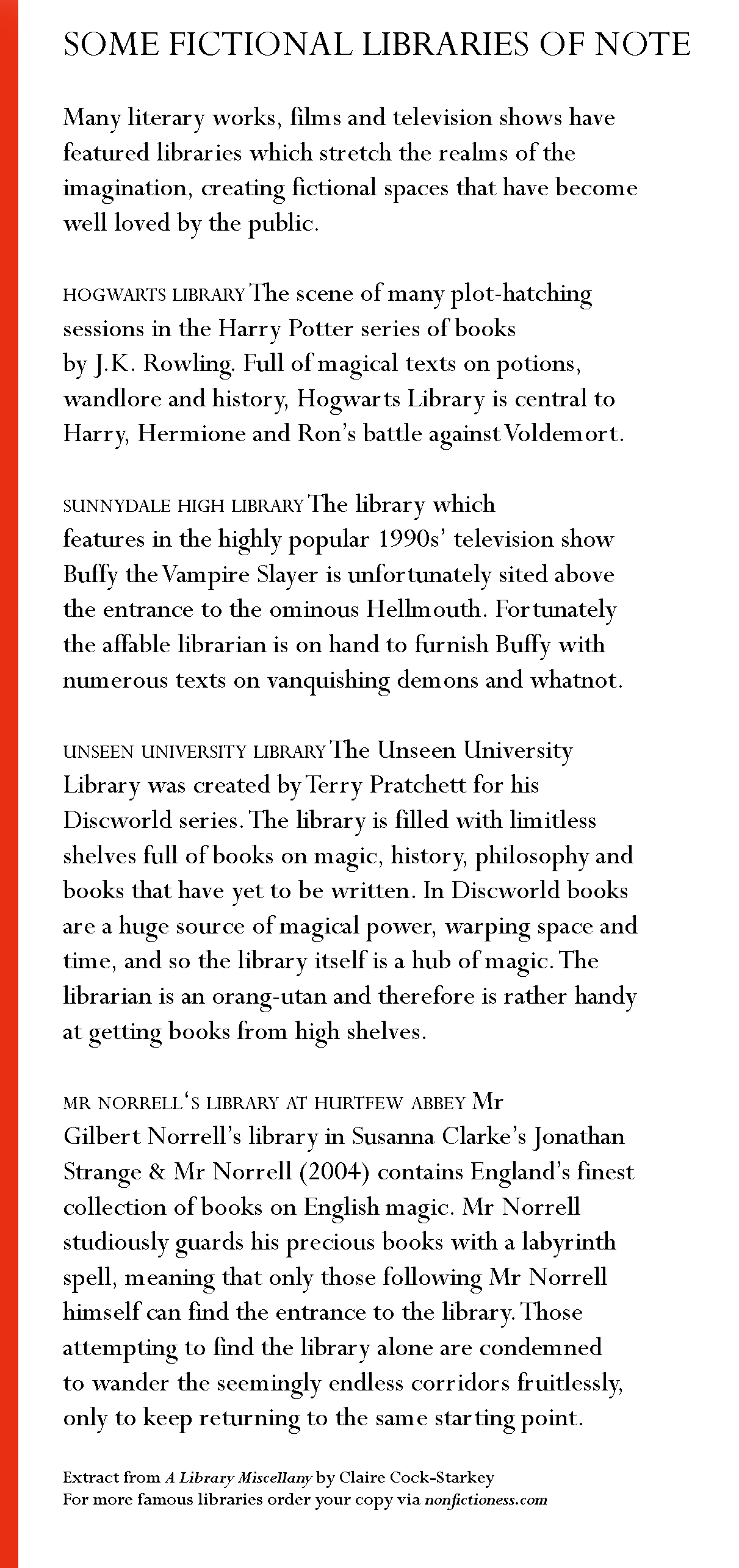 ---
What book lover doesn't love a library? A whole place full of books that you can borrow as much as you like. I love libraries so it was a real pleasure to read Claire Cock-Starkey's book full of facts and information all about libraries.
As with Cock-Starkey's previous book, The Book Lover's Miscellany, this is a lovely little hardback book, the perfect size to pick up, read an entry or two and then put down again for next time. That's not to say you couldn't read it all at once if you wanted to, just that there are bite-sized nuggets of information for those moments when you don't want to get stuck into a novel.
One of the interesting facts is about how borrowing changed over the course of a decade and figures in 2013/14 were considerably down, compared to 2003/4. However, to be applauded is the fact that children's book borrowing was actually up. It's wonderful to think that our children are not only reading, but being introduced to libraries as well.
Apparently, the tiniest library in the world is just 3.5 x 3.5 metres and contains 1,800 books – sounds a bit like my spare bedroom!
I could go on to tell you about who the most borrowed authors are, where you might find a library of smells, the patron saints of librarians, some very overdue library books and the library on the Titanic but I'm not going to do that. You'll have to buy the book!
My local library is now volunteer-run along with several others in the city. It's sad that libraries are not used as much as they used to be, but still heartening to know that these volunteer-run libraries are working and they're able to be kept open for the community. Long may it continue. This little book is an ideal way to celebrate all that is wonderful about libraries.
---

---

Claire Cock-Starkey is a writer and editor of non-fiction books, including 'Bodleianalia' (2016), 'Famous Last Words' (2016) and The Book Lovers' Miscellany (2017).