Seven Day Spotlight – w/e 02/09/18
It's that time of the week again where I remind you what I've posted during the last week and make you gape at the number of books I've added to my TBR pile.
On Monday, I reviewed The Other Couple by Sarah J Naughton which I thought was simply amazing. I also shared an extract from Keep Her Silent by Theresa Talbot.
On Tuesday, I shared an extract from The Caseroom by Kate Hunter and posted my review of The Self-Proclaimed Inspector by Joshua Gardiner, which was an entertaining little crime novella.
Wednesday's post was my review of The Psychology of Time Travel by Kate Mascarenhas, which I absolutely loved.
On Thursday, I shared a (belated, oops!) extract from The False Men by Mhairead Macleod and a Q&A with Rebecca Howie, author of The Sam Beckett Mysteries.
Friday's post was my review of Angelica Stone by Susi Osborne, which is a hard-hitting story about two friends from different backgrounds. There's still time to enter the giveaway to win all of Susi's books.
On Saturday, I posted a guest post by Patricia Murphy, author of Leo's War, about pitching her work for children. There's a giveaway still running to win a £30 Amazon voucher too.
And finally, this morning I posted a guest post by Jo Platt, author of Finding Felix, with tips for kick-starting your writing.
---
So here goes. These are my additions to my TBR pile – quite a few, hence the GIF above. Do let me know if you have any thoughts about any of them.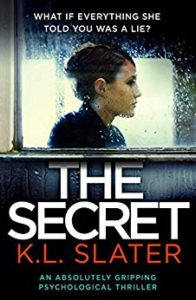 How do you protect your child if they're keeping a secret?

Every day, a woman like Louise passes you in the street: elegant, confident, determined. But underneath, she's struggling.

She doesn't know her sister, Alice, has been scared of leaving the house since their mother died.
She doesn't know when Alice babysits her little boy, Archie, he sometimes sees things he shouldn't.
She doesn't know Archie has a secret.

A secret that could send cracks through the heart of Louise's carefully constructed life…

The most gripping psychological thriller you'll read this year from the Kindle top five bestselling author K.L. Slater. If you love The Girl on the Train or Gone Girl, you'll be absolutely hooked.
A House Divided by Rachel McLean
Jennifer Sinclair is many things: loyal government minister, loving wife and devoted mother.

But when a terror attack threatens her family, her world is turned upside down. When the government she has served targets her Muslim husband and sons, her loyalties are tested. And when her family is about to be torn apart, she must take drastic action to protect them.

A House Divided is a tense and timely thriller about political extremism and divided loyalties, and their impact on one woman.
When three sisters, Ginny, Sally and Molly are brought together at their father's hospital bed, they are forced to confront not only the prospect of a future without him but also the secrets of the past that have kept them apart.
Their father, Eddie Matthews, drugged up on morphine, seems to be rambling but could he in fact be reliving previous lives as a Tudor monk and as a soldier on the Front in WW1? Struggling to speak he reveals that he has a secret and urges his daughters to 'Find Rose'. Can the sisters put aside their differences to fulfil his last wish?
The Flower Girls by Alice Clark-Platts
YOU'LL NEVER FORGET THE FLOWER GIRLS

The Flower Girls. Laurel and Primrose.

One convicted of murder, the other given a new identity.

Now, nineteen years later, another child has gone missing.

And The Flower Girls are about to hit the headlines all over again…
The Six Loves of Billy Binns by Richard Lumsden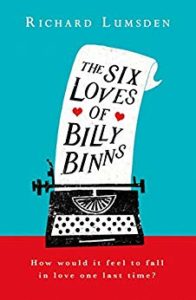 THE SIX LOVES OF BILLY BINNS is a deeply moving debut set in London against the backdrop of the changing 20th century. it is reading group fiction perfect for those who loved the quirky pathos of Gail Honeyman's ELEANOR OLIPHANT IS COMPLETELY FINE and the warmth and humour of Rachel Joyce's THE UNLIKELY PILGRIMAGE OF HAROLD FRY

At 117 years old, Billy Binns is the oldest man in Europe and he knows his time is almost up. But Billy has a final wish: he wants to remember what love feels like one last time. As he looks back at the relationships that have shaped his life – and the events that shaped the century – he recalls a life full of hope, heartbreak and, above all, love.
London, 1947: Besieged by the harshest winter in living memory, burdened by onerous shortages and rationing, the people of postwar Britain are enduring lives of quiet desperation despite their nation's recent victory. Among them are Ann Hughes and Miriam Dassin, embroiderers at the famed Mayfair fashion house of Norman Hartnell. Together they forge an unlikely friendship, but their nascent hopes for a brighter future are tested when they are chosen for a once-in-a-lifetime honor: taking part in the creation of Princess Elizabeth's wedding gown.

Toronto, 2016: More than half a century later, Heather Mackenzie seeks to unravel the mystery of a set of embroidered flowers, a legacy from her late grandmother. How did her beloved Nan, a woman who never spoke of her old life in Britain, come to possess the priceless embroideries that so closely resemble the motifs on the stunning gown worn by Queen Elizabeth II at her wedding almost seventy years before? And what was her Nan's connection to the celebrated textile artist and holocaust survivor Miriam Dassin?

With The Gown, Jennifer Robson takes us inside the workrooms where one of the most famous wedding gowns in history was created. Balancing behind-the-scenes details with a sweeping portrait of a society left reeling by the calamitous costs of victory, she introduces readers to three unforgettable heroines, their points of view alternating and intersecting throughout its pages, whose lives are woven together by the pain of survival, the bonds of friendship, and the redemptive power of love.
A Version of the Truth by B.P. Walter
We all see what we want to see…

2019: Julianne is preparing a family dinner when her son comes to her and says he's found something on his iPad. Something so terrible, it will turn Julianne's world into a nightmare and make her question everything about her marriage and what type of man her husband is or is pretending to be.

1990: Sophie is a fresher student at Oxford University. Out of her depth and nervous about her surroundings, she falls into an uneasy friendship with a group of older students from the upper echelons of society and begins to develop feelings for one in particular. He's confident, quiet, attractive and seems to like her too. But as the year progresses, her friends' behaviour grows steadily more disconcerting and Sophie begins to realise she might just be a disposable pawn in a very sinister game.

A devastating secret has simmered beneath the surface for over twenty-five years. Now it's time to discover the truth. But what if you're afraid of what you might find?
The Secrets You Hide by Kate Helm
In her eyes, no-one is innocent…

A knock-out read for fans of Clare Mackintosh, Anatomy of a Scandal and Apple Tree Yard.

Georgia Sage has a gift: she can see evil in people. As a courtroom artist she uses her skills to help condemn those who commit terrible crimes. After all, her own brutal past means she knows innocence is even rarer than justice.

But when she is drawn back into the trial that defined her career, a case of twisted family betrayal, she realises her own reckless pursuit of justice may have helped the guilty go free.

As Georgia gets closer to the truth behind the Slater family, something happens that threatens not only her career – but even her own sanity. At first, she fears her guilt around the events of her terrible childhood is finally coming back to haunt her.

The truth turns out to be even more terrifying . . . 

THE SECRETS YOU HIDE is an ambitious rocket of a novel. Every layer, every twist, every revelation makes you question the very characters you thought you could trust, and rethink a plot you thought you were beginning to unravel…
Fallible Justice by Laura Laakso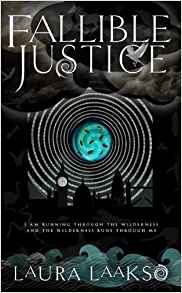 In Old London, where paranormal races co-exist with ordinary humans, criminal verdicts delivered by
the all-seeing Heralds of Justice are infallible. After a man is declared guilty of murder and sentenced
to death, his daughter turns to private investigator Yannia Wilde to do the impossible and prove the
Heralds wrong.
Yannia has escaped a restrictive life in the Wild Folk conclave where she was raised, but her origins
mark her as an outsider in the city. Those origins lend her the sensory abilities of all of nature. Yet
Yannia is lonely and struggling to adapt to life in the city. The case could be the break she needs. She
enlists the help of her only friend, a Bird Shaman named Karrion, and together they accept the
challenge of proving a guilty man innocent.
So begins a breathless race against time and against all conceivable odds. Can Yannia and Karrion
save a man who has been judged infallibly guilty?
The Woman in the Dark by Vanessa Savage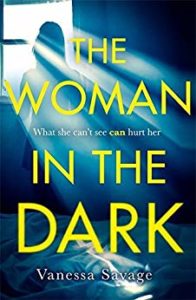 A chilling psychological thriller about dark family dysfunction and the secrets that haunt us – think THE SHINING meets BEHIND CLOSED DOORS.

For Sarah and Patrick, family life has always been easy. But when Sarah's mother dies, it sends Sarah into a downwards spiral. Knowing they need a fresh start, Patrick moves the family to the beachside house he grew up in.

But there is a catch: while their new home carries only happy memories for Patrick, to everyone else it's known as the Murder House – named for the family that was killed there.

Patrick is adamant they can make it perfect again, though with their children plagued by nightmares and a constant sense they're being watched, Sarah's not so sure. Because the longer they live in their 'dream home', the more different her loving husband becomes . . .
All My Mother's Secrets by Beezy Marsh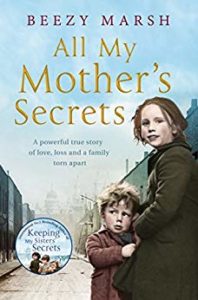 From the grimy streets of Acton and Notting Hill to the bright lights of the West End, Beezy Marsh's All My Mother's Secrets is a powerful, uplifting story of a young woman's struggle to come to terms with her family's tragic past.

Annie Austin's childhood ends at the age of twelve, when she joins her mother in one of the slum laundries of Acton, working long hours for little pay. What spare time she has is spent looking after her younger brother George and her two stepsisters, under the glowering eye of her stepfather Bill. In London between the wars, a girl like Annie has few choices in life – but a powerful secret will change her destiny.

All Annie knows about her real father is that he died in the Great War, and as the years pass she is haunted by the pain of losing him. Her downtrodden mother won't tell her more and Annie's attempts to uncover the truth threaten to destroy her family. Distraught, she runs away to Covent Garden, but can she survive on her own and find the love which has eluded her so far?
Betsy and Lilibet by Sophie Duffy
London, 1926. Two baby girls are born just hours and miles apart. One you know as the Queen of England, but what of the other girl- the daughter of an undertaker named in her honour? Betsy Sunshine grows up surrounded by death in war-torn London, watching her community grieve for their loved ones whilst dealing with her own teenage troubles… namely her promiscuous sister Margie. As Betsy grows older we see the how the country changes through her eyes, and along the way we discover the birth of a secret that threatens to tear her family apart.

Sophie Duffy dazzles in her latest work of family/historical fiction. A tale which spans generations to explore the life and times of a family at the heart of their community, the story of a stoic young woman who shares a connection with her queenly counterpart in more ways than one…
Emma did not go to war looking for love, but Adam is unlike any other.

Under the secret shadow of trauma, Emma decides to leave Iraq and joins Adam to settle in Colorado. But isolation and fear find her, once again, when Adam is re-deployed. Torn between a deep fear for Adam's safety and a desire to be back there herself, Emma copes by throwing herself into a new role mentoring an Iraqi refugee family.

But when Adam comes home, he brings the conflict back with him. Emma had considered the possibility that her husband might not come home from war. She had not considered that he might return a stranger.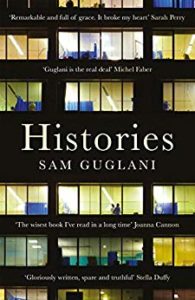 Histories is a hypnotic portrait of life in one hospital, over one week. In the corridors and consulting rooms, by the bedside, through the open curtain, we witness charged encounters within the emotional and physical world of medicine. Old insecurities surface as junior doctors try to save a man from dying; an enraged chaplain picks a fight with a consultant; a porter waxes lyrical on his invisibility.

These are only some of the stories that so seamlessly connect, collide and create an unforgettable panorama of being. Sam Guglani's vivid prose has the raw intensity of poetry that pulls the reader in on every page.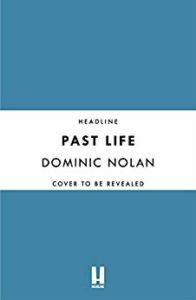 THE ONLY THING DETECTIVE ABIGAIL BOONE REMEMBERS…IS THE WORST THING THAT EVER HAPPENED TO HER.

Waking up beside the dead girl, she couldn't remember anything.
Who she was. Who had taken her. How to escape.

Detective Abigail Boone has been missing for four days when she is finally found, confused and broken. Suffering retrograde amnesia, she is a stranger to her despairing husband and bewildered son.

Lost in her own life, with no leads on her abduction, Boone's only instinct is to return to the deadly investigation that almost killed her: a baffling missing persons case that drags her to the darkest edges of human cruelty.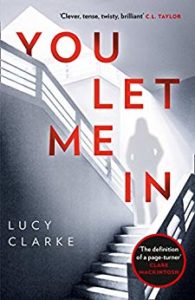 Nothing has felt right since Elle rented out her house . . .

I'M IN YOUR HOUSE

There's a new coldness. A shift in the atmosphere. The prickling feeling that someone is watching her every move from the shadows.

I'M IN YOUR HEAD

Maybe it's all in Elle's mind? She's a writer – her imagination, after all, is her strength. And yet every threat seems personal. As if someone has discovered the secrets that keep her awake at night.

AND NOW I KNOW YOUR SECRET

As fear and paranoia close in, Elle's own home becomes a prison. Someone is unlocking her past – and she's given them the key…