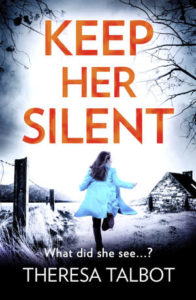 ShortBookandScribes #BlogTour #Extract from Keep Her Silent by Theresa Talbot @theresa_talbot @Aria_Fiction
Welcome to my stop on the blog tour for Keep Her Silent by Theresa Talbot. My thanks to Vicky from Aria for the place on the tour. I have an extract to share with you today – hope you enjoy it.
Ooonagh O'Neil is back with another dark and chilling investigation…

'Do that which is good and no evil shall touch you'

That was the note the so-called Raphael killer left on each of his victims. Everyone in Glasgow – investigative journalist Oonagh O'Neil included – remember the murder of three women in Glasgow which sent a wave of terror through the city. They also remember that he is still at large…

When the police investigation into the Raphael killings reopens, Oonagh is given a tip off that leads her straight to the heart of a complex and deadly cover-up. When history starts to repeat itself, it seems the killer is closer than she thinks. Could Oonagh be the next target…?

Authentic and gritty, Keep Her Silent is a gripping and page-turning thriller that will leave you breathless. Perfect for fans of Susie Steiner, and Karin Slaughter, Patricia Gibney.
Buy links:
---

The door was slightly ajar and she rapped it with her knuckles and let herself in before he had a chance to answer.

'Ah, speak of the devil.' Alan gestured for her to sit down as he cradled a phone on his left shoulder, held a mobile in his right hand and tried to type with his spare fingers. 'We were just talking about you.'

'We?'

'Yes, myself and Ross.'

Her back stiffened, 'I'm all ears.'

'He has some ideas for The Other Side.' Oonagh sat back in her chair and let Alan do the talking. 'Thought it would be a good idea if the programme was a double header. Get a co-presenter. He's thrown a few names into the hat and—'

Oonagh cut him off before he went any further. 'I don't think so!'

Alan shrugged and held his hands wide, inviting Oonagh to explain. The initial series of The Other Side had been her idea and examined the underbelly of Scotland. She'd managed to get commissioned for a six-part series, then the network had bought the rights and it had gone national. But series two needed to have a different angle to stop it being formulaic. 'This is my baby and I'm not letting that wee shite get within spitting distance of it.'

Alan stood up and closed the door. 'Listen to me, Oonagh, you're lucky you're still here after that stunt you pulled.'

Oonagh's stomach shifted; she wasn't quite prepared for this. 'Are you kidding? That shower deserved everything they got.' Clearly not everyone thought uncovering historic abuse in the Catholic church was Oonagh's finest hour.

'You still don't get it. You were a fucking liability. You broke every rule in the book and could have had us sued.'

Oonagh elected not to tell Alan of emails and support she'd had in the wake of the programme. This wasn't the time for petty point-scoring. Her investigative techniques had fallen way short of legal and she knew it. The station had only managed to wriggle out of a court case when the church had feared even more dirt would come out in that particular wash.

'You need to go with a double header on this one.' Alan had calmed down slightly, but he was keeping her on a tight lead. 'Then when the dust settles…' Oonagh pinched the end of her nose to stop her nostrils flaring.

Alan sat back down. His voice softened slightly. 'You just seem to have a knack for rattling cages, Oonagh.'

'Really?' She swallowed hard. 'Well, I'd rather rattle a few cages than rattle my jewellery like the rest of the twats in here!' She jabbed her thumb behind her in the direction of the production office.

'Why are you so… so angry?'

'I'm not angry.' It was only a half-lie; she was more furious than angry.

'Oonagh, forget that I'm your boss for a moment.' Alan's choice of weapon when he needed to remind Oonagh who was in charge. Her back stiffened again but she gave him a weak smile. 'Can I talk to you as a friend?' Clearly he really meant business. 'How's the love life?' That came from left field and threw her off guard.

'Good job you're asking as a friend and not as my boss, Alan. I'm sure you've just broken at least three employment laws right there.'

He ignored the jibe. 'You're a lovely-looking girl, Oonagh.' He was really putting the boot in now. 'It's a shame to see you on your own.'

'I know. Sad, isn't it? I've got a T-shirt with Great Looks – Shite Personality on the front.' Oonagh sat back and crossed her legs. 'Are we here to talk about when I was last laid or why that little prick Ross isn't getting anywhere near my programme?'

Alan ignored her. 'He thought one of the Big Brother team would be perfect. Really appeal to the—'

'Big Brother? What the fuck's that about?'

'Oonagh, it's one of the biggest-rating shows on television. It'd be a real coup to have the winner co-present—'

She couldn't stomach this. 'Please tell me this is a joke. And a bad one at that.'

Alan put both phones down, a sure sign he meant business. 'You're a bit out of touch, Oonagh. If we've a hope in hell's chance of getting sponsors we need to widen our demographic.'

Oonagh realised she was losing this particular battle and changed tactics. 'Alan, you're right, you've got a knack of knowing what works on screen. No, I'm not against the idea in principle. It's just, well, I'm not sure, Alan, I just feel…' She wasn't sure how to get out of this one and had to think on her feet. 'Right. OK, I'll come clean. We're too far into this series to make any vital changes.' She was furious but refused to let it show. She didn't even have a schedule together and was still mulling around ideas in her head. But she wasn't going to let that petty wee fat bastard Ross muscle in on her act.

'Oh?' Alan lit a cigarette and looked up with interest. 'I hadn't realised you'd got so far into it. What's the theme?'

Shit. Oonagh threaded a strand of hair behind her ear. 'Women Who Kill.' The words were out of her mouth before she knew what she was saying.

Alan leaned forward, a hint of a smile playing on his lips. 'Carry on.'
---

---

Theresa Talbot is a BBC broadcaster and freelance producer. A former radio news editor, she also hosted The Beechgrove Potting Shed on BBC Radio Scotland, but for many she will be most familiar as the voice of the station's Traffic & Travel.
Late 2014 saw the publication of her first book, This Is What I Look Like, a humorous memoir covering everything from working with Andy Williams to rescuing chickens and discovering nuns hidden in gardens. She's much in demand at book festivals, both as an author and as a chairperson.
Follow Aria