ShortBookandScribes #BlogTour #Extract from The Caseroom by Kate Hunter #KateHunter @FledglingPress #LoveBooksGroupTours
I'm delighted to be taking part in the blog tour for The Caseroom by Kate Hunter today. My thanks to Kelly Lacey from Love Books Group Tours for the place on the tour. I have a great extract to share with you today so I hope you enjoy it.
SHORTLISTED FOR THE SALTIRE FIRST BOOK OF THE YEAR AWARD 2017
Kate Hunter is a debut author with a compelling new novel that examines a little explored period in Scottish history: Edinburgh's print industry in the late nineteenth century – a volatile time of significant change.
In The Caseroom, Edinburgh is at the heart of Britain's print industry and St Leonards and Canonmills ring with the clamour of print works. Determined to follow her father and older brothers into the print trade, Iza Ross enters the caseroom of Ballantynes' Pauls works in Causewayside as a callow thirteen-year old.
Set in the thick of workers' lives in Edinburgh's thriving print industry, The Caseroom follows Iza into the arcane world of the caseroom where she learns the intricacies of a highly-skilled trade. As one of some 800 Edinburgh women who for a few decades did so, she becomes a hand-typesetter, work that had been, and was to become once more, a male preserve.
Despite hostility to the cheap labour that women represent, Iza persists in work that allows her to feed her imagination on books. But holding on to her trade means hardening herself to the needs of those she loves. And when the men's union moves to eliminate women from the caseroom and a We Women movement forms to oppose them, there is no middle ground. Torn between class and gender loyalties and embroiled in a bitter labour dispute, Iza must choose sides.
---

  The strike of a match, hiss of gas, scrape of pot sounded deafening to her, but no-one roused. Set to soak overnight, the oatmeal porridge was ready by the time she'd sliced bread, spread lard, smeared on potted haugh and wrapped six pieces. After putting a package in her smock pocket, she ate a few spoonfuls of porridge straight from the pot, blowing to cool it, watching tenement windows across the street come to life as dawn light rinsed out dark. Too early to leave yet, but she wanted to be off. She'd walk a long way round, stop at a bakers to buy a roll straight from the oven, sit on a step or crate to eat it. Though a trace of night's chill would be in the air, this September was mild as anything. She looked up. A wee strip of dulled silver sky above roofs was tinged with pink and blue. No sign of rain clouds. First, though, the best bit, the bit she'd been leaving till 3 last. From a corner of a shelf she took down the setting stick and box of rules her father had presented to her. Used tools, aye, but, still, good tools. Last night she'd held them in her lap to finger them, but Rab's glower had made her think better of loosening the screw on the stick to move the measure, opening the box's neat clasp to take out the stack of wee brass rules. Studiously ignoring her brother, she'd set her tools down safe with the hair clasp you'd easily take for real tortoiseshell and her wooden pencil case with a diamond of ebony inlay, sleek and fine despite being chipped. Thump. Tinkle. The thought of Rab's glower had her fumble and drop her rule box. She braced. At least it sounded as though the clasp had held. Holding her breath, she crouched to run a hand across the floor, ear cocked. A murmur. A groan. Was that a shuffle? Her father and brothers were rousing. That dark wedge by the chair leg? Aye. Sure enough, the clasp had held tight, the rules had not spilt and she had the box safe in her pocket
---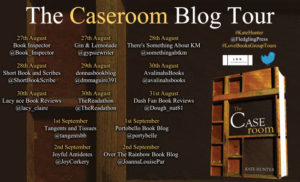 ---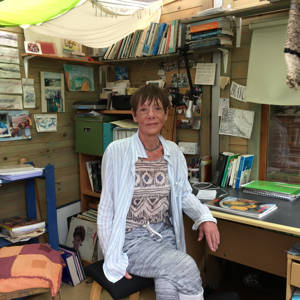 Kate Hunter's father's family earned a living in the Edinburgh print trade. They
made books and newspapers; they read them, but they never got the chance to write
them. Kate has read thousands of books and helped to make a fair few. Now she's
written one. She grew up in Edinburgh, worked in a printers there when she was
fifteen and, later, was a Mother of the Chapel in Milton Keynes where she now lives.
Photo (c)Becca Leathlean