ShortBookandScribes #BookReview – The Self-Proclaimed Inspector by Joshua Gardiner @ThugglerSmug
I'm so pleased to be sharing my review of The Self-Proclaimed Inspector by Joshua Gardiner today. My thanks to the author for the review copy.
Alf Dulrimple is one of the greatest detectives to ever live; in his own mind at least. After he gets fired from the Police department, he must open his own Private Investigator Company; giving himself the title Inspector Dulrimple.

In his first case as a private investigator, Inspector Dulrimple must get photographic evidence of a man cheating on his wife. It seems simple enough, but as Dulrimple knows; no case is ever that simple. What should've been an easy first case for the private investigator turns into a hunt for a murderer which will not only test Dulrimple's abilities (or lack thereof) as a detective, but will also bring him face to face with the demons of his past.

Inspector Dulrimple may take himself seriously, but you don't have to. This comedic story shows the self-proclaimed Inspector bumbling and guessing his way through a case which is way above his very limited abilities.
---

If you want a short but entertaining read then you need look no further. The Self-Proclaimed Inspector fits the bill.
Alf Dulrimple is a disgraced cop and like so many before him, he has turned to private investigation. He is engaged by Mrs Daimler to investigate her husband, who she believes is having an affair. Alf is a bit of a calamity and clearly thinks he's a better PI than he is. But he completely believes in his abilities which made me smile.
Bring in Alf's former love interest, Violet, who has made an interesting career choice, and it takes an exciting and sometimes comedic turn.
I read The Self-Proclaimed Inspector in two halves but I could quite easily have read the whole thing in one go had I had the time. It's immensely readable and I was quite taken with Alf, despite his rather bumbling nature.
For such a short book (Amazon says 60 pages) there's loads packed in and I thought it was a great little read. I'd definitely like to catch up with more of Alf's exploits in the future.
---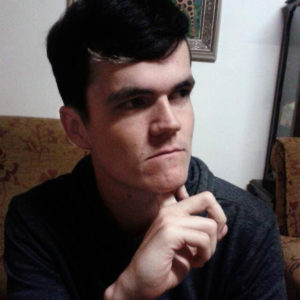 Joshua Gardiner is from South Africa and is currently studying through the University of South Africa. He's only recently started writing fiction. He used to draw comics, but since his drawing skills were terrible he decided to just stick to writing stories instead of trying to draw them. He's also written a few short stories which can be found here.