ShortBookandScribes Seven Day Spotlight w/e 08/07/18
Welcome to this week's Seven Day Spotlight. Once again, like last week, I've spent this week a bit like this.
If this heatwave goes on much longer I'm going to run out of sweating GIFs! 😀
Here's what I posted this week on my blog:
On Monday, I reviewed the excellent Her Name Was Rose by Claire Allan.
Tuesday's post was an extract from A Summer Scandal by Kat French.
On Wednesday, I shared my Q&A with Elizabeth J Hall, author of Love and Death in Shanghai.
Then on Thursday, I reviewed The Death of Mrs Westaway by Ruth Ware, which I thought was a fantastic read with a Gothic feel.
Friday's post was my review of Stalker by Lisa Stone which I found utterly compelling.
Saturday was a two post day with my review of Belle Cat by Patricia Furstenberg, a delightful little read about a rescued cat, and an extract from Murder on the Green by H.V. Coombs.
Finally, today I shared my review of How Far We Fall by Jane Shemilt which is such an incredibly clever and well plotted book.
---
The Amazon summer sale has been responsible for some of the additions to my TBR pile this week. Here's my list:
The Memory Shop by Ella Griffin
Will every treasured possession find its perfect home?

Nora's world has been turned upside-down. Escaping heart-break in London, she returns to her childhood home in Dublin where her grandmother's beloved house is being sold. Nora has been left with an inheritance of treasured belongings, but no home of her own in which to keep them.

Unable to bear auctioning them off, Nora resolves to stay in Dublin and open The Memory Shop, a very special business which matches each gorgeous object with a perfect new owner. It's not long before these objects begin to transform the lives of those they touch, creating new stories and new chances at happiness.

As Nora lets go of a lifetime of treasures, she unlocks tantalising clues to her grandmother's mysterious past. But can she finally let go of her own…?
No Further Questions by Gillian McAllister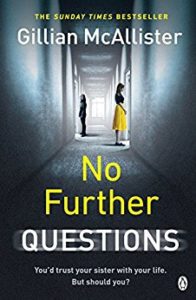 The police say she's guilty.

She insists she's innocent.

She's your sister.

You loved her.

You trusted her.

But they say she killed your child.

Who do you believe?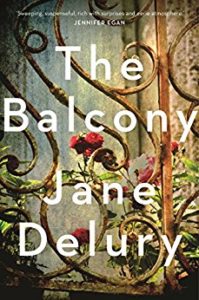 To those who have ventured past it over the years, this small estate in a village outside Paris has always seemed calm and poised.

But should you open the gates and enter inside, you will find rooms which have become the silent witnesses to a century of human drama: from the young American au pair who developed a crush on her brilliant employer to the ex-courtesan who shocked the servants, and the Jewish couple who hid from the Gestapo to the housewife who began an affair while renovating the rooms downstairs.

The house has kept its inhabitants secrets for a hundred years. Now, they are ready to be brought to the light. .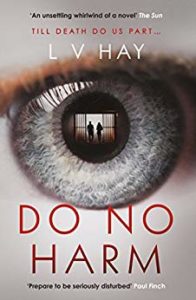 Till death do us part…

After leaving her marriage to jealous, possessive oncologist Maxwell, Lily and her six-year-old son have a second chance at happiness with headteacher Sebastian. Kind but vulnerable, Sebastian is the polar opposite of Maxwell, and the perfect match for Lily. After a whirlwind romance, they marry, and that's when things start to go wrong…
Maxwell returns to the scene, determined to win back his family, and events soon spiral out of control. Lily and Sebastian find themselves not only fighting for their relationship, but also their lives…
Chilling, dark and terrifying, Do No Harm is a taut psychological thriller and a study of obsession, from one of the most exciting new voices in crime fiction.
The New Girl by Ingrid Alexandra
You've only just met.
But she already knows you so well.

When Rachel moves into the spare room in Mary's flat, everyone is quick to jump to the conclusion that there's something strange about her. Everyone apart from Mary.

And when Rachel starts sleepwalking, the flatmates' fears grow. But there's something about the new girl that Mary can't help but trust, and having recently escaped a toxic relationship, she needs the support.

Rachel becomes a friend and an ally, and Mary soon discovers that they have more in common than she ever could have imagined.

In fact, Rachel seems to know more about Mary than she knows about herself…
No Place for a Woman by Val Wood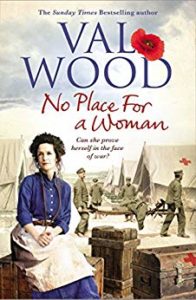 When Lucy's parents are killed in a train crash, her kindly uncle steps in to look after the little girl – to the initial apprehension of his wife and her son. However, Lucy's sweet, spirited charm slowly wins over her new family, and as she overcomes the trauma of her childhood, she grows up inspired to become a doctor, just like her father.

But studying medicine in London takes Lucy far from her home in Hull and the people she loves, and she has to battle to be accepted in a man's world.

With the dark clouds of the First World War gathering on the horizon, an even greater challenge approaches. Can a woman find her place on the front line of battle? Will Lucy be able to follow her dreams – and find love – in a world shattered by war?
The Darkness Within by Lisa Stone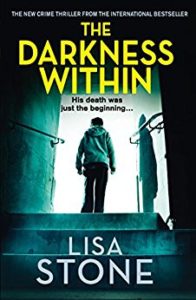 You know your son better than anyone. Don't you?

When critically ill Jacob Wilson is given a life-saving heart transplant, his parents are relieved that their loving son has been saved.

However, before long, his family are forced to accept that something has changed in Jacob. Their once loving son is slowly being replaced by a violent man whose mood swings leave them terrified – but is it their fault?

Jacob's girlfriend, Rosie, is convinced the man she loves is suffering from stress. But when his moods turn on her, she begins to doubt herself – and she can only hide the bruises for so long.

When a terrible crime is committed, Jacob's family are forced to confront their darkest fears. Has the boy they raised become a monster? Or is someone else to blame?
A Family Recipe by Veronica Henry
What's the secret ingredient to your happiness?

Laura Griffin is preparing for an empty nest. The thought of Number 11 Lark Hill falling silent – a home usually bustling with noise, people and the fragrant smells of something cooking on the Aga – seems impossible. Laura hopes it will mean more time for herself, and more time with her husband, Dom.

But when an exposed secret shakes their marriage, Laura suddenly feels as though her family is shrinking around her. Feeling lost, she turns to her greatest comfort: her grandmother's recipe box, a treasured collection dating back to the Second World War. Everyone has always adored Laura's jams and chutneys, piled their sandwiches high with her pickles . . . Inspired by a bit of the old Blitz spirit, Laura has an idea that gives her a fresh sense of purpose.

Full of fierce determination, Laura starts carving her own path. But even the bravest woman needs the people who love her. And now, they need her in return . . .
The Beauty of Perhaps by Eryn Scott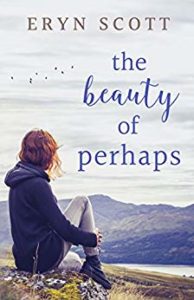 Teacher required. Must have boat.

Twenty-eight year old Molly is a predictable, no surprises, plan ahead kind of girl, and the last person who should answer the ad for a teaching job on the remote Scottish island of Lilliebrae. She's never been the type of adventurous spirit that would even consider such a radical change. And truthfully, she only took the job after her life in America went from bad to worse.

From day one on the island, Molly's sure she's not meant to stay. When a rugged journeyman arrives, things get even more complicated and she's pushed even further outside her comfort zone. With his help, Molly works on finding the beauty of perhaps.

In this snapshot of modern day Scotland, Eryn Scott weaves one woman's journey of self discovery with Scottish tradition and a sprinkling of windswept love.
Do Not Disturb by Claire Douglas
COULD YOUR DREAM HOME BE YOUR WORST NIGHTMARE?

After what happened in London, Kirsty needs a fresh start with her family.
And running a guesthouse in the Welsh mountains sounds idyllic.

But then their first guest arrives.
Selena is the last person Kirsty wants to see.
It's seventeen years since she tore everything apart.

Why has she chosen now to walk back into Kirsty's life?
Is Selena running from something too?
Or is there an even darker reason for her visit?

Because Kirsty knows that once you invite trouble into your home, it can be murder getting rid of it . . .
Reflected Destinies by Florence Keeling
Laura is happy and content, she has a new boyfriend and loves her job teaching primary school pupils in London. But when she inherits a rundown house from a stranger on her 30th birthday, memories of her prom night come flooding back, memories of a scary encounter and an antique mirror in the very same house.
Laura visits the house with all its secrets and as she unravels the clues she reveals the biggest secret of all: her own destiny. But how can you change the future if it's already written in the past?
Facing life alone, they turned to crime together

A security van heist goes disastrously wrong and three women are left widowed.

When Dolly Rawlins discovers her gang boss husband's plans for the failed hijack, an idea starts to form . . .

Could she and the other wives finish the job their husbands started?

As the women rehearse the raid, it becomes clear that someone else must have been involved.

But only three bodies were found in the wreckage.

Who was the fourth man?

And where is he now?
---
I had some stonking good book post this week for which I am incredibly grateful. Do No Harm is also listed above and I'll be reviewing it very soon as I'm on the blog tour. The same goes for Perfect Silence, which is book four in what is probably my most favourite book series ever. And what can I say about The Clockmaker's Daughter? Kate Morton is a favourite author of mine and this book looks amazing.