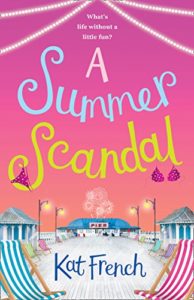 ShortBookandScribes #Extract from A Summer Scandal by Kat French @KFrenchBooks @AvonBooksUK #BlogTour
I have an extract to share with you today from the very summery looking A Summer Scandal by Kat French. My thanks to Sabah Khan from Avon Books for the place on the tour.

Summer has never been so scandalous…

When Violet moves to Swallow Beach, she inherits a small Victorian pier with an empty arcade perched on the end of it, and falls in love immediately. She wants nothing more than to rejuvenate it and make it grand again – but how?

When she meets hunky Calvin, inspiration strikes. What if she turned the arcade into an adult-themed arcade full of artisan shops?

Not everyone in the town is happy with the idea, but Violet loves her arcade and business begins to boom. But as tensions worsen and the heat between her and Calvin begins to grow, life at Swallow Beach becomes tricky. Is it worth staying to ride out the storm? And can Violet find her own happy ending before the swallows fly south for the winter?

Sexy, sassy and full of heart, Kat French is back in a new summer sizzler.
---

Two hours and two large brandies later, Violet had several more pieces of the puzzle to arrange. Poring over the album at the kitchen table with her mum, she'd learned more about her own heritage that afternoon than in the twenty-five years leading up to it. She'd seen all that the album had to offer: her grandparents' black and white wedding picture, them cradling their newborn baby girl, again with their shiny new car in the late sixties. Life events recorded and annotated with dates and names, but the images that touched Violet the most were the unposed ones, the natural, captured snapshots of Monica laughing up into the lens, or ballerina-like balancing along the beach wall, or with her hair tied back by a scarlet chiffon scarf as she painted at an easel.

From the pictures and her mother's memories, Violet learned that her grandparents had honeymooned in Swallow Beach, drawn down south by the bright lights of Brighton and the pretty coastline to explore. Grandpa Henry had been a well-to-do businessman back in his younger days, and he'd been powerless to resist his beautiful, wilful new wife when she'd fallen in love with both the town and its struggling little Victorian pier. Even as they'd watched the For Sale sign being hung onto the closed ornate metal gates, he'd known he was going to buy it for her, that their future as husband and wife lay in Swallow Beach.

It was an idea filled with hope and a plan filled with optimism, and for a while it seemed that they'd been as happy as clams in their beautiful new seafront apartment. Making a success of the pier had become Monica's obsession, and then tragically, when Della was just eight years old, the story twisted when the pier became the scene of Monica's untimely death. The newspaper cutting reported that she'd fallen from the pier at midnight on her fortieth birthday, her body washed up on the dawn tide. Della had needed to leave the kitchen by the back door for a breath of air at that point of recounting the story, flapping her hand at Violet to stay where she was.

Alone in the kitchen, Violet held the picture of her grandmother in her hands and stared into her oh-so-familiar eyes, trying to see more than was there, to understand this woman with who she shared so much. And not just physically. Violet might not paint particularly well, but all of the things she'd ever truly excelled at had been art of some form. She'd dabbled with various mediums over the years, but she always ended up back at her sewing machine under one guise or another. Piecing together intricate quilts, making up clothes from vintage dress patterns – and for the last couple of years she'd been working to build up her own business from the converted old brick-built stable at the end of her parents' long garden.
---

---

Kat lives in England with her husband, two little boys and two crazy cats. She loves all things romance – reading it, watching it, and most of all, writing it. Mildly addicted to wine and fairy lights.
She also writes steamy erotic romance as her USA Today bestselling naughtier alter-ego Kitty French.