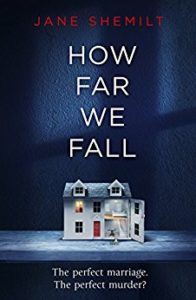 ShortBookandScribes #BookReview – How Far We Fall by Jane Shemilt @Janeshemilt @MichaelJBooks #BlogTour
I'm absolutely thrilled to be bringing you my review of How Far We Fall by Jane Shemilt today. My thanks to Jenny Platt from Michael Joseph/Penguin Random House for asking me to be a part of the blog tour and for providing a review copy.
The perfect couple

Meeting Albie gave Beth a fresh start – a chance to leave her past behind. Now she has her new husband; an ambitious, talented young neurosurgeon.

The perfect marriage

Their marriage gives Beth the safe haven she's always wanted – with just one catch. Albie has no idea of the secrets she's keeping. He doesn't know that years ago, Beth had an affair with Ted, the boss helping Albie's star ascend. Nor that the affair's devastating ending will have consequences for their own future.

The perfect storm

So when Ted's generous patronage begins to sour, Beth senses everything she's built could crumble. And she sees an opportunity. To satisfy Albie's ambitions, and her own obsessive desire for revenge . . .

She'll keep her marriage and her secret safe.

But how far will the fall take them?
---

I appreciate Shakespeare's impact on the world and know he was a great writer, but I can't really get along with his work. I once went to see a play of Macbeth and I'm afraid I found it rather dull. So the fact that How Far We Fall is a modern day version of Macbeth was perhaps a little wasted on me. As I was reading though, there were little things that jogged my memory of that play, for instance the three witches. And having read up on Macbeth since finishing this book, I can see how very clever Jane Shemilt's plotting and characterisations are and how well she has managed to stay true to that story whilst making How Far We Fall an utterly compelling story in its own right.
I really don't think I can do justice to this book in my review but I'll try and explain a bit more about how affecting, how engrossing it is.
The story centres around Beth, Albie and Ted. Beth is a theatre nurse, previously having worked alongside Ted. She also had an affair with him which ended badly. Ted is a brilliant neurosurgeon, self-assured, arrogant at times. He's also Albie's boss. Albie is up and coming, hoping to take over where Ted leaves off one day. He also falls in love with Beth. Oh, what a tangled web!
This is an intense story. One of power, revenge, ambition and betrayal. I loathed Ted throughout the whole book. He's Svengali-like with his influence over Albie until Albie realises that Ted is playing him. Given that, and various aspects of his previous relationship with Beth, he was a man I could only dislike.
My feelings towards Albie and Beth were more complicated. Because of how Ted treated them I couldn't help but side with them, but as the story proceeds the boundaries between what is acceptable or not are blurred by Ted's behaviour.
I've read and enjoyed both of Jane Shemilt's previous books but I think with this one she has gone onto another level. It's such a clever book with some absolutely jaw-dropping moments where I actually commented out loud to myself about what the characters were doing. It's not a book to rush, and actually I just couldn't do so. It was one where I wanted to take in every detail, every nuance, every character trait, every brilliantly described location. Talking of the latter, the action is either set in London or the Scottish island of Jura. Both were so perfectly portrayed that it was almost as if I was there alongside them all, either in the Hampstead house or at the hospital, or alternatively on the remote, windswept and beautiful island.
I thought the level of detail about the operations that Ted and Albie were doing was brilliant. I soaked it all up and it's quite obvious that GP Shemilt is using her own medical knowledge (and that of her neurosurgeon husband) to great effect. It always strikes me that there is so much that only medical staff see and that the rest of us are protected from. Not here though, we are not spared the detail. On that note, there's quite a lot about animal testing in the storyline which I found quite difficult to read. However, it's a part of medical research that goes on and it is very relevant to the story.
I think it's obvious that I loved this book. It had a slow build up to some explosive events and it's one of those that is staying with me after I've closed that last page. How Far We Fall is simply an exercise in masterful writing and deft plotting. It's superb!
---

---

While working as a GP, Jane Shemilt completed a postgraduate diploma in Creative Writing at Bristol University and went on to study for the MA in Creative Writing at Bath Spa, gaining both with distinction. Her first novel, Daughter, was selected for the Richard & Judy Book Club, shortlisted for the Edgar Award and the Lucy Cavendish Fiction Prize, and went on to become the bestselling debut novel of 2014.
She and her husband, a professor of neurosurgery, have five children and live in Bristol.