ShortBookandScribes #BookReview – Stalker by Lisa Stone @LisaStoneBooks @AvonBooksUK #BlogTour
I'm delighted to be reviewing Stalker by Lisa Stone today as part of the blog tour. I'd like to thank Sabah Khan from Avon Books for the place on the tour and for the review copy of this amazing book.
Someone is always watching…

Derek Flint is a loner. He lives with his mother and spends his evenings watching his  clients on the CCTV cameras he has installed inside their homes. He likes their  companionship – even if it's through a screen.

When a series of crimes hits Derek's neighbourhood, DC Beth Mayes begins to suspect he's involved. How does he know so much about the victims' lives? Why won't he let anyone into his office? And what is his mother hiding in that strange, lonely house?

As the crimes become more violent, Beth must race against the clock to find out who is behind the attacks. Will she uncover the truth in time? And is Derek more dangerous than even she has guessed?

A spellbinding crime novel from the worldwide bestseller Cathy Glass, writing as Lisa Stone.
---

First of all, I just want to say that this book is one addictive page turner of a read. I just couldn't put it down. Wow!
I was so intrigued by the story of Derek Flint, a loner who lives with his mother but spends all his spare time locked in his bedroom watching the clients whose CCTV he has fitted. Yes, he's abused their trust by ensuring that he can access their cameras! Scary, huh?! But is he dangerous or harmless? Well, the police are onto him due to a number of crimes that seem to be connected to Derek in some way.
This is just a fantastic cat and mouse game for the police characters as they try to work out the connection. There's also a dark web element which I won't go into here, but which I found a little bit fascinating and a lot terrifying. It's not a scary book as such, but the scenarios are such that it makes you think about just what people are capable of and how we can leave ourselves wide open through the internet.
Derek is such an interesting character. Clearly a little on the odd side, he's also strangely likeable at times and the author has done a good job at creating somebody who I wasn't sure whether to like or dislike. The same with his mother, again a bit of a loner, someone who hasn't had an easy life but who has taken it out on Derek. How much of it is nature vs nurture?
The police characters provided the other side of the story, the investigative side. DC Beth Mayes and DC Matt Davis work well together and, although they weren't particularly fleshed out (the story isn't really about them), I liked both of them and think they could appear in future books by Lisa Stone.
Stalker is a completely and utterly gripping, engrossing read. What starts off as a case of voyeurism turns into something much darker and sinister, leading up to a fantastic ending. If you want a cracking good crime thriller then I highly recommend this one.
---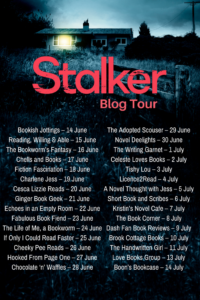 ---

Lisa Stone lives in England, has 3 children, and 27 books published under the pseudonym Cathy Glass, many of which have become best-sellers.