ShortBookandScribes Seven Day Spotlight – two w/e 18/08/19
Perhaps you didn't even notice I had gone but away I have been to Northumberland for a week with my OH and son. We stayed in a very peaceful spot close to the market town of Wooler and had a lovely time although I think our son would rather have stayed at home as he seems very happy to be back. We took a trip to Edinburgh to tour the Royal Yacht Britannia which was fascinating, a ride on a light railway and a day trip to Holy Island (we weren't planning a full day trip but we didn't leave before the sea covered the road). Apart from that, lots of reading with this gorgeous view to look at.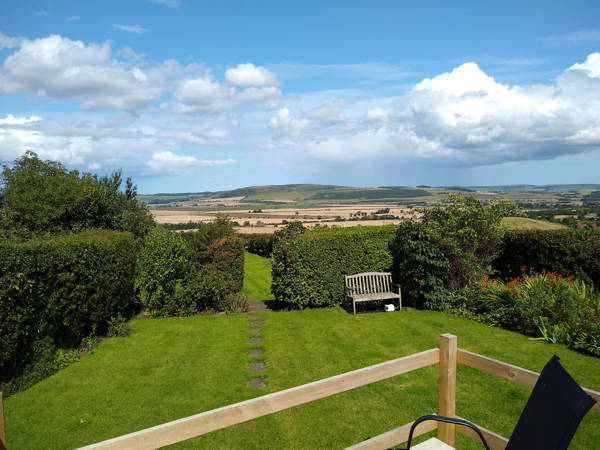 Not bad, eh? Also tons of birds in the garden plus rabbits and pheasants, and some teeny tiny mice darting out to pick up the seeds the birds were dropping.
As I didn't do a Seven Day Spotlight last week, this one covers two weeks. Here's what I posted before I went away:
A review of Almost Adults by Ali Pantony.
A review of Fake Like Me by Barbara Bourland.
An extract from The Daughter-in-Law by Nina Manning.
A guest post by Pam Lecky, author of No Stone Unturned, about the famous Kashmiri sapphires.
A guest post by Alex Nye, author of Arguing With the Dead, about inspiration and setting.
A review of The Moments by Natalie Winter.
---
Would you like to know what books have come my way lately? Here goes then.
The Turn of the Key by Ruth Ware (look at those fab spredges on the Waterstones special edition).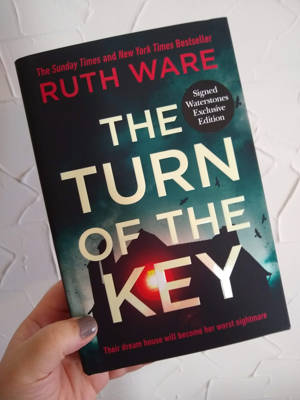 I know you don't know me but you have to help me.I didn't kill anyone.

When Rowan stumbles across the advert, it seems like too good an opportunity to miss: a live-in nanny position, with a staggeringly generous salary. And when she arrives at Heatherbrae House, she is smitten by the luxurious 'smart' home fitted out with all modern conveniences, by the beautiful Scottish Highlands, and by this picture-perfect family.

What she doesn't know is that she's stepping into a nightmare – one that will end with a child dead and her in a cell awaiting trial for murder.

She knows she's made mistakes. But she's not guilty – at least not of murder. Which means someone else is…
Ask Me No Questions by Louisa de Lange
TWINS HAVE A SPECIAL BOND SOMEONE WILL KILL TO BREAK . . .

As children, Gabi and Thea were like most identical twin sisters: inseparable.

Now adults, Gabi is in a coma following a vicious attack and Thea claims that, until last week, the twins hadn't spoken in fifteen years. But what caused such a significant separation? And what brought them back together so suddenly?

Digging into the case, DS Kate Munro is convinced the crime was personal. Now she must separate the truth from the lies and find the dangerous assailant – before any more blood is spilled . . .
Meet woman's best friend.

Kate is a middle aged woman trying to steer some order into a life that is going off the rails. When she adopts a lurcher called Wolfy, the shabby rescue dog saves her from herself. But when the dog disappears, it is up to Kate to hit the streets of London and find him. Will she save him, as he has saved her – or will she lose everything?

As she trudges endlessly calling his name in the hopeless hope she may find him, she runs into other people's landscapes and lives, finding allies amongst psychics, bloggers and mysterious midnight joggers. Trying to find her dog tests her relationship, and her sanity, to its limits – and gets her thinking about her life, and why things have turned out as they have for her. A brilliant, life-affirming memoir, Lost Dog is a book like no other about both about the myth of modern womanhood, and the enduring mystery of the relationship between human and canine.
Through the Wall by Caroline Corcoran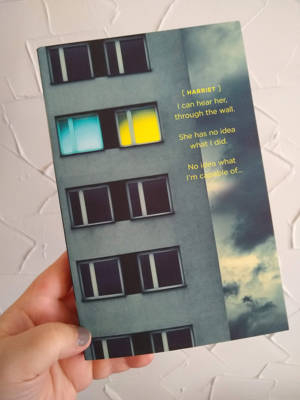 Lexie's got the perfect life. And someone else wants it…

Lexie loves her home. She feels safe and secure in it – and loved, thanks to her boyfriend Tom.

But recently, something's not been quite right. A book out of place. A wardrobe door left open. A set of keys going missing…

Tom thinks Lexie's going mad – but then, he's away more often than he's at home nowadays, so he wouldn't understand.

Because Lexie isn't losing it. She knows there's someone out there watching her. And, deep down, she knows there's nothing she can do to make them stop…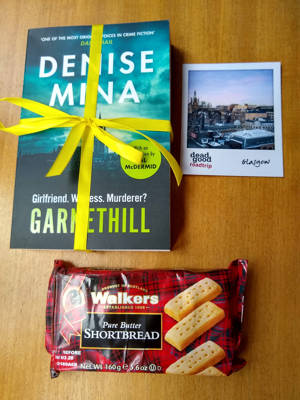 GIRLFRIEND. WITNESS. MURDERER?

The award-winning debut crime novel by the author of The Long Drop, now in a new edition with an introduction by VAL McDERMID

When psychiatric patient Maureen O'Donnell finds her boyfriend dead in her living room, she is thrown into a difficult situation. Glasgow police view her as both a suspect and an unstable witness – and even her mother is convinced of her involvement.

Feeling betrayed by friends and family, Maureen begins to doubt her own version of events. Panic-stricken, she sets out in pursuit of the truth and soon picks up a horrifying trail of deception and suppressed scandal. Then a second body is discovered. Maureen realises that unless she gets to the killer first, her life is in danger…
Henry Morris is watching his wife slip away from him. In an ageist society, where euthanasia is encouraged as a patriotic act, dementia is no longer tolerated.

Kaitlyn, a young waitress, is desperate for the funds to keep her brother's life support machine switched on.

When a chance encounter brings the two together, they embark on an unconventional business arrangement that will force them to confront their prejudices, as well as their deepest, darkest secrets.
I Wanted You To Know by Laura Pearson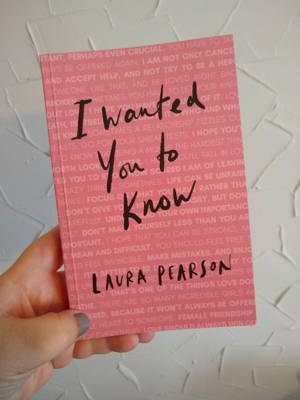 Dear Edie, I wanted you to know so many things. I wanted to tell you them in person, as you grew. But it wasn't to be.

Jess never imagined she'd be navigating single motherhood, let alone while facing breast cancer. A life that should be just beginning is interrupted by worried looks, heavy conversations, and the possibility of leaving her daughter to grow up without her.

Propelled by a ticking clock, Jess knows what she has to do: tell her daughter everything. How to love, how to lose, how to forgive, and, most importantly, how to live when you never know how long you have.

From best-selling author Laura Pearson comes her most devastating book yet. Honest, heart-wrenching, and emotionally raw, I Wanted You To Know is a true love letter to life: to all its heartache and beauty, to the people we have and lose, to the memories and moments that define us.
The Assistant by S.K. Tremayne
She's in your house. She controls your life. Now she's going to destroy it.

A terrifying and timely new psychological thriller, from the No. 1 Sunday Times bestselling author of The Ice Twins.

She watches you constantly.
Newly divorced Jo is delighted to move into her best friend's spare room almost rent-free. The high-tech luxury Camden flat is managed by a meticulous Home Assistant, called Electra, that takes care of the heating, the lights – and sometimes Jo even turns to her for company.

She knows all your secrets.
Until, late one night, Electra says one sentence that rips Jo's fragile world in two: 'I know what you did.' And Jo is horrified. Because in her past she did do something terrible. Something unforgivable.

Now she wants to destroy you.
Only two other people in the whole world know Jo's secret. And they would never tell anyone. Would they? As a fierce winter brings London to a standstill, Jo begins to understand that the Assistant on the shelf doesn't just want to control Jo; it wants to destroy her.
Country Lovers by Fiona Walker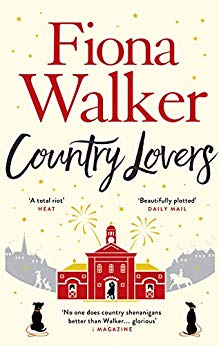 They say you should never go back, but glamorous Ronnie Percy did just that, to the home she ran away from with her lover.

But not everyone is finding it easy to forgive and forget.

Daughter Pax, fighting for custody of her small son as her own marriage disintegrates, is furious to have to spend New Year's Eve waiting for some stranger her mother has invited to help run the family stud farm.

Even more annoyed is the staunchly loyal stud head groom, Lester. Does Ronnie think he's lost his touch with the horses? And anyway, who is this so-called Horsemaker, Luca O'Brien? Why does he seem to be running away from something? And what is the true story of his relationship with grey stallion Beck, once destined for the Olympics, now broken and unrideable, screaming his anger from the Compton Magna stables.

Passionate, sexy, gripping, laced with her trademark wisdom and humour, this is bestselling Fiona Walker at her dazzling best.
Launching an intelligent, perceptive new voice in fiction, Shelf Life is the exquisite, heart-wrenching story of a woman rebuilding herself on her own terms.

Ruth is thirty years old. She works as a nurse in a care home and her fiancé has just broken up with her. The only thing she has left of him is their shopping list for the upcoming week.

And so she uses that list to tell her story. Starting with six eggs, and working through spaghetti and strawberries, and apples and tea bags, Ruth discovers that her identity has been crafted from the people she serves; her patients, her friends, and, most of all, her partner of ten years. Without him, she needs to find out – with conditioner and single cream and a lot of sugar – who she is when she stands alone.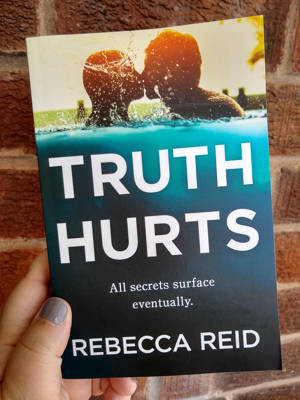 Poppy has a secret.

It was a whirlwind romance. And when Drew, caught up in the moment, suggests that he and Poppy don't tell each other anything about their past lives, that they live only for the here and now, for the future they are building together, Poppy jumps at the chance for a fresh start.

Drew says he has nothing to hide.

But it doesn't take long for Poppy to see that this is a two-way deal. Drew is hiding something from her. And Poppy suddenly has no idea who the man she has married really is, what he is hiding from her or what he might be capable of.

Drew is lying.

Which is more dangerous, a secret or a lie?
For fans of J. P. Delaney's The Girl Before comes a thriller that makes us question the lengths we would go to, to keep our family safe. 

Three years ago, Nikki and Ethan Rhodes suffered a devastating loss when their four-year-old daughter Grace was tragically killed in a road accident. Ethan, a radio personality, escapes into work, leaving Nikki to care for their remaining child, Bella, who hasn't spoken since that day.

Seeking a fresh start, the family moves into a revolutionary new house designed by renowned architect, Catriona Fisher. The house features a state-of-the-art security system, along with every amenity you could dream of.

For the Rhodes' this is a chance to finally pick up the pieces and get on with their lives in a place where they feel totally safe.

But what if 17 Church Row isn't the safe haven that they think it is?
Meet Me In Monaco by Hazel Gaynor and Heather Webb
Set in the 1950s against the backdrop of Grace Kelly's whirlwind romance and unforgettable wedding to Prince Rainier of Monaco, New York Times bestselling author Hazel Gaynor and Heather Webb take the reader on an evocative sun-drenched journey along the Côte d'Azur in this page-turning novel of passion, fate and second chances…

Movie stars and paparazzi flock to Cannes for the glamorous film festival, but Grace Kelly, the biggest star of all, wants only to escape from the flash-bulbs. When struggling perfumer Sophie Duval shelters Miss Kelly in her boutique to fend off a persistent British press photographer, James Henderson, a bond is forged between the two women and sets in motion a chain of events that stretches across thirty years of friendship, love, and tragedy.

James Henderson cannot forget his brief encounter with Sophie Duval. Despite his guilt at being away from his daughter, he takes an assignment to cover the wedding of the century, sailing with Grace Kelly's wedding party on the SS Constitution from New York. In Monaco, as wedding fever soars and passions and tempers escalate, James and Sophie—like Princess Grace—must ultimately decide what they are prepared to give up for love.
Those People by Louise Candlish (more gorgeous spredges)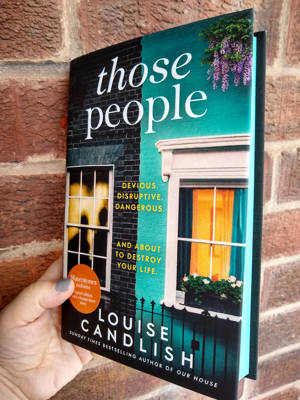 MEET THE NEIGHBOURS YOU'LL LOVE TO HATE

Until Darren and Jodie move in, Lowland Way is a suburban paradise. Beautiful homes. Friendly neighbours. Kids playing out in the street. But Darren and Jodie don't follow the rules and soon disputes over loud music and parking rights escalate to threats of violence.

Then, early one Sunday, a horrific crime shocks the street. As the police go house-to-house, the residents close ranks and everyone's story is the same: They did it.

But there's a problem. The police don't agree. And the door they're knocking on next is yours. 
The Dark Side by Danielle Steel
The Dark Side is a powerful and unsettling novel of motherhood, loss and the innocence of childhood from the world's favourite storyteller, and global bestselling author Danielle Steel.

Zoe Morgan was just ten years old when her life changed forever. Her sister, Rose, died of a rare illness, her parents turned into people she didn't know, and Zoe's lonely childhood drove her to excel in her studies.

As a graduate of Yale, Zoe takes a leave of absence from medical school to work in a shelter for abused children in New York, where she meets well-known child advocacy attorney, Austin Roberts. Austin is bowled over by her beauty, brains and talent. He is her first love and the man she marries.

Austin and Zoe have a perfect life and, after the birth of their longed-for daughter Jaime, Zoe knows that the aching void she had lived through for twenty-four years is finally complete. But it is only then that the true impact of Rose's death all those years ago affects their lives in a way that nobody could ever have imagined.
On Swift Horses by Shannon Pufahl
A breathtakingly beautiful debut novel of revolution, chance and the gambles we take with the human heart.

Muriel, newly married and newly orphaned, works as a waitress in a San Diego diner. As she pours coffee and empties ashtrays, she eavesdrops on her customers, the ex-jockeys and trainers of the Del Mar racetrack.

When she begins, secretly, to bet on the horses and, shockingly, to win, she feels strangely unready to share her good luck and its origins with her husband Lee.

Instead it is Lee's brother, Julius, a thief and Korean War veteran – and someone she has only met once – whom she longs to tell, and who has struck a spark of promise and possibility inside her quietly ordered life.

Julius has found himself in Las Vegas, where his gift for gambling leads him to a job patrolling the boards above the casino tables, watching through the cigarette smoke for chancers and cheats.  There he meets Henry, a blackjack artist and a man who shares Julius's passions, and his secrets. As tourists gather on roof tops to watch atomic clouds bloom in the desert, Henry and Julius's love burns in the shadows – until one night Henry is forced to flee.

Through the parks and plazas of Tijuana and the bars and beaches of San Diego, On Swift Horses mesmerisingly charts the journeys of Muriel and Julius on their separate quests for freedom, new horizons and love.