ShortBookandScribes #BlogTour #GuestPost by Alex Nye, Author of Arguing With the Dead @AlexNyeWriter @FledglingPress #LoveBooksTours #HistoricalFiction
Welcome to my stop on the blog tour for Arguing With the Dead by Alex Nye. This sounds like a fascinating story about Mary Shelley and I have a guest post by the author to share with you today. My thanks to Kelly Lacey from Love Books Tours for the place on the tour.
---
The year is 1839, and Mary Shelley – the woman who wrote Frankenstein – is living alone in a tiny cottage on the banks of the river Thames in Putney. As she sorts through the snowstorm of her husband's scattered papers she is reminded of their past: the half-ruined villas in Italy, the stormy relationship with Shelley and her stepsister Claire, the loss of her children, the attempted kidnapping of Claire's daughter Allegra from a prison-like convent in Florence. And finally, her husband's drowning on the Gulf of Spezia as they stayed in a grim-looking fortress overlooking the sea. What she has never confided in anyone is that she has always been haunted by Shelley's drowned first wife, Harriet, who would come to visit her in the night as she slept with her two tiny children in a vast abandoned villa while Shelley was away litigating with lawyers. Did Mary pay the ultimate price for loving Shelley? Who will Harriet come for next?
---
TO THE NORTH by Alex Nye
If I wanted to write an autobiography or memoir about my writing journey I think I would have to call it TO THE NORTH.
When I was a child, I was brought up in a tiny Norfolk village where I walked the dog for inspiration in much the same way as I do now. I didn't set out to migrate north to live, but circumstances led me to one day sitting in a removal van, my one year old son beside us, heading to an uncertain future which I wasn't sure I wanted.
The motorway which spun away beneath me at one point bore the legend  – TO THE NORTH – in broad white lettering on the tarmac. And it filled me with fear and dread. I'd never lived in the north before, so far from family and friends.
I arrived in Scotland and took up residence in a tiny cottage on a remote moor just outside Dunblane. It was a few days before Christmas. The cottage was on an estate called Cauldhame beside an ancient white house with a round tower.
I got out of the removal van, stood with my son on my hip on the top of what seemed to me a high plateau, and gazed at the view of the Highland Line. I had arrived. And I had found my inspiration. Already, I knew it.
Within days of course, Scotland was beset by the worst winter in decades, and we were snowed into our cottage, lost power, heat, electricity, phone lines (no mobiles in those days), but out of it grew my first two novels Chill and Shiver, ghost stories for children. Everything I have written since is largely inspired by the fact that all those years ago, I reluctantly travelled TO THE NORTH and found my own Wuthering Heights waiting for me.
Since then, I have written a novel set in Glencoe, (Darker Ends), a historical novel about Mary, Queen of Scots sitting in an English prison cell stitching her tapestries while being haunted by the ghosts of her past (For My Sins), the soon-to-be-released Arguing with the Dead, and a further YA novel When we get to the Island… which is set largely in some of the most remote corners of Scotland, including a mad chase through the underground flooded chambers of Smoo Cave.
Here's a pic of me reading to my son all those years ago at the very spot…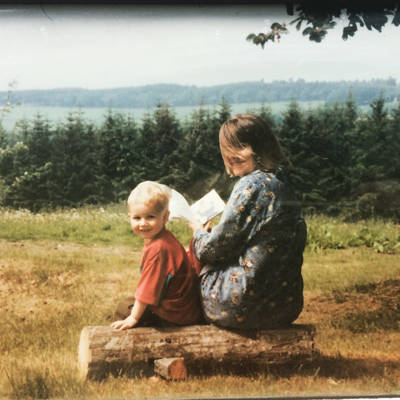 Thank you for such an interesting post, Alex. I'm glad that sign led you towards so much inspiration.
---

---

Alex Nye is the award-winning author of four novels. She grew up in Norfolk by the sea, but has lived in Scotland since 1995 where she finds much of her inspiration in Scottish history. At the age of 16 she won the W H Smith Young Writers' Award out of 33,000 entrants, and has been writing ever since. Her first children's novel, CHILL, won the Royal Mail Award. Her fourth book is a historical novel for adults about Mary Queen of Scots. Her fifth title, ARGUING WITH THE DEAD, is another historical novel, this time about Mary Shelley, and explores the chaotic and destructive forces which shaped her. She divides her time between walking the dog, swimming, scribbling in notebooks in strange places, staring at people without meaning to, and tapping away on her laptop. She also teaches and delivers atmospheric candlelit workshops on creative writing/ghost stories/Scottish history. She studied at King's College, London more years ago than she cares to remember.
Author bio and photo taken from Amazon