ShortBookandScribes #BookReview – Almost Adults by Ali Pantony @alipantony @EburyPublishing #BlogTour #AlmostAdults
I'm so happy to be reviewing Almost Adults by Ali Pantony today and kicking off the paperback blog tour. My thanks to Alice King from Ebury for the place on the tour and for sending a lovely proof copy of the book for review purposes.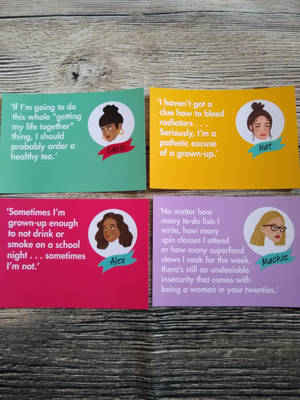 ---
The struggle is real but at least they're all in it together.

Ever managed to kill a succulent after just a few days?
Got seven reminder letters on the kitchen table because you forgot to pay your council tax?
Become a hot mess who's falling apart because they've been broken up with?

Mackie, Edele, Alex and Nat are navigating their chaotic and confusing twenties together. They have jobs and pay their own rent (well, most of them) but don't know how to bleed radiators, defrost a freezer or test the smoke alarms.

With break-ups to deal with and major decisions to make, life can get messy especially when they're still trying to get the hang of this 'being a grown-up' thing.

Welcome to the joys of being almost adults.
---

What I liked about the sound of this book was the way it seemed to question when exactly we are considered grown up members of the adult community. I think this is different for all of us depending on so many different things.
The four women at the centre of Almost Adults are navigating their way through life as best they can. One of them comes up with the term that gives the book its title and it's a very apt description for them. They're in their late twenties. Natasha and Alex seem to have it all sorted out, living with their respective partners. But just when they think they know which direction their lives are going in something happens to shake them up. Then there's Edele who still lives with her mother and brother, looking around for a job and earning money from her mum for washing her car. The fourth member of the gang is Mackie, who is very switched on, very career and health focused, and yet there is that little something missing from her life.
I really liked all the women but I think Mackie was my favourite. Maybe that's because she wasn't chaotic like the others, she knew where she wanted her life to go and was very organised. The strength in this story is the solid friendship between them all and how that is most important to them, although as the book ends they might just be making that transition from Almost Adults to fully fledged ones and with that comes change and new priorities.
This is a book that made me smile quite a bit and guffaw once or twice. Despite the fact that I can't personally relate to a lot of it, I still found myself drawn into the lives of the very likeable characters and wondering where life was going to take them next. Each chapter is from the point of view of a different character and I liked how this both enabled them to put across their story and also allowed the reader to see the other characters through their eyes.
Almost Adults is a really lovely story of friendship, the kind that doesn't always come along very often, people who have your back, would drop everything to help you, to comfort you. It's also about getting through job interviews, dealing with relationship break ups and working out what you want from life. I thought it was a really engaging debut from Ali Pantony.
---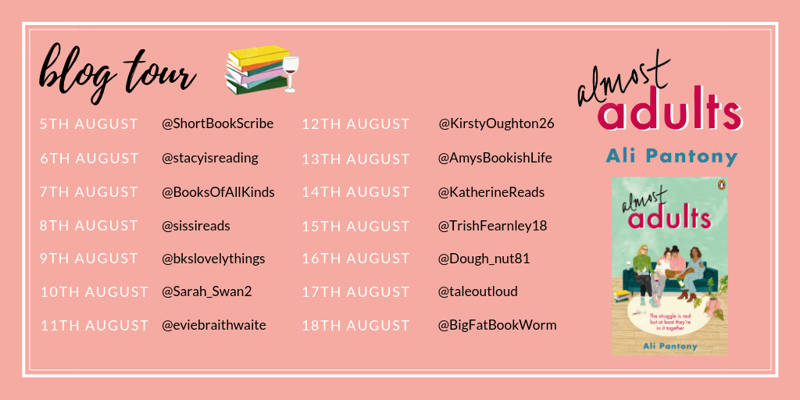 ---

Ali Pantony is a freelance writer and editor. Her writing has appeared in GLAMOUR, Grazia, BBC Three, Refinery29, Vice, Red and Evening Standard. Almost Adults is her debut novel.
Ali was born in Maidstone, Kent, and lives in North London.
Author bio and photo taken from Amazon