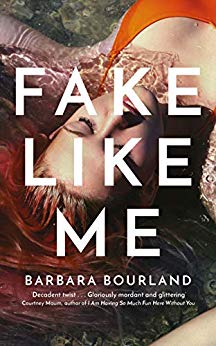 ShortBookandScribes #BookReview – Fake Like Me by Barbara Bourland
I'm reviewing Fake Like Me by Barbara Bourland today, a novel that left me with quite mixed feelings. My thanks to the publishers, Quercus, for the proof copy via the Amazon Vine programme.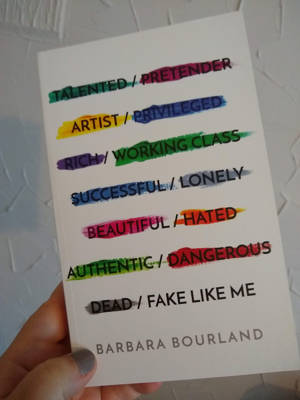 ---
CAREY LOGAN

She was the genius wild child of the New York art scene, and my idol.

FAKE

I was a no-name painter from the Florida backwater, clawing my way into their world.

LIKE

When she died, she left a space that couldn't be filled. Except, maybe, by

ME

Everything that gets created destroys something else.

When a fire rips through her studio and burns the seven enormous paintings for her next exhibition, a young, no-name painter is left with an impossible task: recreate her art in just three months – or ruin her fledgling career. Thirty-four, single and homeless, she desperately secures a place at an exclusive upstate retreat.

Brimming with creative history and set on a sparkling black lake, Pine City and its founders – a notorious collective of successful artists – is what she's idolized all her life. She's dreamt of the parties, the celebrities, the privilege. What she finds is a ghost of its former self.

The recent suicide of founding member Carey Logan haunts everyone, lurking beneath the surface like a shipwreck. And one thought begins to shadow her every move – what really happened to her hero?

With a flair for sensational detail and acidic wit, Barbara Bourland delivers a darkly satirical thriller about art, money and identity with a twist so sharp it cuts.
---

I got a bit taken along with the hype about this book. To be fair to the book I probably shouldn't have read it as I had a feeling it wasn't going to be quite my thing.
Fake Like Me is the story of an unnamed painter. She is in awe of Pine City, the name for a group of five artists, and in particular she idolises Carey Logan, a sculptor turned performance artist, immortalised by her death at her peak.
We follow the painter as she embarks on her own career producing massive oil paintings, we follow her ups and downs, and then when one of those downs leads her to become involved with the remainder of Pine City, we witness her inadvertently filling the space that Carey left behind.
It's a fascinating story, made even more so by the twist in the tale towards the end, something I could never have guessed at in a million years. There is much to like about the whole thing in fact. I liked the characterisations, our heroine with her pink hair, the Pine City artists, her narcissistic friend from childhood, Max. The art scene is fascinating, not least the cost of the materials which left me reeling. And yet, somehow I was never completely convinced by this story, never completely embedded into the painter's story. She is quite introspective, quite careless with her skills and I felt like she sometimes needed a good shake. The story is fairly intense and for some reason it failed to keep me fully absorbed.
I read to the end, partly because I was taking part in the publisher's readalong, but also because I needed to know how the story ended, what would happen to the painter. Strangely though, I also didn't really care what happened to her until near the end when the twist is revealed. The first quarter and the last quarter are very good, the middle sections, for me, fell a bit short.
Maybe it's because I read it in sections over a few weeks, maybe it's because it's just not my cup of tea. I didn't hate it, far from it, I just was a bit 'take it or leave it' I suppose.
This is a book where very little happens apart from the narrator getting into calamitous situations and spending time with bright, young things. And yet, there is something quite compelling about it really. A strange combination!
---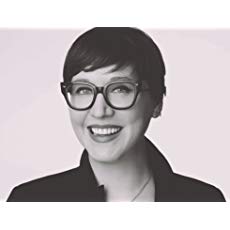 Barbara Bourland lives in Baltimore, MD. I'll Eat When I'm Dead is her first novel. Formerly, she was a freelance writer for Forbes Traveler, Condé Nast Digital's Concierge.com, and a web producer for O, The Oprah Magazine and OWN, The Oprah Winfrey Network.
Author bio and photo taken from Amazon