Seven Day Spotlight – w/e 13/08/17
This week on my blog:
I had a brilliant guest post from Helen Lewis about her new book, The House With Old Furniture.
I also had a fab guest post from Jill Culiner about her book, Sad Summer in Biarritz.
Next up was my review of of the creepy Broken Branches by M. Jonathan Lee.
I featured an extract from The Big Dreams Beach Hotel by Lilly Bartlett.
And finally, I shared my review of the deliciously quirky 31 Days of Wonder by Tom Winter.
---
And now to my week's acquisitions:
Summer at Bluebell Bank by Jen Mouat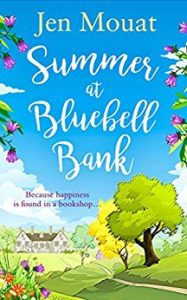 Returning home is never smooth sailing…

Summoned by her childhood best friend, Kate Vincent doesn't stop to think. Instead she books at one-way ticket from New York back to Wigtown, Scotland, leaving her glittering new life behind. Scenes of idyllic holidays at Bluebell Bank with the Cotton family dance in her mind, but not everything has stayed the way it once was… Especially when her first love, Luke, returns to town.

Emily Cotton never expected one email, sent off in a wine-fuelled daze, to bring her old friend barrelling through the front door of her dismally failing bookshop. But life for the Cottons isn't what it once was; Emily's brothers are hardly speaking, her beloved grandmother isn't quite the same and Emily…well, Emily is the one most in need of Kate's help.

Kate has given herself until the end of the summer to stay in Wigtown. Can she bring the Cottons back together, and save the family who once saved her?
I Know Where She Is by S.B. Caves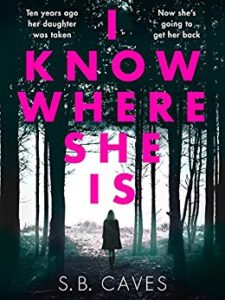 On the tenth anniversary of her daughter Autumn's abduction, Francine receives an anonymous note containing just five words: I KNOW WHERE SHE IS

When a young woman approaches her the next day claiming to have sent the letter Francine wants to dismiss it as a cruel, twisted joke.

But the stranger knows things that only Autumn would know.

It soon becomes clear that Francine must go to dark places in order to learn the truth about her child's kidnapping.

She will discover that danger comes from unexpected sources. She will do things she never imagined herself capable of.

But will Francine get her daughter back – or is it too late?
The House With Old Furniture by Helen Lewis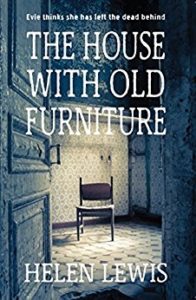 The ghosts of a century's worth of secrets and betrayals are coming home to Pengarrow…

Evie has lost her eldest son, Jesse, to gang violence. Leaving the house he grew up in is pulling apart the few strings left holding her heart together. Only the desire to be there for her younger boy, Finn, impels Evie to West Wales and the ancient house her husband is sure will heal their wounds.

Days later, Andrew is gone – rushing back to his 'important' job in government, abandoning his grieving wife and son. Finn finds solace in the horse his father buys by way of apology. As does his evasive and fearful new friend, Nye, the one who reminds him and Evie of Jesse… Evie loses herself in a dusty 19th century journal and glasses of home-made wine left by the mysterious housekeeper.

As Evie's grasp on reality slides, Andrew's parents ride to the rescue. It is clear that this is a house they know. They seem to think they own it, and begin making changes nobody wants, least of all Alys and her son, Nye, the terrified youth who looks so like Jesse.
Sweet Little Lies by Caz Frear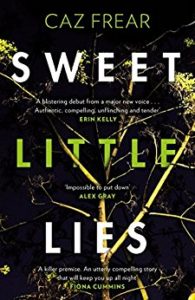 WHAT I THOUGHT I KNEW

In 1998, Maryanne Doyle disappeared and Dad knew something about it?
Maryanne Doyle was never seen again.

WHAT I ACTUALLY KNOW

In 1998, Dad lied about knowing Maryanne Doyle.
Alice Lapaine has been found strangled near Dad's pub.
Dad was in the local area for both Maryanne Doyle's disappearance and Alice Lapaine's murder – FACT
Connection?

Trust cuts both ways . . . what do you do when it's gone? 
Someone took Daisy Mason.
Someone YOU KNOW.

Last night, 8-year-old Daisy Mason disappeared from her parents' summer party. No one in the quiet suburban street saw anything – or at least that's what they're saying.

DI Adam Fawley is trying to keep an open mind. But he knows that nine times out of ten, it's someone the victim knew.

That means someone is lying.

And that Daisy's time is running out…

Introducing DI Fawley and his team of Oxford detectives, CLOSE TO HOME is a pulse-pounding race against time and a penetrating examination of what happens to a community when a shocking crime is committed by one of its own. If you loved Broadchurch and Line of Duty, then CLOSE TO HOME is for you.
The Room by the Lake by Emma Dibdin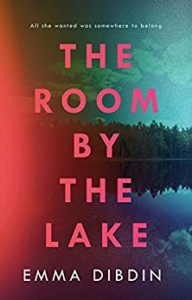 When Caitlin moved from London to New York, she thought she had left her problems behind: her alcoholic father, her dead mother, the pressure to succeed. But now, down to her last dollar in a foreign city, she is desperately lonely.

Then she meets Jake. Handsome, smart, slightly damaged Jake. He lives off-grid, in a lakeside commune whose members practise regular exercise and frequent group therapy. Before long, Caitlin has settled into her idyllic new home.

It looks like she has found the fresh start she longed for. But, as the commune tightens its grip on her freedom and her sanity, Caitlin realizes too late that she might become lost forever…
Maria in the Moon by Louise Beech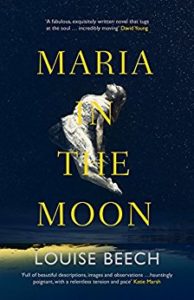 Thirty-two-year-old Catherine Hope has a great memory. But she can't remember everything. She can't remember her ninth year. She can't remember when her insomnia started. And she can't remember why everyone stopped calling her Catherine-Maria.

With a promiscuous past, and licking her wounds after a painful breakup, Catherine wonders why she resists anything approaching real love. But when she loses her home to the devastating deluge of 2007 and volunteers at Flood Crisis, a devastating memory emerges… and changes everything.

Dark, poignant and deeply moving, Maria in the Moon is an examination of the nature of memory and truth, and the defences we build to protect ourselves, when we can no longer hide…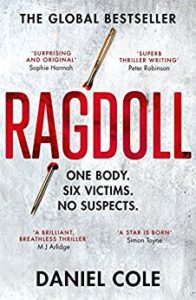 A body is discovered with the dismembered parts of six victims stitched together, nicknamed by the press as the 'Ragdoll'. Assigned to the shocking case are Detective William 'Wolf' Fawkes, recently reinstated to the London Met, and his former partner Detective Emily Baxter. The 'Ragdoll Killer' taunts the police by releasing a list of names to the media, and the dates on which he intends to murder them.

With six people to save, can Fawkes & Baxter catch a killer when the world is watching their every move?
Autumn at the Cosy Cottage Cafe by Rachel Griffiths
Motherhood has been one of the great blessings of Dawn Dix-Beaumont's life but with her children's growing independence, it's finally time for Dawn to return to teaching. However, Mother Nature has other ideas…

Rick Beaumont loves his family but he's busier than ever. With his high-flying career, two children and a third on the way, there's a lot to juggle.

Battling expectations, disappointments and a few surprises along the way, Dawn and Rick find their commitment to each other tested to the limit. The next steps they take will be the most important of their lives.

So when the pressure mounts and an important decision has to be made, will Dawn and Rick's marriage become stronger than ever, or will it be time to move in different directions?

This is the second of four short stories in The Cosy Cottage Café series.
As always, I'd love to hear any thoughts or comments.